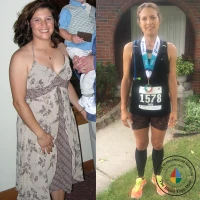 Blood Type O
I suffered from chronic sinus infections that would crop up 8-10 times a year. After the birth of my first son, these infections became even more acute. My sinus cavities were so full it felt like my entire head could explode from the pressure. Blowing my nose could never keep up with the build-up and all the different antibiotics, whether they were pills or nasal sprays, offered only temporary relief.
On top of these debilitating infections, I soon started to develop other issues, such as low blood pressure, high glucose levels and even a growth within my nose that required surgery. As I went into the surgery, I wondered if the growth had emerged from the constant use of nasal sprays that I was using to fight the sinus infections. After the growth was removed, despite hoping, the sinus infections continued undeterred.
When I became pregnant with my second child I knew that this state of living wasn't sustainable anymore. My husband tried to help the issues I had as well as ward off gestational diabetes by bringing home Eat Right 4 Your Type for me to look at. With all the health issues I was facing, I figured it was at least worth a try, especially for the sake of my baby to be. The only immediate change I made after discovering I was a Type O was eliminating orange juice for the rest of my pregnancy, which ended up lowering my dangerous blood sugar levels dramatically all by itself.
After the second baby was born and I dove headlong into the diet, the true changes begun. My immune system that had been crippled for so long began to flourish from the better diet and ward off things that had been plaguing me. My only goal at the time was to eliminate the sinus infections so I could live a normal life. But The Blood Type Diet did far more than I ever imagined. Not only were the sinus infections eradicated but I have minimized injuries, lowered fatigue, improved skin and nail health and, to top it all off, shed thirty pounds too!
The Blood Type Diet has helped me enjoy life to the fullest. With my immune system and energy levels both better than ever, I have been able to pursue a second degree, participate in triathlons, maintain a successful career, speak at health events and most importantly of all, be a great mother to my children. Life before and after the diet is a night and day difference.

Other November 2018 Newsletter Articles