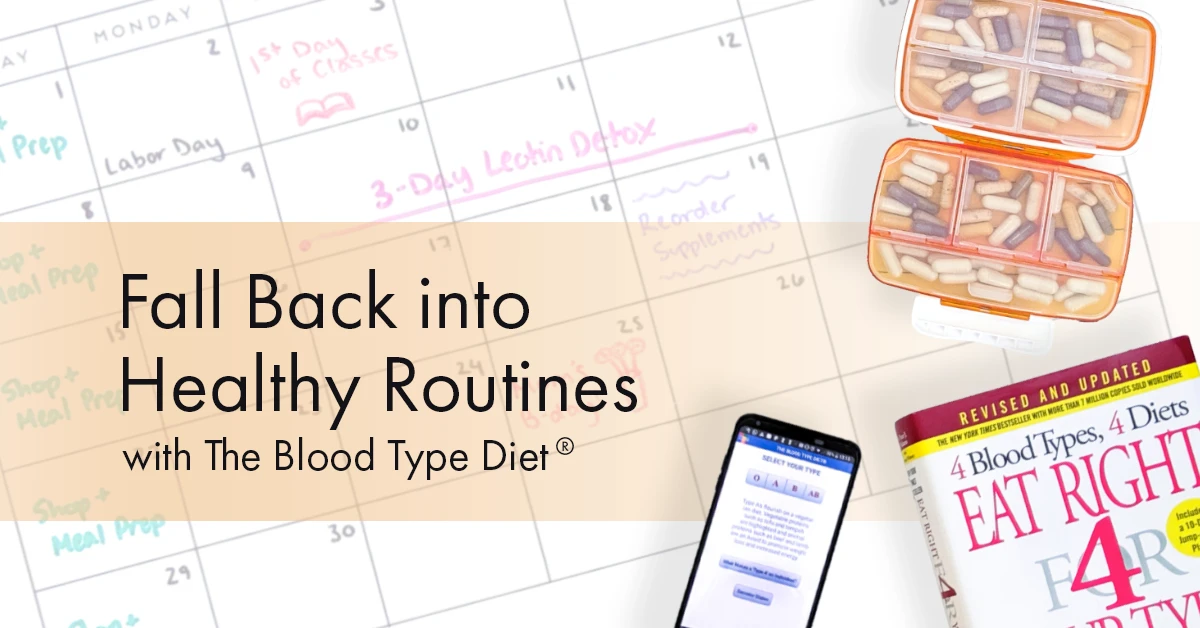 Uh oh. Here comes autumn. That means shorter days, colder nights and saying goodbye to summer vacations. It's back-to-school time and back to those once familiar routines that have fallen by the wayside. But wait - that can actually be a good thing! Especially when it comes to your health and wellness.
It's easy to get caught up in the carefree flow of summer, and despite the best of intentions, when the weather heats up, our diet and fitness regimens can start melting away. So the change of seasons, particularly autumn and the structure it brings, offers us the perfect time to re-establish wholesome habits and re-embrace the power of personalized nutrition.
But how do we make that shift? How do we get ourselves back on track without a struggle? This month, we're sharing some tips and tools to help you fall back into routines that nourish the body and soul and create a health and wellness support system for The Blood Type Diet.
Reset With a Lectin Detox
Avoiding foods with lectins that react to your specific blood type (and replacing them with beneficial foods) is the key to the positive impact The Blood Type Diet can have. So many of us, though, get lax in the summer months. Making one exception for that "summer treat" can lead to another and another, and before you know it, you're consuming harmful lectins on a daily basis.
Kicking off autumn with a lectin detox can be a great way to reset and refocus. Think of it as a fall cleanup for your body! And you don't have to do it alone. The "10-Day Blood Type Challenge" (found in the 20th anniversary edition of Dr. Peter D'Adamo's Revised and Updated Eat Right 4 Your Type book) includes everything you will need from blood type specific menus and shopping lists to exercise plans and progress measurement tools. It's perfect for both dedicated followers and those new to The Blood Type Diet. If you don't have the book, or if a shorter kick-start is right for you, here is a 3-day plan to get you started.
Let Meal Plans Lighten Your Load
The word "planning" can conjure up all sorts of drudgery-related vibes, but the truth is that a little time invested into creating meal plans will make it easy to stick to your personalized nutrition program. It also makes shopping effortless, adds variety to your diet, and can even save you money. And meal planning is especially important in multi-blood type families. On busy days, preparing one meal that works for everyone can save you time and lighten your load.
To make meal planning easier for the foods you'll need, we have our Blood Type Diet app that lists Beneficial, Neutral and Avoid foods for all blood types and includes family lists to take the work out of finding foods you have in common. It makes planning and shopping for multi-blood type families a breeze. If you haven't tried the only Official Blood Type Diet app, check it out here.
Incorporating 80% beneficial foods into your diet boosts your energy and immune system, which is especially important as we head into cooler months. And the best way to make sure you're consistently achieving that 80% threshold? Make a plan and stick to it.
Assess and Organize Your Supplements
For many people, new routines and fresh starts are synonymous with organization. It feels great to clean out our closets, straighten up our cupboards and organize our .... supplements? OK, so supplements might not be top-of-mind, but we think you'll be pleased with the positive difference a little organization will make.
If you're taking two or more supplements, an organizational system can ensure that you take the right ones at the right time. Plus it feels great to have less clutter on your counter tops. It's easier than you might think. From store-bought pill or craft boxes to ice cube trays, there are dozens of ways to organize your supplements.
Fall is also a great time to assess which supplements you have and which ones you might need for your specific blood type or health goal. Make sure that you have both your Daily Essentials and condition-specific support on hand as you re-establish healthy routines. There can also be added stress this time of year and life can seem hectic, so supplements like Catechol and Cortiguard, which have a calming effect on the body, make great "go tos" for extra relief and can help make the transitional period more manageable.
Schedule Your Sleep
Seasonal changes can impact energy levels and quality of sleep. Reduced amounts of sunlight alters the body's natural rhythms and for many people, back-to-school means earlier wake times, both of which can negatively affect you mentally and physically. One of the best ways to minimize these effects is to have regular sleep and wake times.
Waking at the same time every day, even on weekends, will actually help you sleep better at night. Your body's internal clock will become accustomed to a new routine and an earlier bedtime, which will help you fall asleep better at night and wake up more easily in the morning. Sleep and mental wellbeing are connected, so following a regular sleep schedule can lead to a happier, healthier life.
Saying goodbye to summer may not be easy, but focusing on your wellness through personalized nutrition and healthy routines can lead you into autumn with a clear mind and an energized body. And that's something to look forward to!
---