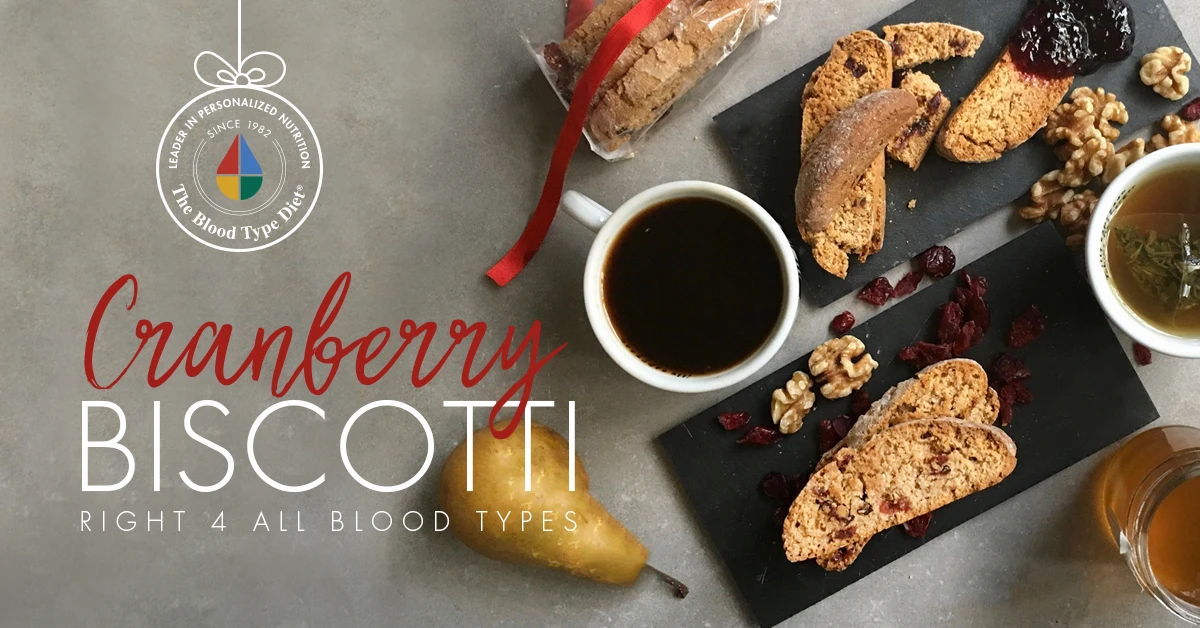 Biscotti are such a delicious baked snack, but store-bought ones are often littered with Avoids! These holiday-themed biscotti are Right 4 All Types and will be the perfect companion to your favorite Blood Type Diet compliant drinks, such as a soothing tea or coffee. Warm up and settle in with these sweet treats.
The Blood Type Diet made easy
Find more nourishing recipes like this in Dr. Peter D'Adamo's Eat Right 4 Your Type Personalized Cookbooks. Each book features chef-formulated recipes designed specifically for your blood type. Make meal planning stress free with delicious and easy to follow personalized recipes.
Check food values, read in-depth food analyses and access even more recipes for each blood type and secretor status with Dr. D'Adamo's TypeBase Food Values. Coded by the doctor himself, it's a free resource that makes following The Blood Type Diet easy.
Our Official Blood Type Diet App keeps all the details you need at your fingertips. Check food values for you or common foods for the whole family, create a food shopping list you can email to yourself, and get supplement recommendations and access to categorized recipes.
---
Makes 16-18
Ingredients

1 cup rice flour (brown or white)
½ cup honey*
½ cup dried cranberries
1 egg
1 teaspoon of vanilla extract**
1 teaspoon baking soda
3 tablespoons of ghee
Add 1 tablespoon of Unflavored Uniblend Protein Powder for a fueled up biscotti!

*Honey is an Avoid for Type AB non-secretors and Type O non-secretors. Substitute agave syrup.

**Vanilla is an Avoid for Type O non-secretors. Omit.

Instructions

Pre-heat your oven to 350°F.
Whisk together the egg with the vanilla and honey until well combined.
In the bowl of an electric mixer fit with a paddle attachment, mix the egg mixture with the flour, ghee and cranberries. Add the baking soda at the end. The dough should be thick and bread-like. If it is too loose, add a little bit of flour, a tablespoon at a time.
On a floured surface, shape the dough into a little log about 7 x 3 inches. Bake in the oven for 18-20 minutes.
Take the biscotti log out, allow to cool for a few minutes and reduce the heat of the oven to 300°F.
With a serrated knife, cut it into slices about ½ inch thick.
Lay the slices in the baking tray and bake for 10 minutes or until golden brown.
Allow the biscotti to cool completely before eating. Enjoy!
---