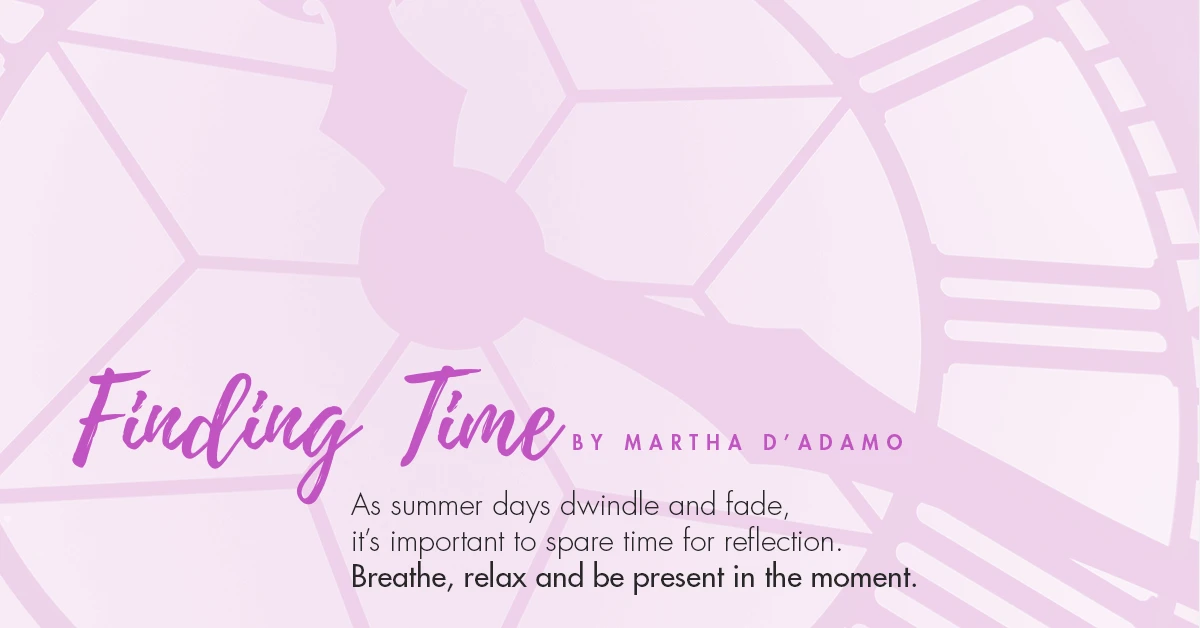 It's August already? Where has the time gone?
It seems as if June 1st was just minutes ago, but August has arrived with its mercurial weather patterns, humidity, cicadas, fireflies and the ever so slightly noticeable shortening of days.
Although I would love to stop the clock and slow things down a bit, I find life has a way of marching on. Here's where the choice comes in: Do I stay in a constant battle with time, or "take time" and be fully present in the moment? I am working on the latter, and trying to cultivate presence in all that I do, whether it is my personal relationships, my work, my relationship with myself, my relationship with the greater community I reside in or my connection with our beloved Earth.
In order to do this, I have to make the time (sounds weird, right?). I am getting up ten minutes earlier and using those moments for quiet meditation/reflection. Purposefully breathing, centering and embodying myself helps me start the day. Mid-morning and mid-afternoon, I take a 10-minute break to breathe, slow myself down, note anything that might have me in its grip, like an issue at work, a frustration at home or concern for a friend. I recognize these stressors before letting them go, so I don't become attached. Hopefully, in doing so, I'll be better equipped to work through them.
Right before I go to sleep, I take another 10 minutes to reflect on the day and acknowledge all the good that occurred. I also think of shortcomings — things I might have done better and those I left undone. I release them all, knowing that tomorrow is another day.
Slowing ourselves down doesn't mean we become less effective with time management; rather, it allows us to experience each and every moment. This provides the satisfying sense of being fully present in our lives and increases our overall feelings of well-being and contentment.
Join me in this August slow-down so that you too can live your life to the fullest. And enjoy our newsletter, especially the tea article. Making a cup of tea (and breathing in its sweetly herbal aroma) can connect you to age-old rituals of the tea ceremony, which celebrated the grace and beauty of ordinary daily life by finding mindfulness and peace while focusing on the "now" of tea preparation.
Have a wonderful, time-filled month.
Other August 2018 Newsletter Articles