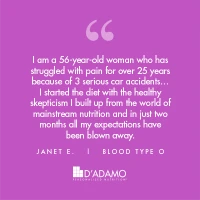 I am a 56-year-old woman who has struggled with pain for over 25 years because of 3 serious car accidents that were no fault of my own. These incidents required me to have 2 spinal surgeries: a fusion in my neck and another in my lumbar spine. All together, I have had 3 titanium discs, a plate and multiple screws installed to repair all the damage done. I've been on NSAIDS, both over the counter and prescription, since I sustained the injuries. I needed the medication so badly that if I had to be off it for any length of time, my body seized up with pain and inflammation to the point where I couldn't even put on my own shoes.
My ability to exercise is very limited so I've tried many diets to help me lose weight hoping it would make a dent in the daily pain I was dealing with. Not only did they not work, they actively worsened some aspects of my health. After trying a few mainstream diets and visiting my primary care physician, he told me to stop immediately, since I was gaining weight and also spiking my sugar and cholesterol levels. All these failures despite my devotion to each and every diet plan I tried had me feeling like my quality of life would never improve.
I finally decided to try The Blood Type Diet after seeing my son, a Type O like me, do so well with it. I've been following the diet for almost 2 months now and the changes are already far more pronounced than any I have seen with other programs. While I don't see a big difference on the scale yet, I have lost so many inches that I had to get smaller clothes. My doctor said losing these inches without pounds meant I was losing fat and gaining muscle, resulting a much healthier body fat percentage. I haven't had my cholesterol checked yet but my sugar levels are down 20 points as well. These sorts of health changes are what someone might expect from a proper diet, but certainly not so quickly. On top of these changes, I have had such wonderful unexpected benefits too.
I always had issues sleeping through the night and never thought it had a thing to do with what I was eating. Since starting The Blood Type Diet, I now sleep through the night without any anxiety or feelings of restlessness. But the most positive and monumental change since starting the diet has been related to my inflammation and pain. I started taking Scienca after being recommended it in the Supplement Advisor because it is meant for improving muscle and joint health. Since starting this supplement regimen, not only do I feel joy from a life without nagging pain, but I feel at ease knowing I am taking such a natural approach to improving my health.
The overall feeling of energy and health in conjunction with the added benefit of not being so dependent on prescriptions is overwhelming. I started the diet with the healthy skepticism I built up from the world of mainstream nutrition and in just two months all my expectations have been blown away. In my wildest dreams I never would have imagined that I would feel so energetic and healthy from this plan, and I certainly never believed my pain could dissipate so completely. The best part is that following the diet is so easy. I never feel deprived. I don't really even call this a diet, I call it a lifestyle change. With how good I feel, I am never looking back.
Thank you Dr D'Adamo!
Other August 2018 Newsletter Articles