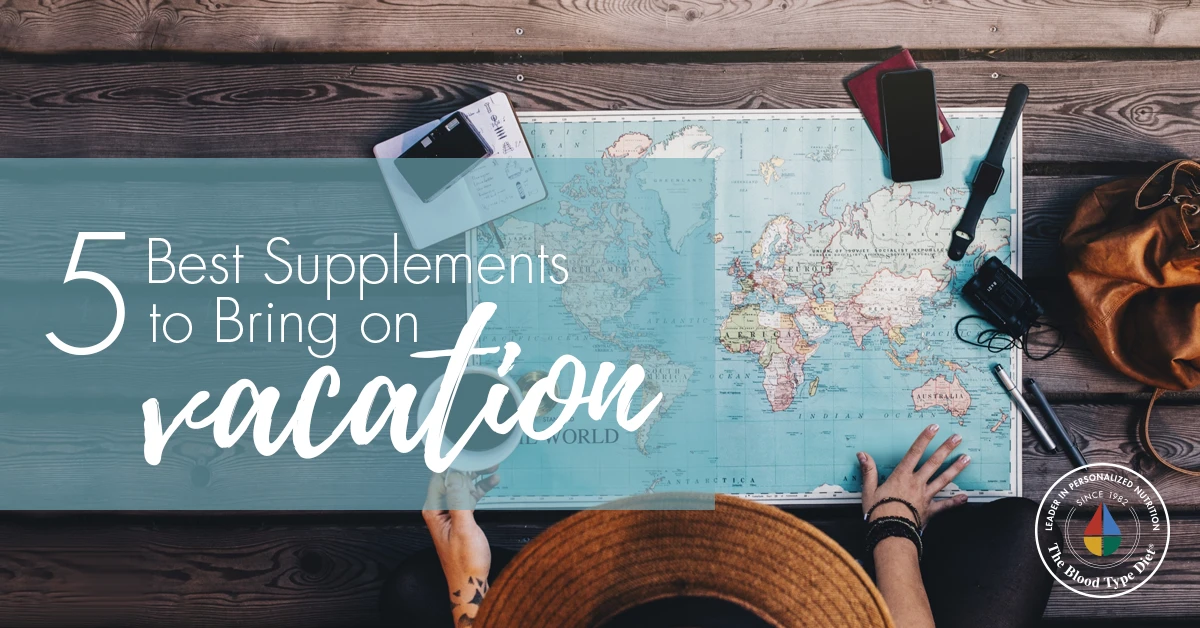 Vacation should be relaxing… right?
As anyone who has frantically sprinted for a flight (or seen Home Alone) can attest, sometimes travel seems anything but calm. That's where we can help.
Whether you'll be resting on the beach or racing around the big city, our nutritional supplements are here to give your health a boost. Support your body in its efforts to minimize stress, promote healthy energy levels and strengthen immunity with these natural formulas.
We guarantee you'll thank us in September.
Strengthen

Getting sick on vacation is frustrating.

You've spent weeks planning your schedule, booking your flights, preparing for perfect, blissful relaxation — only to be disrupted by the common cold. Unfortunately, as Time Magazine reported, catching a bug while traveling isn't uncommon. Close contact in airplanes spreads germs and even a slight change in eating or sleeping patterns may derail your immune system.

Our Proberry Caps, derived from blueberries, elderberries, and cherries, are primed to support your body's defenses. Pigmented flavonoids promote vitamin C absorption while natural antioxidants fortify immune response.

Relax

It's sometimes difficult to fully detach from the pressures of working life.

To reach the state of zen that defines a great vacation, try our Tranquility Base. Like a massage for the mind, this natural formula is packed with chamomile and lemon balm to encourage feelings of peace. Tranquility Base can also be used as a nutritional aid to support restful and restorative sleep.

Energize

Touristing is a lot of work. If you're the type to pack every hour of your "vacation" itinerary, you'll need to keep energy levels high throughout the day.

Worried about fatigue sabotaging your plans? Instead of reaching for that extra coffee, spare your health with a more natural solution: Methyl 12 Plus. A blend of two biologically "active" B vitamins, this formula works to maximize the body's nutrient absorption, leaving you feeling fresh.

Recover

While drinks by the poolside may sound refreshing, overindulgence is a quick way to drain your health.

To help your body recover from nights out, try Hepatiguard, a natural blend designed to promote healthy liver function. Milk thistle extract provides a dose of silybin, an antioxidant that fights free radicals, while bupleurum root regulates body energy and helps eliminate toxins. Turmeric, a staple of Ayurvedic treatments, inhibits uncontrolled tissue growth.

Protect

We get it. Nobody's perfect. But there's good news: If your diet slips on vacation, you can rebuild your health with Deflect.

One of our most popular products, this formula shields your body from lectins harmful to your blood type. Quickly combat "post-cheat" soreness and bloating with supplements designed for your specific biology.

Bonus Tip

Need help remembering food values on the go? Our Eat Right For Your Type pocket guides ( O, A, B, AB) are an easy way to take Dr. D'Adamo's recommendations to supermarkets, restaurants and everywhere in between. If you prefer a digital reference, try the Blood Type Diet app.
Other August 2018 Newsletter Articles