It is well known that eating greens can provide a plethora of health benefits. Not only do they contain very little carbohydrates, sodium or cholesterol, but they are high in fiber, iron, magnesium, potassium, calcium and various vitamins. According to Grand Forks Human Nutrition Research Center, these nutrients can help prevent different ailments, such as cancer, obesity and heart disease. New research proving such favorable effects is continually being produced. A recent study published in Neurology found an association between daily consumption of greens and maintenance of cognitive health in the elderly.
While understanding the overall importance of incorporating greens into your diet is the first step, it is just as crucial to know which leafy vegetables are best for you to eat based on your blood type. Different blood types have different antigens, or chemical markers. Lectins, which are abundant and diverse proteins found in foods, can react with the antigens in your blood. When you eat a food containing protein lectins that are incompatible with your blood type antigen, the lectins can attach to the walls of the digestive tract, initiate inflammation and may even get absorbed into your blood stream. By consuming the right foods for your body, you can maximize their positive potential.
Dr. Peter D'Adamo has formulated these supplements with the benefits of greens in mind:
Harmonia Deluxe is an all-natural way to integrate an abundance of greens and fiber into your diet.
Live Cell capsules provide the benefits of sprouted greens plants with their concentration of vitamins and minerals, proteins, enzymes and phytonutrients.
Below, you'll find a helpful graphic suggesting the best greens for you based on your blood group.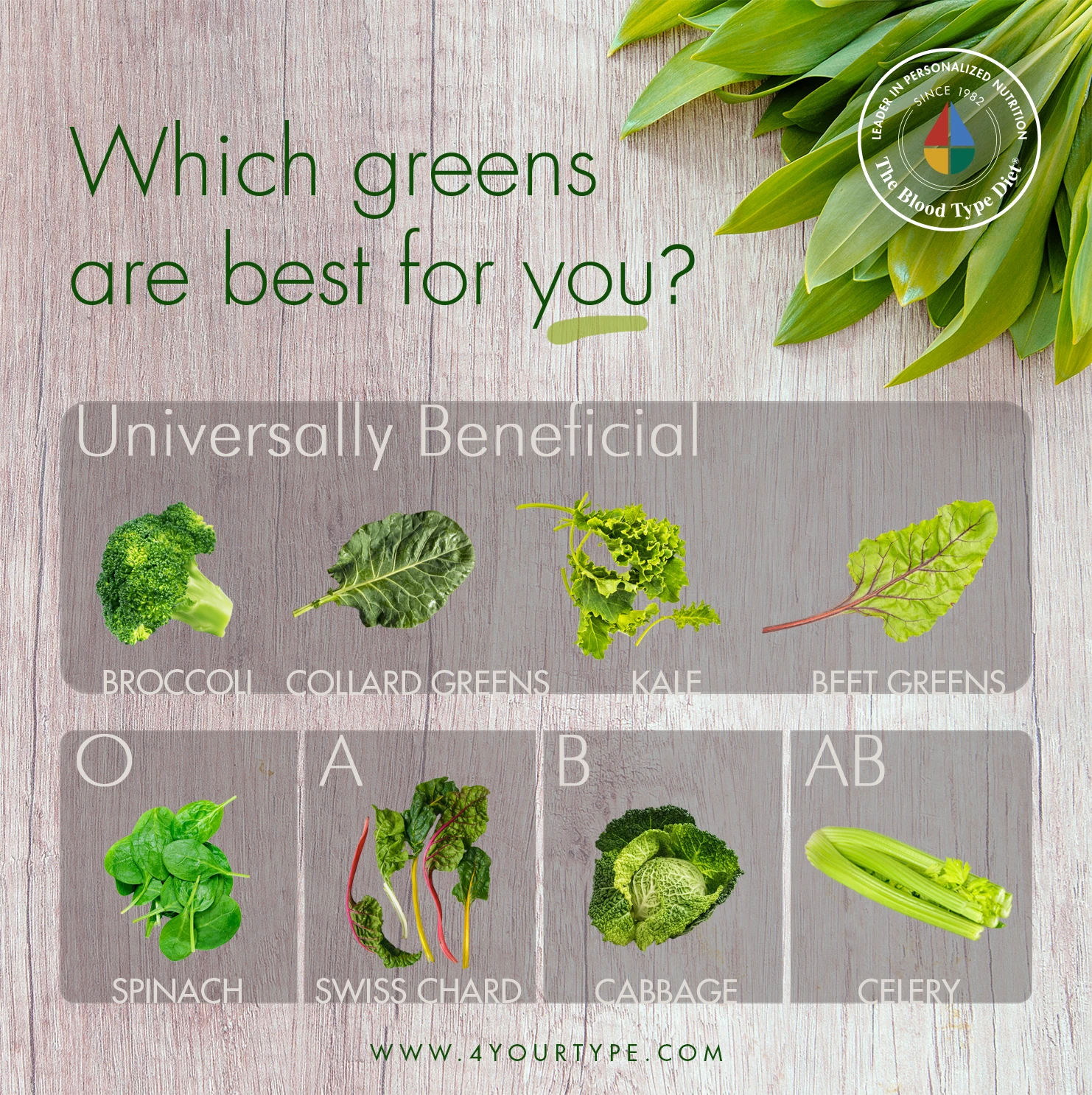 This post originally appeared in October, 2018.