My name is Anisia, and I am a 58-year-old lawyer based in Kenya. I grew up in a rural part of the country in a very large family of healthy children. My mother brought up all 15 of us (11 of her own and 4 step-children) in a loving house with delicious home-cooked food every night. It was in this loving environment that my fascination for food was founded. Some of the staple foods that I remember from these early years were maize and beans along with other locally-grown ingredients such as green vegetables, potatoes, bananas and millet. Until my early thirties, I remained active and stayed slim, to the point where I actually grew tired of being called small!
After I left high school, I moved to a community that embraced a European diet with lots of meat, baked goods and sugary desserts. This radically different cuisine eventually resulted in weight gain. I knew I had to do something to regain my health, so I started looking for diet plans to help. But the world of universal nutrition didn't work for me. First, I tried high-protein, low-carb diets paired with intense exercise. After committing to it for a while and returning to my doctor, she was confused at my lack of results. So, we turned to another option called "Fit for Life," a diet that was more vegetarian in nature. While I did lose weight on this program, it still felt very lopsided and unbalanced. I also saw that it didn't work for other people I knew nearly as well, making me really question whether any universal diet could work across the board.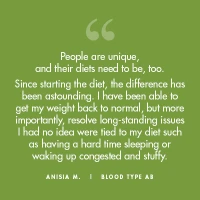 The next time I saw my doctor, she was excited to tell me about a new book she was reading called Eat Right 4 Your Type by Dr. Peter J. D'Adamo. She told me that it was about The Blood Type Diet, a program that based what you should eat on who you were inside. Knowing how I had been bouncing around from diet to diet with minimal success, she suggested that I read the book and try it out for myself. Upon finishing the book, I knew it was the answer I had been looking for. It was as if Dr. D'Adamo knew all the questions in my head and addressed them one at a time. I felt an immense sense of relief that the book took the guesswork out of dieting and explained why the slew of diets that exist are so hit and miss. People are unique, and their diets need to be, too.
Since starting the diet, the difference has been astounding. I have been able to get my weight back to normal, but more importantly, resolve long-standing issues I had no idea were tied to my diet, such as having a hard time sleeping or waking up congested and stuffy. Although the interest most people have for diets stems from a desire to lose weight, I appreciate that this plan is all about health, and that the weight control is only a good and welcome natural consequence.
People who know me have seen the change and ask me all the time if I have gone into a career in nutrition just because of the passion I have for this now. The Blood Type Diet truly has become my way of life. I would like to sincerely and deeply thank Dr. D'Adamo and let him know that his work has, and is, influencing a lot of people from far and wide – and is positively and permanently changing lives! I appreciate the tremendous work that has gone into producing and following up such a revolutionary masterpiece and look forward to growing in health and happiness for many years to come.

Other December 2018 Newsletter Articles