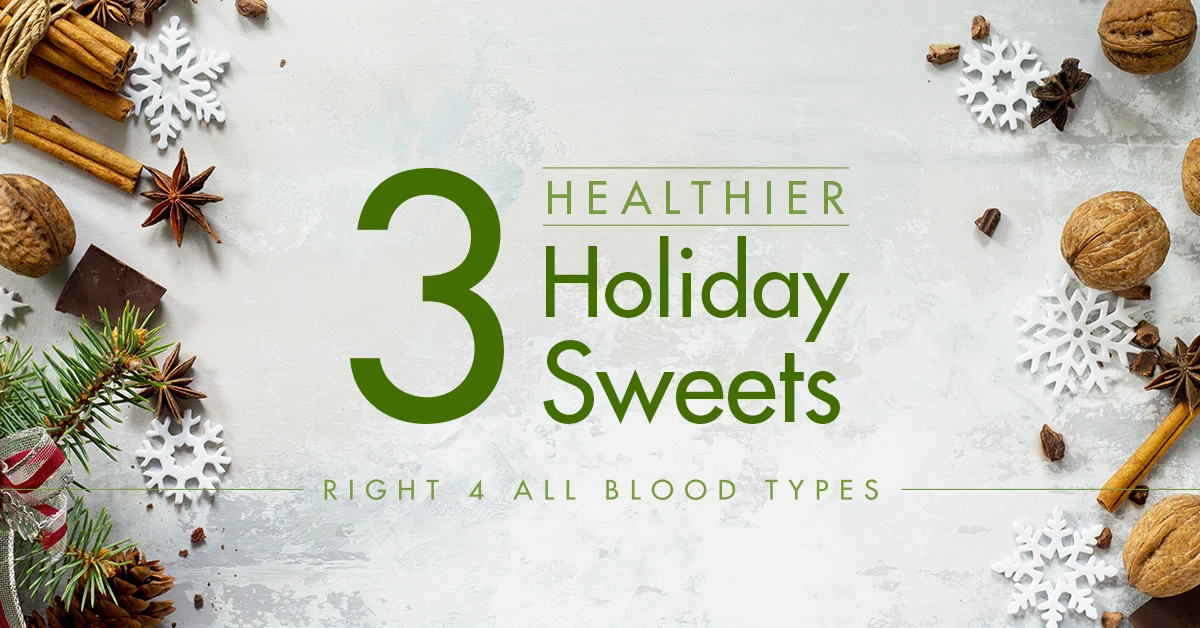 Between Christmas, Hanukkah, Kwanzaa and New Year's, there are no shortage of winter holidays and reasons to celebrate this season. No celebration would be complete without tasty desserts and sweet holiday treats for you to try. All are gluten-free, wheat-free, sugar-free and lectin-free, great to share with family and friends.
Healthier Rice Crispy Treats

A healthier version of your old standby.

Ingredients:

1 ½ cups of puffed rice cereal
⅓ cup of cocoa powder
6 tablespoons of pure maple syrup*
5 tablespoons of ghee
2 tablespoons of almond butter

*Maple syrup is an Avoid for Type O non-secretor and AB non-secretors, substitute agave syrup.

Instructions:

In a saucepan over medium heat, add the ghee, cocoa powder, maple syrup and almond butter. Melt until the mix is smooth. Place puffed rice in a mixing bowl and pour in melted ingredients. Mix until all the puffed rice has been covered in chocolate. Scoop into cupcake liners, and freeze for 20 minutes. Enjoy!

Almond Spice Cookies

A delicately flavored holiday favorite.

Ingredients:

2 eggs
1 cup rice flour
1 ½ cups almond meal
½ cup agave syrup
½ teaspoon salt
¼ teaspoon ground cloves (optional)
½ teaspoon ground ginger (optional)

Instructions:

Preheat oven to 300°F. Prepare cookie sheets by greasing them or covering with parchment paper. Combine all ingredients in a mixing bowl. Scoop cookie mix by the tablespoonful onto cookie sheets. Bake for 10 minutes. Let cool. Store in an airtight container or zip lock bag.

Chocolate Oatmeal Cookies (Types O & A)

Don't like oatmeal cookies? Just wait until you try these!

Ingredients:

1 ½ cups of oats*
2 cups of black beans (rinsed drained)
½ cup of pure maple syrup**
2 heaping tablespoons of cocoa powder
2 tablespoons of ghee

*Oats are an avoid for Type O non-secretors

**Maple syrup is an Avoid for Type O non-secretor, substitute agave syrup.

Instructions:

Heat oven to 350°F. Place beans, syrup, cocoa powder and ghee in a food processor, and blend until smooth. Grease cookie sheet with ghee. Scoop cookie mix by the tablespoon, and place on cookie sheet, pushing down to form thin circles. Bake for 20 minutes. Let cool before serving.

Find more delicious, simple to prepare recipes in the Eat Right for Your Type Personalized Cookbooks (great budget-friendly gifts at only $10.80 each).
Other December 2018 Newsletter Articles