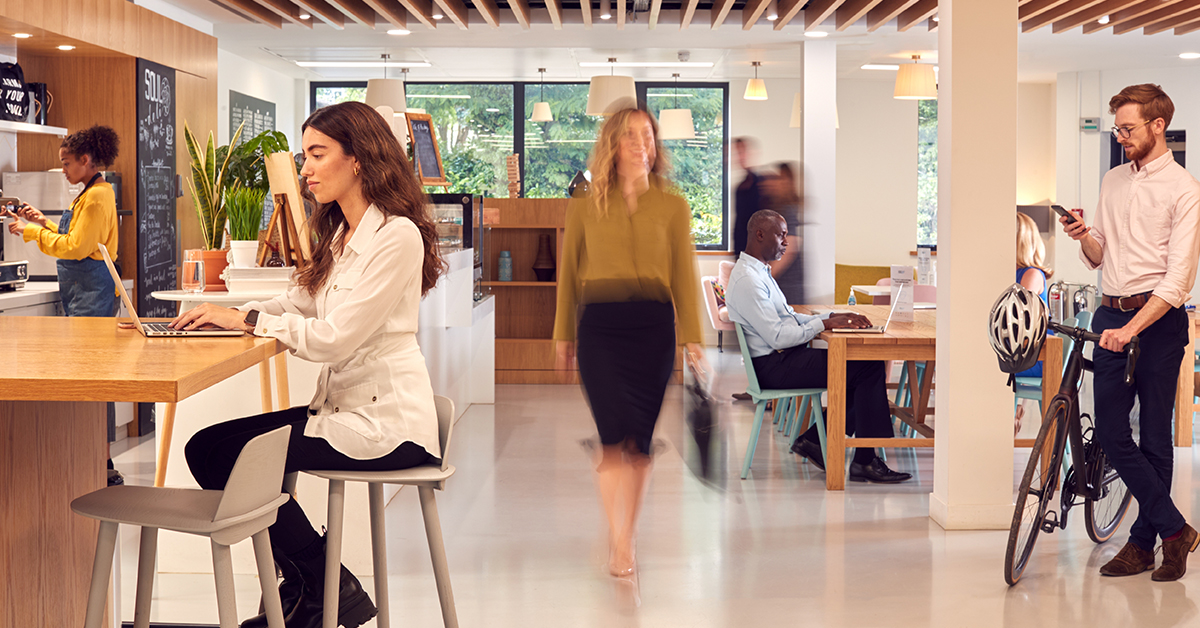 Return to the Office
Over the past two years, the pandemic has reshaped the way we think about work. In fact, many believe that remote work and flexible work arrangements are here to stay. But despite this fundamental shift in thinking, a return to the office is quickly becoming a reality for millions of Americans in traditional office jobs. And whether or not the return is full time or part of a hybrid schedule, the readjustment is stressful.
From new childcare arrangements to long commutes to losing control of the work environment, the anxiety surrounding heading back to the office is real. Follow these 7 tips to keep the transition from taking a toll on your physical and mental health — to avoid return-to-the-office burnout.
1. Get enough sleep
The role sleep plays in countering stress cannot be overstated. Sleep is essential to recharging the body and mind, and also supporting a healthy immune system. Making sleep a priority and establishing good sleep habits will go a long way towards improving your sleep health and reducing stress.
To start, establish a regular sleep schedule and adhere to it as closely as possible. When you have a normal sleep-wake rhythm, it reduces cortisol — your body's main stress hormone. A relaxing pre-bedtime routine will prepare your mind and body for what's to come, and a light snack before bed can help raise your blood sugar levels, improving sleep quality. Regular exercise also combats sleep disturbances.
2. Get moving
New work schedules may make it harder to fit in daily exercise. Maybe you got used to a lunchtime workout at home or a long morning walk. But while it's true that heading back to the office makes it more difficult to find time for exercise, not doing it could make a stressful situation even more stressful.
The benefits of regular exercise are numerous. Exercise improves brain health, sleep quality, strengthens bones and muscles, reduces the risk of disease, helps manage weight, boosts energy and just plain makes you feel good. Even if you have to get up 30 minutes earlier, the tradeoff is well worth it. If necessary, reduce the amount of time you spend exercising on "office days." Getting your heart rate up for 30 minutes instead of an hour will bring you more benefits than skipping exercise all together.
3. Focus on Beneficials
We've said it before, and we will keep saying it again and again because it's true; what you eat matters. The delicate microbiome inside the digestive tract is incredibly sensitive to any form of stress — even if it's short term. Therefore, during times of transition, it's more important than ever to focus on what you eat. For followers of The Blood Type Diet, that means focusing on Beneficials — "super foods" specific to each blood type that reduce inflammation, boost the immune system and increase energy levels.
If you need a refresher on what foods are beneficial for your blood type, the Official Blood Type Diet App is a handy tool that keeps food lists for you (and your entire family) at your fingertips. If you're new to The Blood Type Diet, the Revised and Updated Eat Right 4 Your Type book by Dr. Peter J. D'Adamo is the best place to start. Here, you will find lists of Beneficial and Avoid foods for your specific blood type, along with recipes and detailed explanations on why certain foods are better for you than others.
4. Plan meals ahead
Meal prepping is about more than saving time. Thinking ahead helps to keep you on track and makes it easier to consistently eat Right 4 Your Type. It might seem like extra work to plan out a week of meals in advance, but waiting until you are hungry to figure out what to prepare is a sure way to fall back into old unhealthy eating patterns.
D'Adamo Personalized Nutrition has many great resources to help with meal planning — from recipes to a full 30-day meal plan for each blood type. Learn more about these valuable tools as well as meal planning tips that will set you up for success here.
5. Keep snacks handy
"Welcome back" office food is a real thing. Whether it's morning donuts, afternoon cookies or both, sweets are likely to be a regular part of your new reality. Having some delicious high-energy snacks at your fingertips is the perfect way to resist temptation.
Try these no-bake matcha & lime protein energy bars. They're right for all types and can even be stored in the fridge for up to 5 days (if they last that long!). Smoothies are another great option for an afternoon pick-me-up or a breakfast-on-the-go. Adding Uniblend protein powder (available unflavored or in chocolate) to your favorite smoothie recipe can be a nourishing snack, meal replacement or post-workout boost. Find some great smoothie recipes for every blood type here.
Don't have time to whip up a smoothie before work? We've got you covered. Unibar Protein Bars were designed just for you. They're a healthy and energizing snack you can grab on the go, keep in your bag, and enjoy with zero guilt.
6. Choose caffeine wisely
Let's face it. Sometimes we all feel the need for a caffeine pick-me-up. But if you do choose to drink caffeine, it's important to know which source is Right 4 Your Type. For example, coffee is a Beneficial for Blood Type As, yet it's an Avoid for Blood Type Os. Tea may be a better option, but all teas are not the same. This article explains the different types of teas and which ones are best suited for which blood types. (Spoiler alert: black tea is not beneficial for ANY blood type!)
7. Supplements may help
If you're getting enough sleep, exercising regularly and eating Right 4 Your Type, yet you're still feeling return-to-the-office stress, supplements may help. Certain supplements can provide additional relief from occasional stress and these Calm Packs, formulated by Dr. D'Adamo for each blood type, have a naturally calming effect on the body.
If you're experiencing physical and mental fatigue, rather than (or in addition to) general stress, our line of uniquely formulated all-natural energy supplements can provide the additional support your body needs to optimize energy production. For more chronic fatigue, that can't be explained by stress, sleep deprivation or underlying medical conditions, refer to Dr. D'Adamo's book, Fatigue: Fight It with The Blood Type Diet.
Don't let a change in work environment raise your stress levels and affect your mental and physical wellbeing. Follow these 7 steps and avoid the dreaded back-to-the-office burnout.