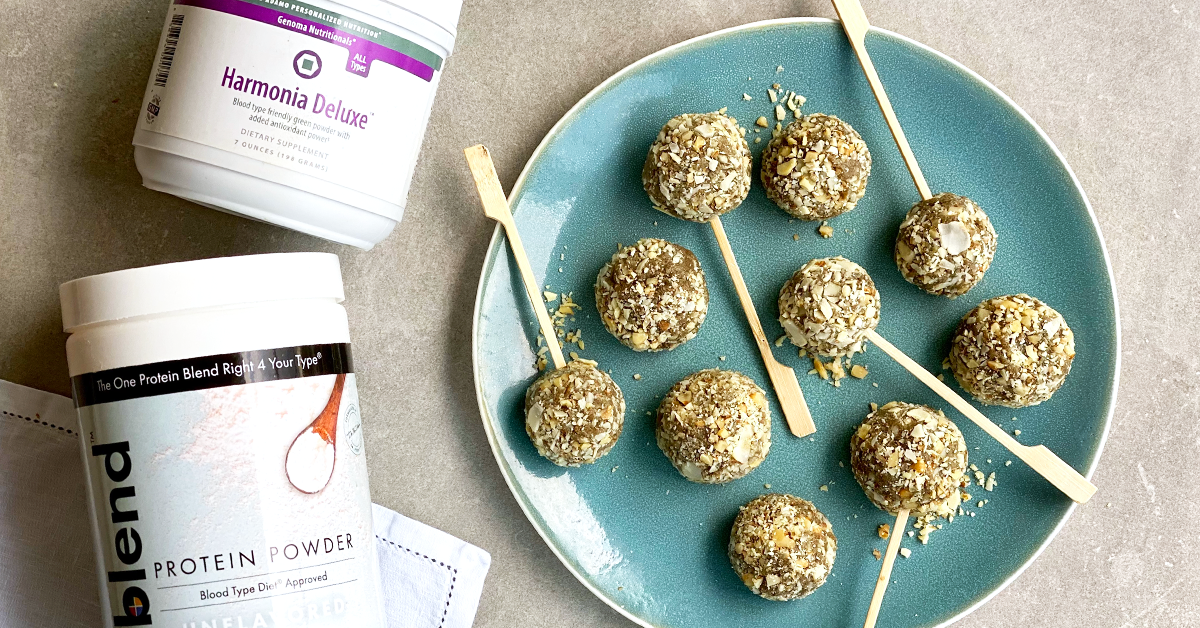 These no-bake energy balls can be made with pantry staples and feature our Uniblend Unflavored Protein Powder and Harmonia Deluxe Greens - making for a nice energy boost! You can mix things up by swapping the almond flour for ground walnuts, or any nut compliant to your blood type. This recipe is great for a pre- or post-workout boost or put them on a skewer for a fun after-school snack. They are so delicious, you may want to make two batches!
Makes 10 balls of 1 inch each
Ingredients:
½ cup almond flour*
3 tbsp almond butter*
1 tsp matcha powder
1 tsp Harmonia Deluxe
2 scoops of Uniblend unflavored protein powder
¼ tsp salt
Zest of 1 lime
2 tbsp agave syrup
8 tbsp water
½ cup almonds, finely chopped
½ cup walnuts, finely chopped
*Note: Be sure to buy one-ingredient almond flour and almond butter.
Instructions:
Process all of the ingredients (except the finely chopped almonds and walnuts) in a food processor until combined to a thick dough.
Mix the finely chopped almonds and walnuts together on a plate.
Form 1 inch dough balls with your hands and then roll in the chopped nut mixture until evenly coated. Enjoy immediately or keep refrigerated in an airtight container until ready to eat.
They can be stored in the fridge in an airtight container for up to 5 days for optimum freshness (if they aren't devoured before then!).
---