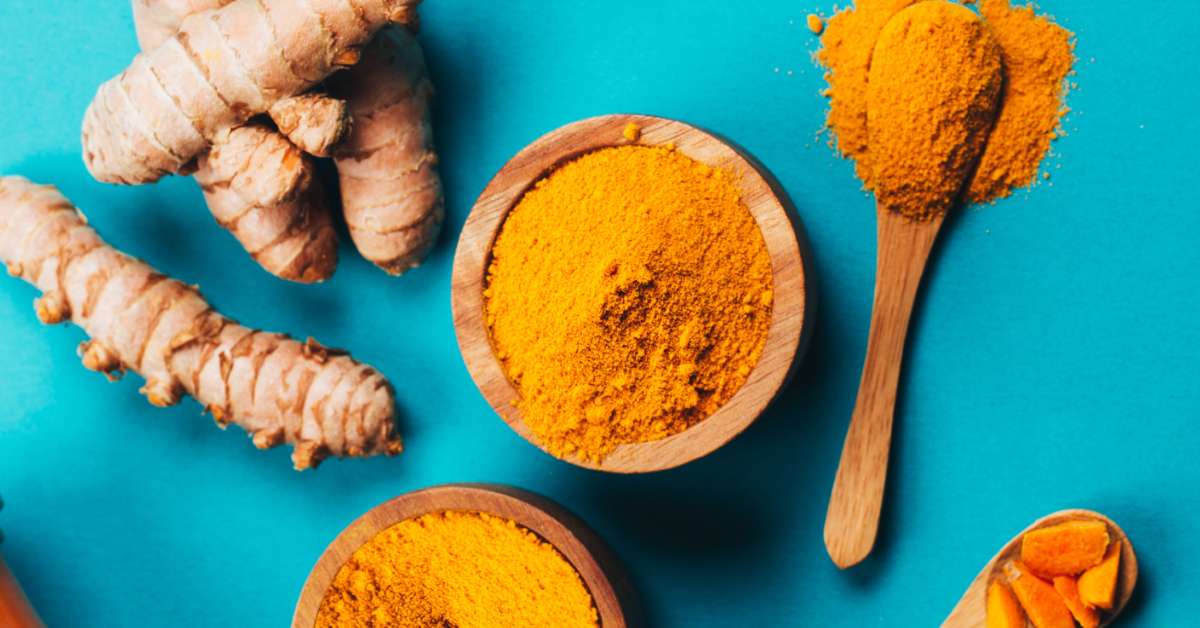 The Scoop on Turmeric
When culinary trends collide with science-backed health benefits, it's always good news. And turmeric sits right at this intersection. Right for all blood types, this golden spice is delicious in both sweet and savory recipes and has healing properties that puts it squarely in "superfood" status.
What is turmeric?
Turmeric, a member of the ginger family, is a bright yellow spice, sometimes referred to as Indian saffron. It's also one of the spices used in curry powder. It comes from the Curcuma longa plant, which is native to South Asia.
For thousands of years, turmeric has been used by Ayurvedic practitioners for its medicinal properties. And in many cultures, turmeric's importance goes well beyond medicine; it holds a sacred place in many rituals and ceremonies. Its beautiful golden color also makes a great natural dye.
Made by grinding the roots of the plant, turmeric is used in a variety of dishes from soups and dressings to smoothies and teas. This versatile spice can be used in just about every kind of recipe – even pancakes! – and chefs everywhere are experimenting with its earthy flavor and brilliant color.
What are the health benefits of turmeric?
A quick Google search reveals hundreds of scientific research articles on the positive health effects of turmeric and one of its main nutritional compounds, curcumin. Followers of The Blood Type Diet may already know that turmeric is usable by all blood types and has been recommended in Peter J. D'Adamo's groundbreaking book, Eat Right 4 Your Type, as a valuable addition to a balanced diet.
Turmeric is a powerful anti-inflammatory and antioxidant. In fact, its antioxidant capability is hundreds of times stronger than that of vitamin E.[i] Turmeric helps the body recover from stress and inflammation-related diseases, such as arthritis, allergies, and even cardiovascular disease. It's been shown to be particularly beneficial for disorders that are characterized by inflammation of the liver, such as hepatitis and cirrhosis.[ii]
What about turmeric supplements?
Eating turmeric as a part of a healthy diet has proven benefits. But for those who need extra support, turmeric supplements may be advantageous.
Studies show that turmeric doesn't absorb well into the blood stream[iii], which is why Dr. D'Adamo created Scienca. This unique formula contains a blend of turmeric with bromelain and quercetin. Bromelain aids in absorption and quercetin, another well-known anti-inflammatory, works together with the curcumin compounds to ensure maximum potency.
Tasty turmeric recipes
Looking to add turmeric to your diet but don't know where to start? These simple tasty recipes are right for all blood types and are sure to please.
Golden Milk Latte – Often nicknamed "Golden Milk," this turmeric latte is packed with health benefits and is so easy to make.
Turmeric Puffed Rice Bars – Reminiscent of childhood treats, these puffed rice bars are a healthy and fun snack for kids and adults alike. They can even be broken up and eaten as cereal in a bowl of almond milk. Note: Type O non-secretors should use a right-for-your-type milk.
Spice up your diet and your supplement protocol and reap the health rewards of the timeless wisdom of turmeric!
---
References
[i] Peter J. D'Adamo, Eat Right 4 Your Type, p. 80 (2016)
[ii] Ibid