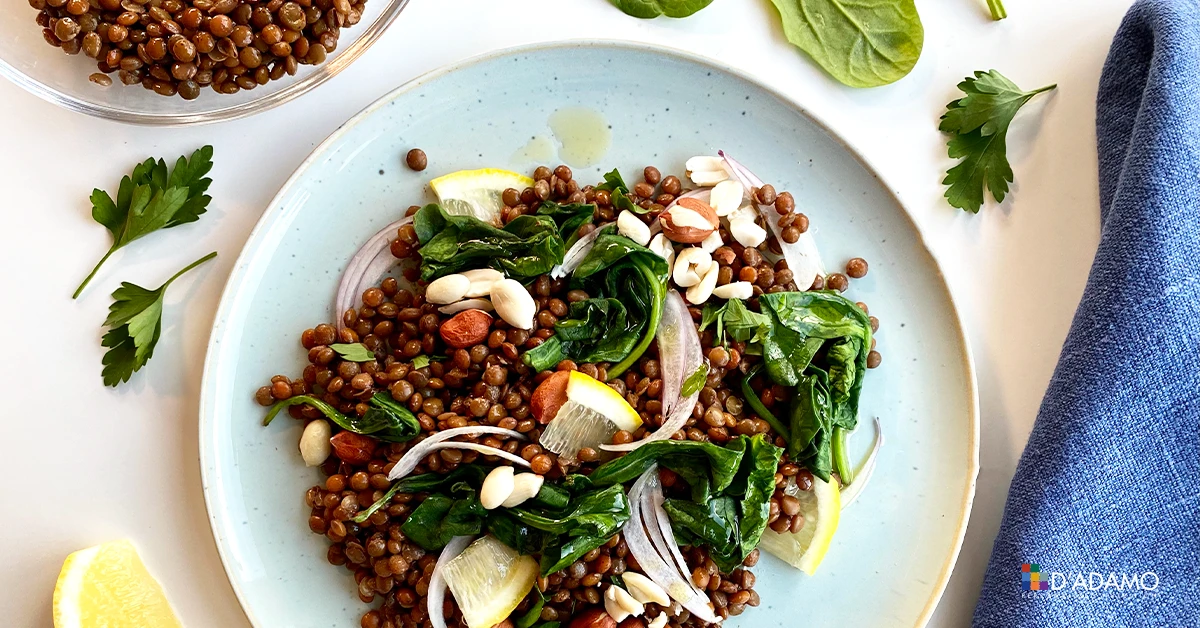 This Peanut & Lentil Stew recipe uses a majority of Beneficial ingredients for blood type A to give you a delicious personalized meal that will make you feel great. Featuring Beneficials like lentils, peanuts and spinach, this recipe is perfect for type A's. Nourish your body with this hearty stew. Find more delicious type A recipes like this in Dr. Peter D'Adamo's Eat Right 4 Your Type Personalized Cookbook (Blood Type A).
Serves 4
Ingredients:
2 tbsp olive oil
12 oz brown lentils, rinsed
2 oz peanuts
1 small white onion, minced
1 bay leaf
2 cups vegetable broth, warm
2 cups of baby spinach
1 red onion, finely sliced
½ lemon, quartered and finely sliced
Sea salt to taste
½ cup parsley, finely chopped
The zest and juice of 1 lemon
3 tbs olive oil
1 garlic clove, grated
Instructions:
In a saucepan over medium heat, sweat the onion, bay leaf and 1 tsp of salt in the olive oil. Add the lentils, stir to combine and add the vegetable broth. When it starts boiling, reduce the heat to low, cover and simmer for 40 minutes, or until the lentils are tender.
In the meantime, toast the peanuts in a preheated oven at 350°F for 8-10 minutes.
Lightly wilt the spinach in a pan with a splash of water.
Assemble the dressing in a bowl by whisking the zest and lemon juice, olive oil, parsley, grated garlic and pinch of salt and reserve.
When the lentils are cooked through and have absorbed the broth, add the spinach, the dressing and mix well.
To serve, simply spoon the lentil and spinach mixture in a plate, sprinkle with peanuts, red onion and lemon quarters. Enjoy warm or at room temperature as a salad.
Cooking notes: You can serve the lentils in their broth by adding ¼ to ½ a cup of vegetable broth at the end to moisten them, before adding the rest of the ingredients.
---