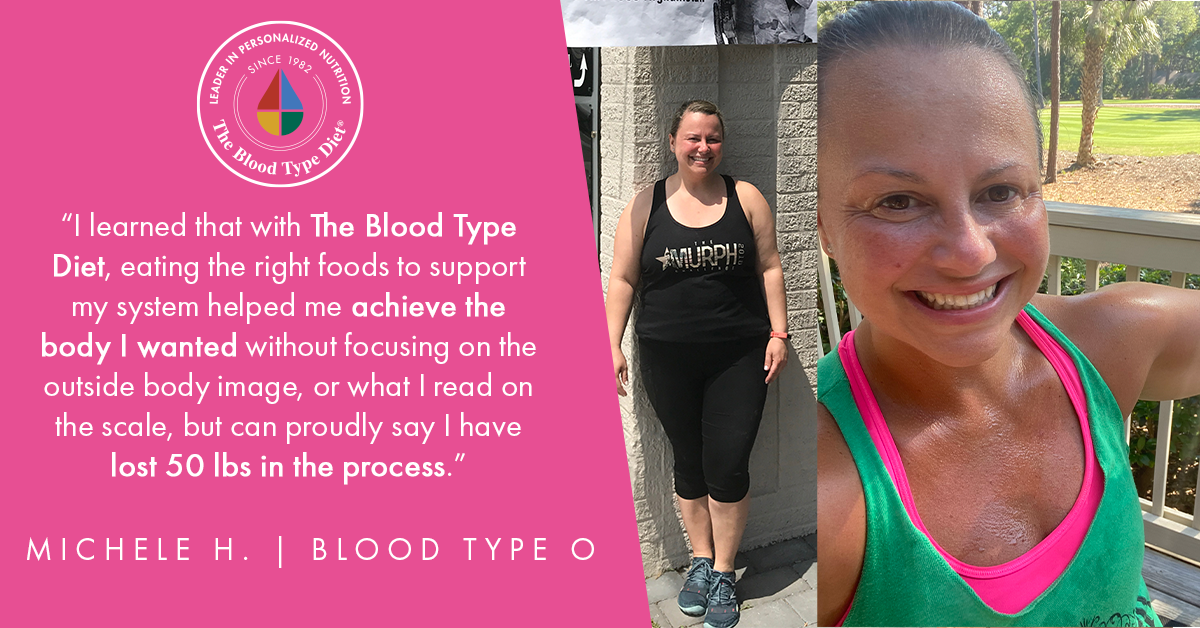 How did you first learn about Dr. Peter D'Adamo and The Blood Type Diet?
I first learned about Dr. Peter D'Adamo and the Blood Type Diet when I met a new friend who works at D'Adamo Personalized Nutrition. I was sharing with her about my digestive struggles and she connected me with one of the Customer Service Reps at the time to guide me on how to start the diet.
How long have you been eating for your blood type?
I started the diet slowly, by eliminating some avoids and replacing them with some beneficials back in 2016. I then joined the Customer Service Team at D'Adamo Personalized Nutrition in 2017 and continued making changes in my diet. Started fully following the Blood Type Diet in 2018.
What was your experience when you first started The Blood Type Diet?
I learned that I was eating the wrong foods for my blood type O for so long. I tried being vegetarian for way too long, which is not ideal for Type O's. I remember feeling better after adding red meat back in my diet and eliminating wheat altogether. After a month of following the diet, my digestive issue was so much better.
Were there any surprising changes you experienced after starting The Blood Type Diet?
I was having so many skin issues before starting the Blood Type Diet and was so surprised with how my skin felt better, just by changing my diet.
How do you stay motivated to keep with The Blood Type Diet?
I truly stay motivated to continue following The Blood Type Diet by guiding our customers on how to start the diet and by hearing their success stories. This diet has changed so many people's lives and I would love to inspire others, and continue to support my body and be as healthy as I can possibly be - especially during this time.
What is your favorite Beneficial? Which Avoid do you have the most trouble with?
My favorite Beneficial is sweet potatoes. It's a staple at our house, since we are all Type O. The Hash Brown recipe we have available on our site is one of my favorite recipes to use sweet potatoes (instead of pumpkin), and I even have it with a drizzle of Carob as a dessert once in a while.
Moving onto Avoids, I absolutely love coffee and I should probably wear a pin that says: "Coffee is my blood type." Before I started The Blood Type Diet, I was probably consuming 5-6 cups a day but now I have 1 cup a day and learned the stress of eliminating coffee all together was worse than keeping it in my diet. Another Avoid I struggle with is avocado. I was so sad to learn that avocado was an Avoid for Type O, because guacamole is one of my favorites, but since I am compliant overall I save it for "special" occasions.
What do you think is the most important thing when it comes to The Blood Type Diet and food?
As a teenager, I struggled with food because I linked food to body image and how I looked. The Blood Type Diet focuses food to support each blood type for overall health. I learned that with The Blood Type Diet, eating the right foods to support my system helped me achieve the body I wanted without focusing on the outside body image, or what I read on the scale, but can proudly say I have lost 50 lbs in the process.
What advice would you give other people who are curious about, or have just started, The Blood Type Diet?
My advice to anyone starting The Blood Type Diet is to read the book Eat Right For Your Type and dive into making the changes. We are all different and will experience different changes, but for me, being consistent and not giving up gave me the opportunity to have a wonderful relationship with food and continuing to support my health - and there is nothing better in life than being healthy.
---