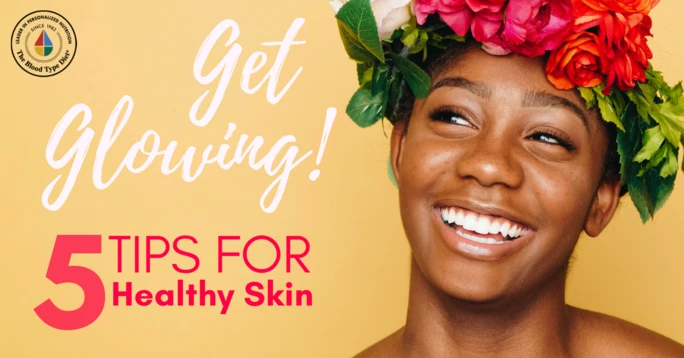 The summer brings many challenges for maintaining healthy skin. From sweltering temperatures to the UV rays streaming down from the sun, your body will need all the help it can get to stay radiant. Below are some of our best tips and tricks that will have a profoundly positive effect on your summer glow.
Follow Your Blood Type Diet. Start by eliminating Avoids, which can cause inflammation that puts stress on your skin. Reducing sugars, especially high fructose corn syrup, is also a must. Too much sugar can cause glycation, a process that creates AGE molecules — harmful byproducts that promote wrinkling and sagging skin. Fiber helps absorb anti-glycation end products, so eating foods high in fiber, like whole fruits and vegetables, can also be a big help.
Stay Hydrated. Skin cells, like every other cell in the body, require proper hydration. Even if you don't feel thirsty, having a constant supply of water throughout the day is key. Carry a chemical-free bottle to remind yourself to keep drinking water, especially on the hot days of summer.
Exfoliate Often. Your skin sheds dead cells at the pace of 30 thousand per minute. These dead cells clog pores and can cause tiny white bumps over time. By dry brushing your skin 3-4 times a week before you shower, you will be removing the majority of these dead skin cells, revealing a radiant layer beneath. This will encourage your body to make new skin cells more regularly.
Use Non-Toxic, Clean Moisturizers and Toners. While it seems obvious to moisturize when the heat is at its peak, too few people do. Even fewer check the labels of the products they buy and, as a result, end up dousing their skin with chemicals that can do more harm than good. Make sure to keep your skin properly hydrated with products from the Genoma Skin Care line to ensure you are getting the effects you want in a natural and healthy way. Including a toner in this regimen will also keep the pH levels of your skin balanced to ensure that your skin retains the natural oils it needs to stay healthy.
Protect Yourself from the Sun. While beach days are an undeniable staple of summer fun, going to the beach without proper protection against the sun's rays is a mistake that could have grave consequences. Use sunscreen to not only protect from the next day redness and pain, but also from the longer-term threat of skin cancer.
With these simple to follow instructions and the help of Dr. D'Adamo's Genoma Skin care products, you have the tools you need to have a safe and happy summer in the sun, all while looking and feeling your absolute best!
If you are looking to optimize your health throughout the summer months even further, check out our Weekly Exercise Program to Perfect Your Summer Glow.