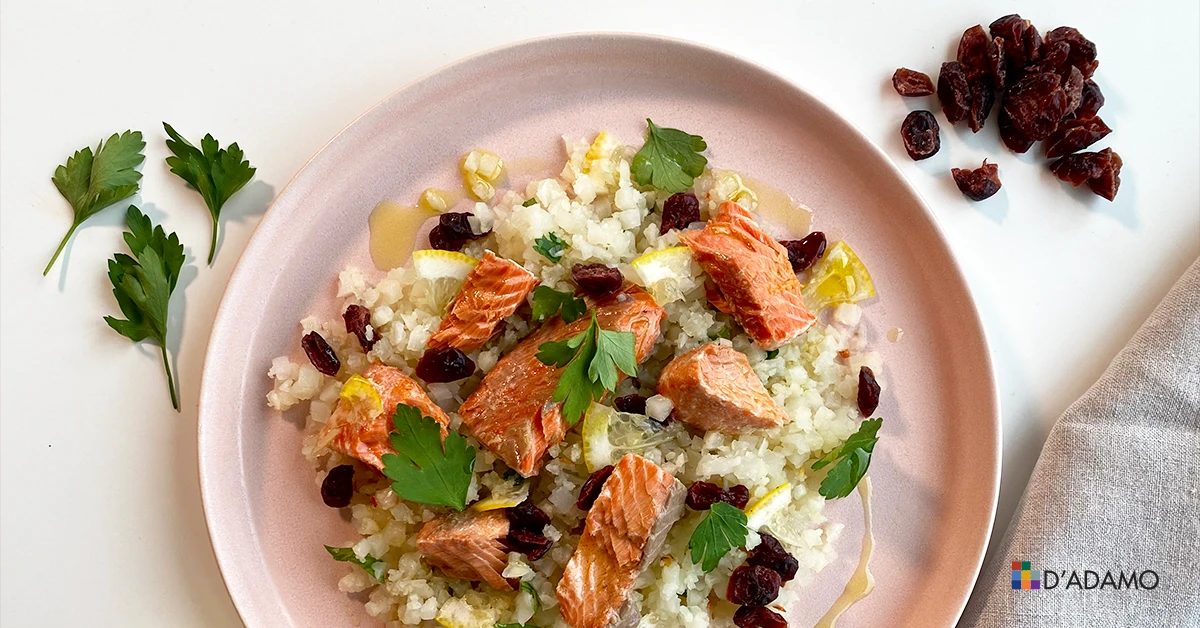 This Wild Salmon & Cauliflower Pilaf recipe uses a majority of Beneficial ingredients for blood type AB to give you a delicious personalized meal that will make you feel great. Featuring Beneficials like salmon, cauliflower, cranberries and ginger, this recipe is perfect for type AB's. Nourish your body with this comforting dish. Find more nourishing recipes like this in Dr. Peter D'Adamo's Eat Right 4 Your Type Personalized Cookbook (Blood Type AB).
Serves 4
Ingredients:
2 cups of olive oil
14 oz wild Atlantic salmon fillet in one piece
3 garlic cloves, whole
1 bay leaf
2 sprigs of thyme
¼ oz ginger, grated
white onion, minced
1.3 pounds of grated cauliflower
½ cup of dried cranberries
¼ cup parsley, finely chopped
The zest of ½ lemon and the lemon quartered and finely sliced
Sea salt to taste
Instructions:
Preheat your oven to 300°F.
Place the salmon, 2 cups of oil, garlic, bay leaf, thyme and lemon zest in an oven proof dish. The dish should be big enough to fit the size of the fish, making sure to submerge the fish in the oil. Confit in the oven for 45 minutes. When the fish is ready, drain the filet on a plate and delicately break apart in bite size pieces.
In the meantime, warm 2 tbsp olive oil from the fish confit, in a non-stick pan over medium heat. Sauté the ginger and onion for 3 minutes and cook the cauliflower for 4-5 minutes. Salt to taste. Reserve in a bowl.
Mix in the cranberries to the cauliflower, the parsley and lemon slices.
To serve, top the salmon on the cauliflower, sprinkle with extra parsley if desired and enjoy warm or as a salad at room temperature.
Cooking notes: After using the 2 tbsp oil to cook the pilaf, discard the oil and aromatics. For a nice serving suggestion, keep the fish filet whole and serve on top of the cauliflower pilaf. To add a bite to the cauliflower pilaf, you can add toasted flaked almonds or walnuts.
---