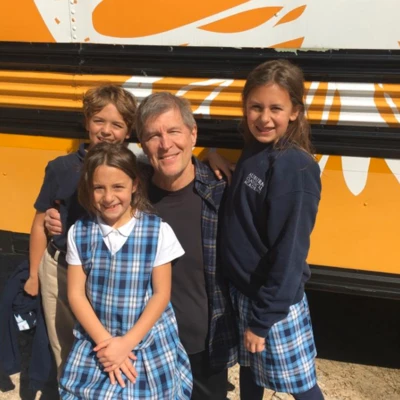 In 2003, I moved to Washington, D.C. from Santa Barbara because my mother needed help due to her arthritis.
In researching dietary solutions to relieve my mother's symptoms, I found information on eliminating spices, wheat, corn and other foods—and adding those like white fish and greens. I told my mom it sounded a lot like my diet when I was diagnosed with food allergies at just two years old, in 1955.
I had been a healthy baby, but at two years old everything went sideways. I was throwing up, food went right through me … I was losing weight to the point my parents and sister were afraid I was going to die. Eventually, we found a doctor who determined that I was extremely allergic to wheat, corn and dairy. My diet became extremely limited. I ate things like venison, bananas, non-fat dry milk and dried cottage cheese.
Seeing the correlation between my childhood diet and what I was learning about my mother's recommendations, I researched "food allergies and diet." What popped up was Eat Right for Your Type, in which Dr. Peter D'Adamo had linked food and health to a person's blood type. My mother and I are both Type O, so I started preparing food right for our type. In just a couple of weeks, her arthritis pain was relieved. She was even able to pull out her knitting needles again!
Personally, I really got into the lifestyle changes of eating right for Type O. I laughed when I read that to eliminate stress, "your type loves physical exertion." After following the Type O diet, I noticed that at age 50, I wanted to work out again. I did, and had more strength during workouts plus an overall feeling of well being—I was energized by the protein-rich diet.
My mom passed away in 2017 at 95. But for 15 years, she and I prepared meals together and when we'd go to restaurants, we'd be certain to stay away from things we knew would mess up our balance. Whenever she'd feel joint pain, she would eat the foods that were beneficial for her age and blood type. She was even savvy enough to stay away from foods that thinned her blood and to eat foods recommended for stronger bones. She was pain-free up until the day she died.
The key benefit of The Blood Type Diet is that I know why I feel pain in my joints or start to notice puffiness around my eyes in the morning; I know that if I eat a cheese pizza and go to the bar, those foods will react in my body. So, I don't worry about going to the doctor or taking a pill for the pain. I just go back to eating what's medicine for me and the pain goes away, along with the overall feeling of fatigue. I also don't blame negative feelings or thoughts on others; I connect all of that with my habits.
Since taking Genoma supplements, I'm feeling and looking younger and much stronger. The next thing I'd like to try is the Hunter/Gatherer and Swami level. Meanwhile, it's the rainy season here in the western Carolina mountains and I'm awaiting the good weather so I can hop on the bicycle and train for a 100-mile ride in May. I may settle for 65 miles; we'll see.I now understand that I wasn't a strange kid that couldn't eat like regular people—I just had a different blood type. Thank you, Dr. D'Adamo!
Steve D.
66-year-old Type O (and loving it)