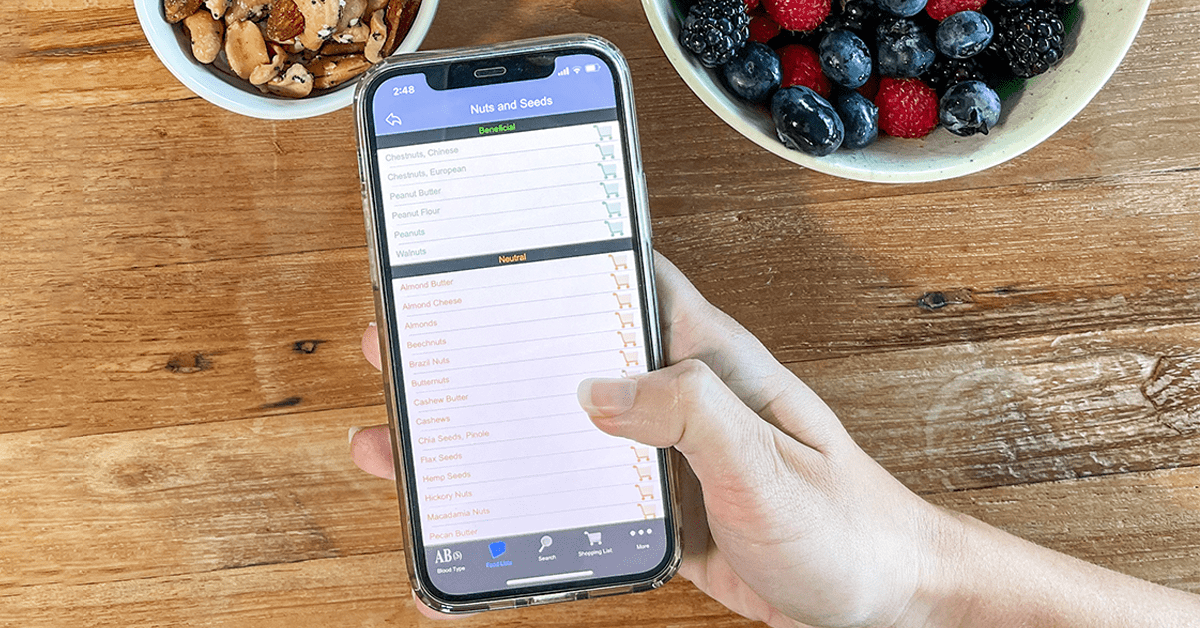 Access Personalized Nutrition in the Palm of Your Hand with The Blood Type Diet App
Whether you've read the books and done a deep dive on the website or are just looking for the highlights of what The Blood Type Diet is all about – our Official Blood Type Diet App is your best support tool for success. The app is available in the Google Play and Apple App stores for $3.99 and keeps your Blood Type Diet food lists at your fingertips whether you're traveling, dining out or roaming the grocery store aisles.
Secretor Status
The app allows you to overlay your secretor status to your blood type for further personalization. Your secretor status indicates if you secrete your blood type antigen into other body fluids such as saliva and tears. This plays a profound role in your health – and knowing your secretor type empowers you to further refine your Blood Type Diet and take strategic control of your own wellness and lifestyle choices. If you don't know your secretor status, you can order the simple at-home saliva test through our website.
Family Favorites
Managing a family of different blood types on our diet can feel overwhelming, and that's one of the driving reasons we created this app. The app allows you to create a Family Food List for your entire family, so you can refer to it on-the-go and keep everyone aligned with eating for their type. The app will select common foods good for multiple blood types, streamlining the cross referencing across lists.
Sorted + Simplified
Once you've set up your blood type and secretor status the app will then provide you with food lists categorized as beneficial, neutral or avoid. This helps you to make smarter choices, without having to dig deep to find the info. There is also a quick link to a recipe database that provides an ingredient list and step-by-step instructions. You can search for recipes by selecting the blood type(s) and secretor status(s) for you and your family to quickly identify the smartest choices to cook.
Search + Shop
The app also allows you to search + shop for supplements, tests, and books right from the app to support your nutrition and goals. The app marries the most useful content from our website with practical applications that empower you to manage your health from your phone. We're proud to share the app has been celebrated by our users and ranked #5 in Health & Fitness Apps on Google Play.*
If you have questions about the app, or need support using it, we are here to help. Please contact: appsupport@dadamo.com.
*App Annie ranking as of April 14, 2021