One of the most common questions we hear from people starting The Blood Type Diet® is, "What do I do if there are multiple blood types in my family?" We hear you. Preparing multiple meals every day is just not sustainable. But fortunately, there are many recipes that work well for multi-blood-type families. It just takes a little planning.
We know that for many people the word planning equates to boring or difficult (or both!). It's one more chore on a long list of "to dos." It's true that it does require a certain level of organization and commitment, but over time it gets easier and the rewards definitely outweigh the effort. When you feel great every single day, a little planning is a small price to pay.
The key to successful meal planning for multi-blood-type families is to find a list of ingredients that work well for all family members. On busy days, you will appreciate having a few "go to" meals that work for everyone. Over time, you will also find that meal planning can add variety to your diet and even save you money.
Here are some tools and tips to make personalized nutrition for multi-blood-type families easier.
The Blood Type Diet App
One of our favorite tools for easier meal planning and shopping is The Official Blood Type Diet App. This easy-to-use, convenient planner goes with you. It lists "beneficial," "neutral" and "avoid" foods for every blood type, and also has a family list feature to take the work out of finding foods you have in common. Shopping lists, recipes and even a supplement guide is at your fingertips.
Whether your family is made up of all Blood Type As, a few As and a few Os, or any other combination, incorporating 80% "beneficials" —foods that react positively with your specific blood type — results in increased energy and a boosted immune system. The Blood Type Diet App makes it easy to find "beneficials" that benefit every member of the family.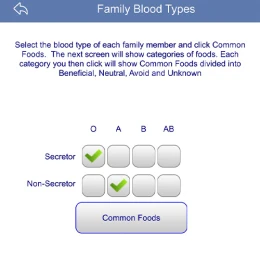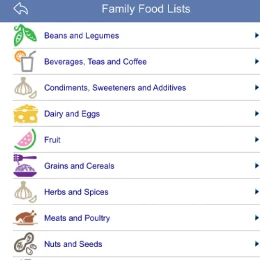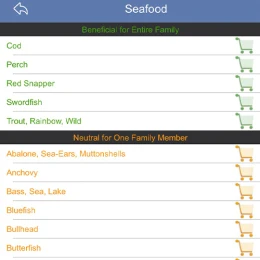 Food List Pocket Guides
If you prefer a book to an app, we've got you covered. Our blood type specific Food, Beverage and Supplement Lists are pocket-sized to take with you on the go. These handy reference guides are helpful when food shopping and dining out.
Recipes for Families
Getting tired of making the same old thing? Visit our recipe blog. Here you will find many exciting recipes that are Right 4 All Types!
Eat Right 4 Your Type Personalized Cookbooks also offer a variety of recipes sure to please. Sometimes adapting a recipe for multiple blood types is as simple as swapping a protein. Try picking one new recipe each week and over time making the ones your family loves a part of your standard meal rotation.
Start Small
One of the best tips for multi-blood-type families is to set reasonable expectations. Going in trying to memorize every food for every type will only lead to discouragement. A great way to get started is to remove five "avoid" foods your family eats most often and replace them with five "beneficials." Try it for a few weeks and notice how much better you're feeling. Then, keep the pattern going by selecting five more foods and so on. Over time, your family friendly "go to" list of ingredients will become second nature.
No matter how many blood types are in your family, personalized nutrition is possible. With a little planning and some creativity, you can enjoy delicious meals together that meet everyone's needs.