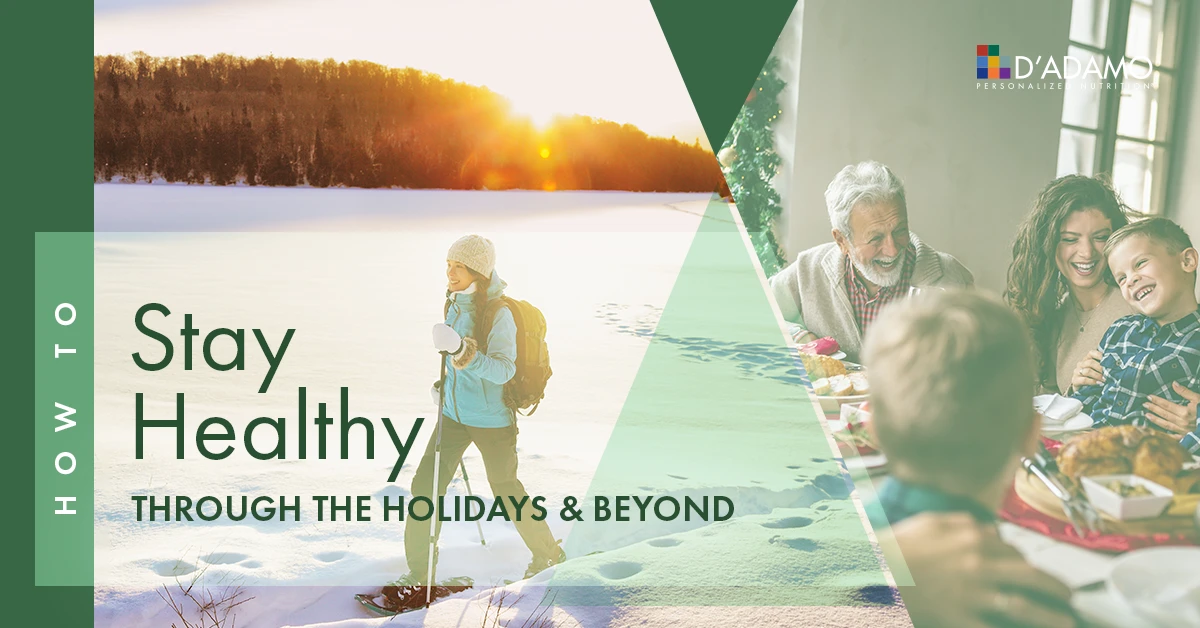 It's difficult to keep up with healthy routines day after day, month after month. But for many of us, December is especially challenging. With falling temperatures, shorter days and the overall stress of the holiday season, it can get harder to stay vigilant. Then there are the sweet temptations that seem to be ... well, everywhere. Despite good intentions, we tend to put our health on hold through the holidays, which can lead to tired, run-down bodies, ripe for colds, flu and other illnesses.
This month, we are offering tips on how to stay healthy through the holidays. And it's not as hard as you might think.
Rethink Exercise
When the weather gets colder, it's tougher to get out of bed—and by evening, curling up on the couch is oh so appealing. Sound familiar? If you're someone who loves walking, running, or other outdoor activities, chilly temperatures can really throw a wrench into your exercise routines. So how can you stay motivated to continue exercising when December rolls around?
One tip is to warm up indoors before you head outside. A few jumping jacks, jogging in place, or anything that gets you heart rate up will do. When you step outside, the cold air won't feel as intense. Dressing in layers of clothing works too. You can peel them off as your body temperature rises. Working out at home is another option. There are many online programs—some for free—that can keep you going when the weather gets you down.
Switching up your schedule and decreasing the number of days you work out can also help. A brisk lunchtime walk three days a week is better than nothing at all. It's fine to ease up, just don't stop. Moderate, regular exercise helps to fight off colds and other infections. Now that's a reason to keep on moving.
Live in the World of Beneficials
During the holidays, food temptations seem to be everywhere. From scrumptious-looking cakes and cookies to hot chocolate and candy canes, the allure of sugary treats is prevalent and can be hard to resist. But the truth is that the better you feel, the less tempted you will be to stray. Sticking with your personalized nutrition plan is critical. Even seemingly "healthy" alternatives can contribute to loss of energy and weight gain if they are not right for your blood type.
One way to keep on track is to stay in the world of The Blood Type Diet beneficials as much as possible.
Sticking with those foods that make your body thrive will keep you feeling energetic. And when you feel good, you'll be less likely to make bad choices. Foods that are beneficial to your blood type are less demanding on your metabolism and help to optimize your health. Sure, you might be able to get away with a few small food indiscretions, but varying too much is an invitation to negative consequences, including illness.
If you haven't already downloaded the only Official Blood Type Diet app, now is the perfect time. It's a great way to keep food lists at your fingertips, go shopping (even for multi-blood type families!) and dine out with ease. With the handy search function, personalized nutrition has never been easier.
Supplement, Supplement, Supplement!
The role of supplements is both to add nutrients lacking in your diet and to provide extra protection where you need it. They are important year-round, but the body experiences more stressors during the winter, making it vital to consider supplements at this time.
D'Adamo Personalized Nutrition Daily Essentials, specific for each blood type, is a money-saving pack containing three of our best selling formulas. Polyvite (multivitamin), Polyflora (probiotics and prebiotics), Phytocal (unique calcium-rich formula)—all can help to boost everyday health and address the specific needs of individual blood types. And for those times when avoid foods are simply unavoidable, Deflect is our first line of defense in blocking harmful lectins—definitely a holiday survival asset.
For additional immune support during cold and flu season, look to supplements like Genoma Security and Proberry Caps, also available as a syrup, Proberry 3 Liquid, which can be excellent in hot water with lemon or atop your favorite blood-type friendly pancakes or waffles—yes, it's that good!
And what about all that added holiday stress? Our bodies recognize stress as stress, even if it's happy stress. If you feel you need extra support to combat fatigue and support a healthy response to stress, consider supplements like Cortiguard (Blood Types A and B), Catechol (Blood Types O and AB) and Tranquility Base.
From antioxidant protection to immune support and stress relief, supplements can provide unique and personalized support.
Don't let the added stress and high expectations of the holiday seasons cause you to put your health on hold. Eat right, exercise right and supplement where needed. Putting yourself first is the best gift you can give.