Frank H., a CrossFit athlete, discusses how The Blood Type Diet boosted his energy and endurance. Frank is a blood type O who has been following the diet since April.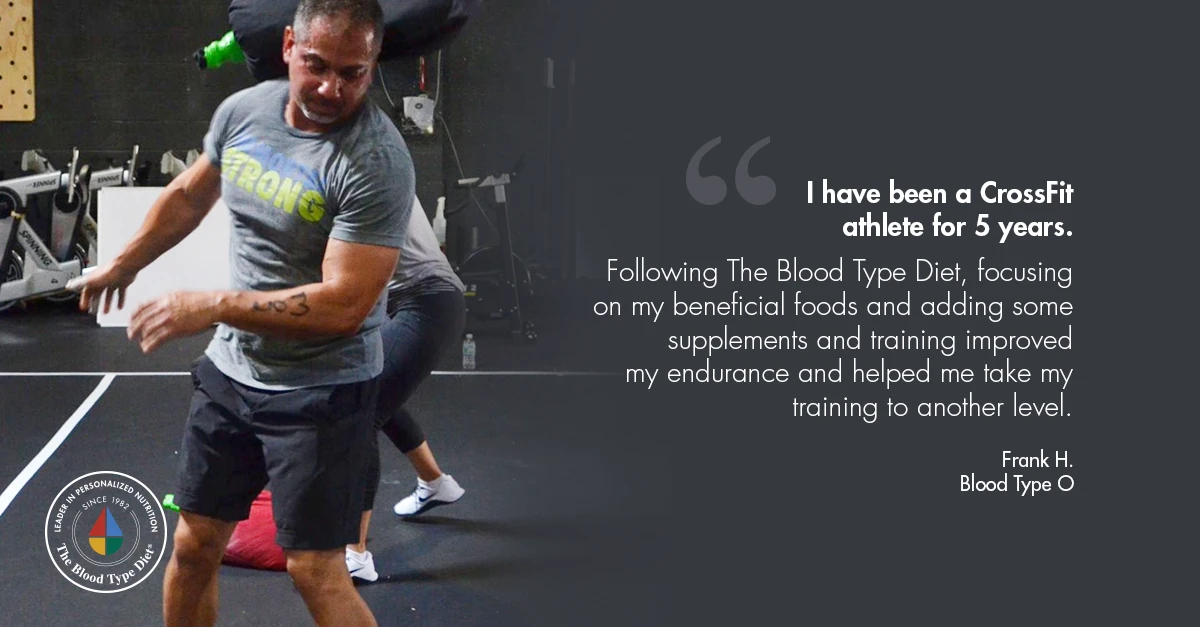 Tell us a little about yourself as an athlete.
I have been a CrossFit athlete for 5 years. I was looking to bring my fitness to the next level and heard about CrossFit through a friend. A short time after, I stumbled upon a newly opened CrossFit gym in our town and joined right away. Since I started, I have been able to compete in a few friendly competitions, such as Battle of the Boxes and WODFather. Being a CrossFit athlete has given me true passion for fitness.
When did you start taking exercise seriously?
I started really taking exercise and fitness seriously in April 2015. I remember the date because I was ready to make a serious change in my life.
How much do you exercise per week?
I train 5 to 6 days a week.
What made you start The Blood Type Diet?
My fiancé shared Dr. D'Adamo's Eat Right 4 Your Type with me. It made so much sense to me. I read about how my blood type relates to the foods that make me feel great and the ones that don't. I was happy to see that, overall, I have been eating according to my blood type (O) ever since I started taking fitness seriously.
What was the first change you noticed in your body or athletic performance? How did your experience with The BTD change since you began the diet?
The first change I saw was that I had more energy throughout the day. Following The BTD, focusing on my beneficial foods and adding some supplements and training improved my endurance and helped me take my training to another level.
How is the BTD different from other diets you've tried in the past?
I have tried diets like Paleo and Whole30, but I certainly feel The BTD is bringing my diet to the next level, keeping my overall health great.
What was the most surprising change you experienced with The Blood Type Diet?
With the BTD, I just feel healthier overall and less hungry — while enjoying lean steaks and other foods I naturally love.
Have you added any supplements to your diet? If so, which products do you take? Why?
I have been introduced to a few supplements and have been taking Nitricycle and the Joint Health Pack, which includes Bromelain, Phloxicin and Connectivar. I am a huge advocate for these supplements while lifting heavy weights and performing at a high level.
Do you have any suggestions or words of wisdom for individuals on the diet or people considering starting?
I was really happy I read Eat Right 4 Your Type and learned a great deal. My advice for someone starting on the diet who might enjoy physical activities like me is to go all in. I have incorporated the diet 100%, and gave my body time to get rid of lectins from the foods I was eating prior that are not good for my blood type. I saw benefits within two solid weeks of being on the diet, and incorporated the supplements a month in. I am grateful for what the diet and supplements are giving me. I continue to get healthier and fitter.