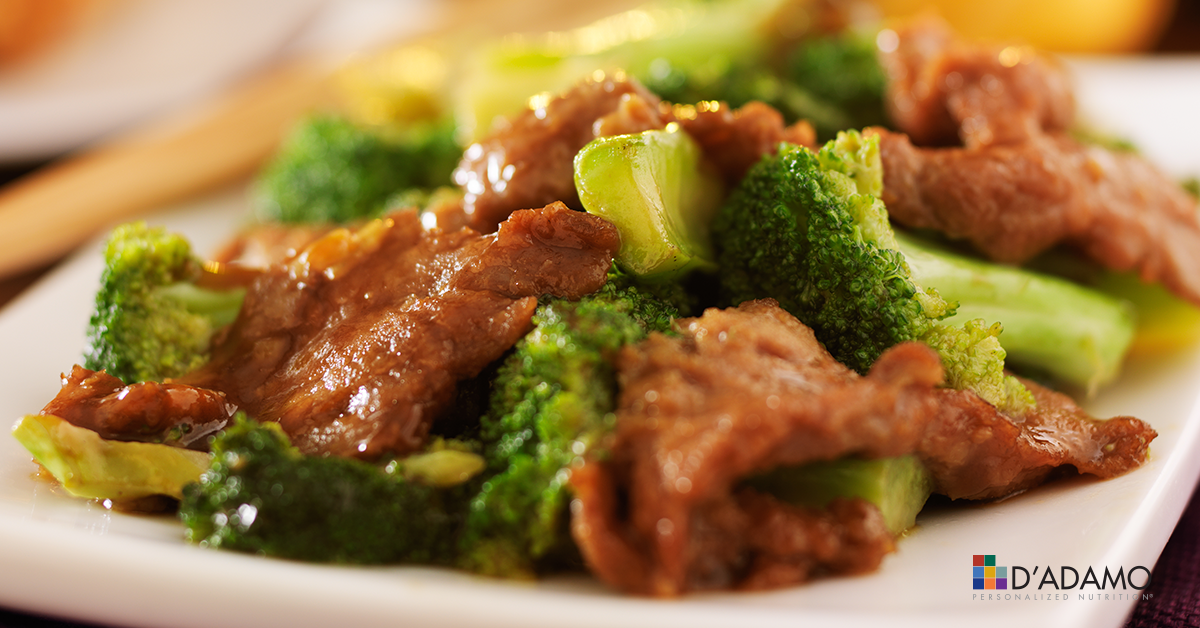 We love the convenience of calling in an order at our local take out restaurant, but even if we're ordering something simple, we know it probably contains some sneaky ingredients that are better off avoided. We've developed a few recipes that allow you to enjoy the taste of Asian-inspired dinners made Right 4 Your Type. Find more delicious, simple to prepare recipes in the Eat Right for Your Type Personalized Cookbooks



TYPE O & B: Stir-Fried Beef and Broccoli

[ Serves 2 ]

Ingredients:

1 pound organic, grass fed beef fillet sliced into thin strips
½ teaspoon each of these spices (ground): cloves, fennel, anise, ginger
2 cups broccoli florets
4 garlic cloves finely chopped
1 large onion sliced
1 teaspoon red chili flakes
2 tablespoons of sesame oil or cooking oil acceptable for your type

Directions:

Mix the spices together and toss with sliced beef to season.
Heat your pan or wok over high heat.
When hot, add oil, onion and broccoli cook for 5 minutes.
Add garlic and continue cooking for 30 seconds.
Add beef and continue cooking to preference.
Garnish with red chili flakes, if desired.




TYPE A: Sesame Tofu with Bok Choy and Crunchy Vegetables

[ Serves 2 ]

Ingredients:

8oz of extra firm tofu sliced into ½ inch strips
2 cups of bok choy chopped into large pieces
1 cup of mixed vegetables sliced: (carrot, celery, broccoli florets)
½ cup of bamboo shoots sliced and drained
3 tablespoons of toasted sesame seed oil
2 tablespoons of soy sauce
2 tablespoons of sesame seeds
1 lime

Directions:

Heat pan/wok and add 1 tablespoon of sesame oil.
Fry tofu for two minutes, turn and fry another two minutes until golden.
Remove from pan and set aside.
Add another tablespoon of sesame oil to the pan/wok with the bok choy, vegetables, and bamboo shoots and stir-fry for 5 minutes.
In a bowl, mix 1 tablespoon sesame oil with soy sauce and a squeeze of lime.
Stir into wok/pan with tofu, sprinkle with sesame seeds and serve.

TYPE AB: Chinese Rice Noodles with Mixed Mushrooms

[ Serves 2 ]

Ingredients:

⅓ cup of vegetable stock
3 tablespoons of soy sauce
3 tablespoons of rice wine
1 inch fresh ginger, grated
2 cloves of garlic, sliced
2 tablespoons of peanut oil
2 cups of mixed mushrooms (oyster, enoki, maitake, Portobello)
10oz of spaghetti style rice or spelt noodles
½ cup of green onion (scallion) sliced

Directions:

Cook pasta according to package directions, drain and set aside.
Combine vegetable stock, rice wine, and soy sauce in a small bowl and set aside.
Heat wok or large frying pan over high heat, add peanut oil, then add sliced garlic and grated ginger and stir-fry for 30 seconds.
Add the mushrooms and stir-fry until slightly browned, about one minute.
Add stock mixture and cook for one minute.
Add noodles and toss with mushrooms/sauce.
Sprinkle with green onion and serve.