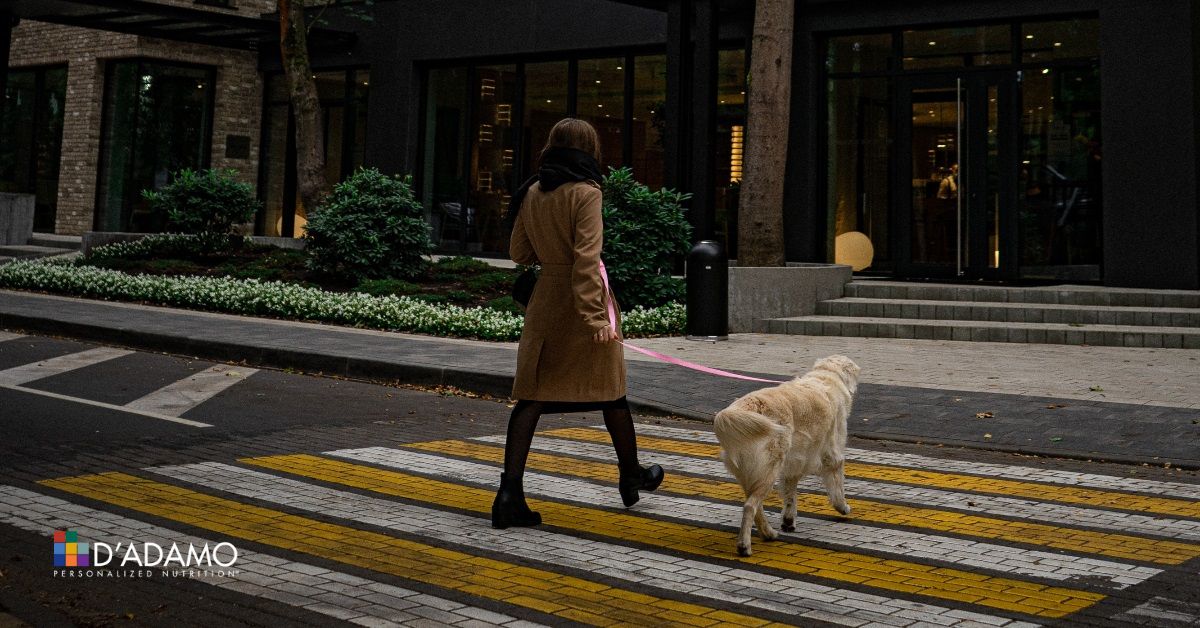 Are you looking for the best natural supplements for fatigue AKA extreme tiredness? D'Adamo Personalized Nutrition explains our top product picks and lifestyle change recommendations to help boost energy naturally.
Is There a Way to Control Fatigue?
When fatigue is caused by everyday stressors of modern life, it can often be successfully managed with adequate rest, a nutrient-dense right-4-your-type diet and exercise.
But what should you do when diet and lifestyle changes aren't enough?
Many people also use supplements to increase energy, but unless you're an expert, it can be tough to know where to begin. That's why Dr. Peter D'Adamo created a unique line of all-natural supplements to provide the additional support your body needs to optimize energy production.
Below, we break down Dr. D'Adamo's top five nutritional supplements to help fight fatigue.
Top All-Natural Supplements for Boosting Energy
If your medical professional has ruled out possible underlying causes of fatigue, but you haven't been able to manage it with diet and exercise, try adding one or more of these powerful supplements into your daily routine. All five options are right for all blood types.
Option 1 Supplement for Fatigue: El Dorado
El Dorado is formulated to help stabilize blood sugar regulation and modulate energy production in the cells by supporting the healthy function of a molecule called AMPK. AMPK acts like a "switch" that tells the cells when to generate energy-containing molecules and when to "lay low" and use existing stores of energy.
Dr. D'Adamo found that patients taking El Dorado who also ate a proper diet and exercised regularly showed many positive signs including healthy blood sugar regulation, cellular energy production and metabolism.
El Dorado's unique and powerful ingredients include:
Guarana Seed – This seed may increase mental alertness, fight fatigue, and increase stamina and physical endurance.
Berberine HCl – Assists in maintaining healthy blood sugar regulation.
White Willow Bark – Helps alleviate and control temporary soreness and achiness.
Coenzyme Q10 (CoQ10) – This vitamin-like nutrient has antioxidant properties to help the body generate ATP, a storage form of energy.
Option 2 Supplement for Fatigue: Carob Extract
Calling all chocolate lovers, picky eaters and those who have trouble swallowing pills - Carob Extract may be for you!
Used for many years as a low-calorie alternative to chocolate, carob extract is highly nutritious and known to provide an energy boost that may temporarily fight fatigue. Adding carob extract to your diet may also assist in controlling bacterial overgrowth in the intestinal tract, which aids in healthy digestion.
D'Adamo Personalized Nutrition has crafted a delicious syrup that combines carob extract and cocoa powder. It's delicious in beverages or as a topping. Mix it in a glass of warm or cold water, with your favorite blood-type-friendly beverage, or use it with protein powder to make a flavorful smoothie.
Option 3 Supplement for Fatigue: Glycoscia
Glycoscia is designed to help maintain blood sugar levels (that are already in the normal range), aid in weight loss and support a healthy metabolism.
Glycoscia's key ingredient is Salacia reticulata, an herb used in Ayurvedic medicine for thousands of years. Studies have shown that Salacia root exerts a healthful effect on PPARG, a hormone within the cell that regulates whether sugars are burned or stored as fat for later use.
Glycoscia contains other ingredients as well which work synergistically with Salacia reticulata:
Resveratrol – Primarily found in red wine and red grape skins, this compound was shown in a Harvard study to, over time, cause mice to be thinner, healthier and have increased life spans.
Quercetin – A bioflavonoid that supports digestion and a healthy immune system.
Red Sage Root (Salvia miltiorrhiza) – This herb, used in Chinese medicine, supports healthy cardiovascular and liver function.
Maitake Mushroom – Considered to be "the king of mushrooms," Maitake appears to maintain blood sugar levels that are already in the normal range.
Option 4 Supplement for Fatigue: Methyl 12 Plus
Methyl 12 Plus is an activated vitamin B formula that supports healthy metabolic function and energy production. Dr. D'Adamo formulated Methyl 12 Plus to help promote and maintain natural energy levels and help regulate sleep patterns.
This supplement blends together two "active" forms of vitamin B12 to help maximize absorption, support a healthy nervous system and aid in blood cell production. It also contains vitamin B9 in its naturally-occurring form, folate.
Option 5 Supplement for Fatigue: Harmonia Deluxe Greens
Harmonia Deluxe Greens, a supplement drink mix, is made with sprouted seeds and other plant ingredients. It works to enhance energy and boost vitality and offers a healthy alternative to processed foods.
This plant-based blend, ground to a fine green powder, contains a flavorful variety of sprouted seeds and grasses and is bursting with enzyme-rich nutrition. Harmonia Deluxe also offers a great way to help ensure a consistent dose of nutrient-dense greens for many who aren't able to get fresh fruits and vegetables into their diets on a regular basis.
Harmonia Deluxe Greens includes:
Organic Barley Grass – These grasses provide powerful antioxidants and detoxifying nutrients for immune system support. They also support healthy digestion.
Chlorella Algae – Loaded with protein, chlorella supports overall health and provides vitamins, minerals and omega-3 fatty acids. It is also a natural antioxidant and detoxifier and supports the immune system.
Montmorency Tart Cherry Fruit – This nutrient-rich tart cherry supports joint function and muscle recovery, while also helping to regulate sleep cycles and delivering powerful antioxidants.
Blend Harmonia Deluxe into a smoothie, juice or any beverage that is right 4 your type.
More Tips: Combat Fatigue Naturally with The Blood Type Diet
Another great way to fight fatigue is through a personalized supplement protocol for your blood type. In his book Fatigue: Fight It With The Blood Type Diet, Dr. D'Adamo offers an individualized approach to treating the conditions that cause fatigue.
In the book, you'll find a comprehensive four-week plan that includes blood-type-specific foods, vitamins, supplements, herbs and exercises to help you feel more energized and ready to conquer your day.
Try our natural supplements for an energy boost or purchase a copy of the book for a more personalized approach.