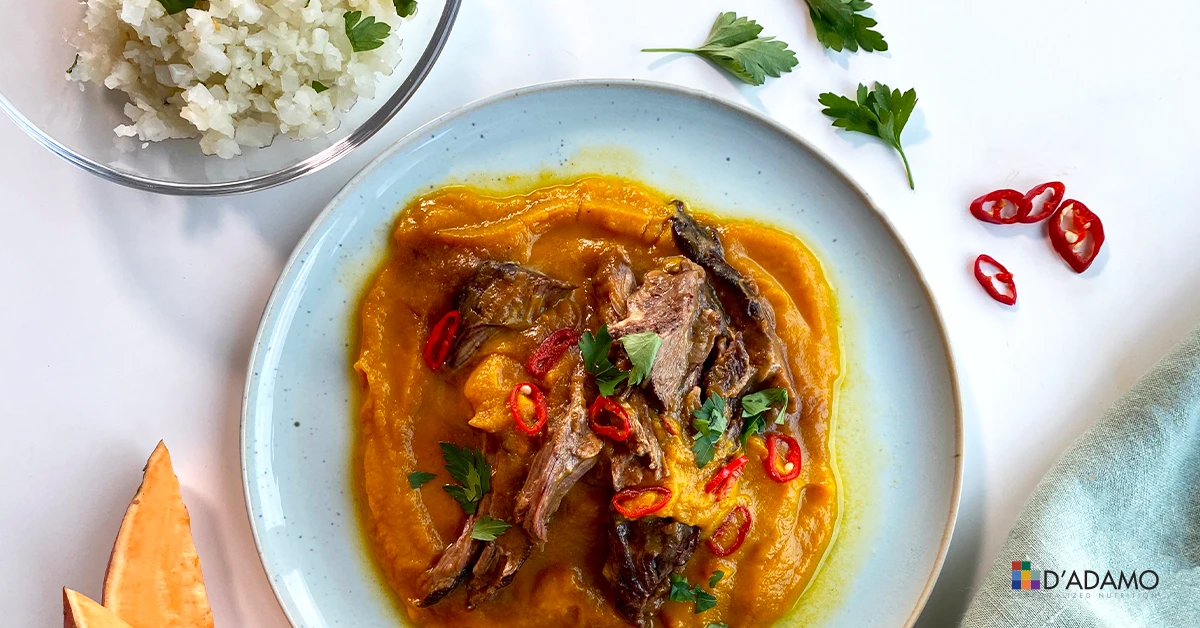 This Sweet Potato & Lamb Curry recipe uses a majority of Beneficial ingredients for blood type B to give you a delicious personalized meal that will make you feel great. Featuring Beneficials like lamb, sweet potato, ginger and garlic, this recipe is perfect for Type B's. Spice things up and nourish your body with this hearty recipe. Find more nourishing recipes like this in Dr. Peter D'Adamo's Eat Right 4 Your Type Personalized Cookbook (Blood Type B).
Serves 4
Ingredients:
4 tbsp olive oil
2 medium orange sweet potatoes
½ oz of fresh ginger, minced
3 garlic cloves, minced
1 tsp turmeric powder
1 tbsp curry powder
3 cups vegetable broth, warm
1.3 pounds of lamb shoulder, boneless
1 garlic bulb, cloves lightly smashed, skin on
2 onions, finely sliced
4 cups lamb or vegetable broth, warm (you may have some leftover)
Chili and parsley to garnish
Instructions:
Preheat your oven to 350°F.
Place unpeeled sweet potatoes on a baking tray and bake for 45 minutes, or until they an be pierced easily with a knife. Peel and discard the skin, and reserve whole.
Warm 2 tbsp of olive oil in a dutch oven over medium heat, sear the lamb for about a minute on each side until deep golden brown and reserve.
In the lamb drippings, cook the bay leaf, 1 onion and half the garlic until softened, season with salt and reserve.
Transfer all of the cooked ingredients and 1 cup of vegetable broth to a pressure cooker, we use the Instant Pot. Select the "Manual" program and set the timer to 40 minutes at high pressure. The pressure cooker will require about 10 minutes to come up to pressure, before the actual cooking begins. Always follow manufacturer's instructions when using any Instant Pot or pressure cooker!
To prepare the curry, in the same dutch oven, drizzle the remaining olive oil and cook the remaining onion, garlic and ginger until softened. Add the spices and mix well.
Add the sweet potato, mashing it into the onion, ginger mixture and spices, and add 1 cup of vegetable broth. Mix well until combined.
Transfer the curry mixture to a food processor and pulse until very smooth. Return to the dutch oven.
When lamb has cooked for the 40 minutes in step 5, let Instant Pot sit for an additional 10 minutes as pressure begins to gradually release. Carefully release any remaining pressure according to the manufacturer's instructions. Once all pressure has released, unlock and remove the lid.
Transfer the juices and onions into a food processor and pulse until a gravy forms. Pull the meat with two forks. Keep the meat warm by combining it with the gravy in a pan.
To serve, simply spoon some meat in the sweet potato curry, sprinkle parsley and chili and enjoy warm.
Cooking notes: To braise the lamb shoulder in an oven, simply sear the meat in the dutch oven, add the aromatics and vegetable or lamb broth. Cover and cook at 300°F for 4-5 hours or at 350°F for 3-4 hours. Make sure to flip the meat half way through the cooking process and add more broth if it has absorbed. Enjoy this dish with a side of riced cauliflower or rice.
---