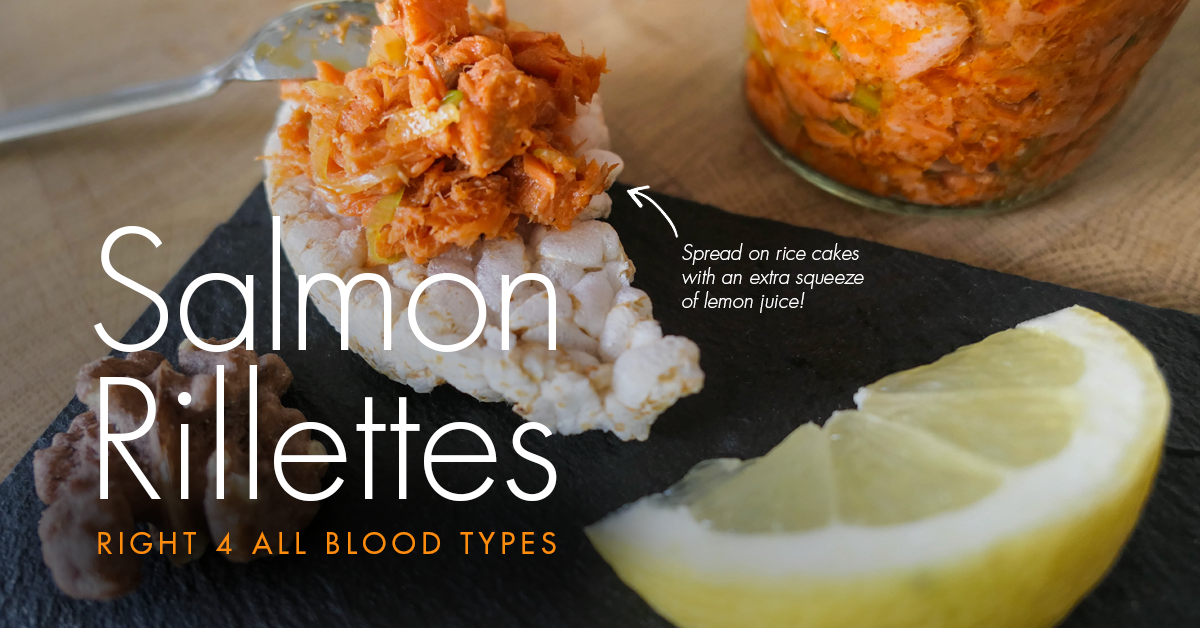 Salmon Rillettes
[ Serves 2 ]
Rillettes are a French preparation of chopped meat mixed with spices and condiments similar to a pâté. They are most commonly enjoyed spread on toast as a snack or as the key component in classy canapés that can be served at parties. In tune with a healthy summer menu, we have prepared a wild Alaskan salmon rillette with scallions and lemon zest. These are great as a high protein snack to keep your energy high after a long day of work or vigorous exercise.
Red Alaskan salmon is fattier than other breeds and will allow for a healthier rillette thanks to its soft and succulent flesh. Salmon is a superfood known for being a powerful antioxidant and rich source of Omega-3. It is cancer super beneficial for blood types A, B, and AB. This recipe serves the rillette on rice cakes, as they are right for all types, but you can use crackers or crudites Right 4 Your Type as well.
Ingredients
2 Wild Alaskan salmon fillets (8 oz combined weight) with skin on
2 Scallions (1 whole and the green parts of the second one, finely sliced)
1 Celery rib, chopped
1 Teaspoon of paprika
2 Tablespoons of ghee (live link to blog on how to make ghee) or 3 tablespoons butter (For Blood Types O & B only)
The zest of half a lemon
The juice of half a lemon
Sea salt to taste
Directions
Wash the celery rib and chop in 4 equal strips. Place the salmon fillets skin side down in a wide saucepan with the chopped celery and cover with water. Poach the salmon over a low heat about 5 to 8 minutes, until opaque throughout. Once cooked, pat dry with a paper towel and transfer to a chopping board. With a spoon or a fork, gently flake the salmon filets and discard the skins.
In a mixing bowl, add the flaked salmon, scallions, paprika, ghee or butter, lemon zest and lemon juice and mix well with a fork. You can keep the rillettes in large chunks or mix them to a coarse pâté according to your preference. Transfer the rillette to a glass jar and refrigerate 30 minutes to an hour before eating. Enjoy fresh, spread on rice cakes with an extra squeeze of lemon juice.