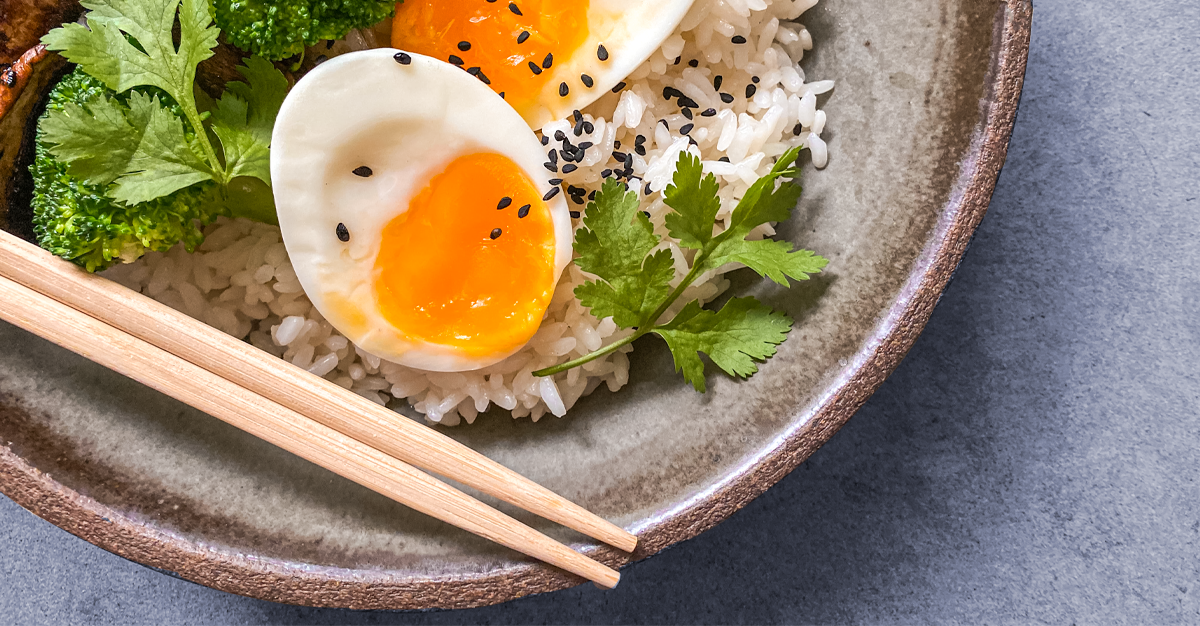 Are you ready to get back to healthy routines after an indulgent winter break? Here's a delicious rice bowl recipe to get you started. It's packed with fiber and protein and works for all blood types! Find more nourishing recipes like this in Dr. Peter D'Adamo's Eat Right 4 Your Type Personalized Cookbooks.
Serves 2
Ingredients
½ cup jasmine or round rice (short-grained), rinsed
½ cup water
1 tsp sea salt
6-8 broccoli florets, steamed
2-3 portobello mushrooms, sliced thick
1 clove garlic, crushed
2 tsp olive oil
2 tbsp tamari
3-4 sprigs fresh cilantro
2 eggs
Optional vegetables
Carrots, thinly sliced or cut in ribbons with a peeler
Zucchini, sliced or cut in batons
Onions, thinly sliced
Optional toppings
Spring onions for all blood types
Sesame seeds for blood types O & A
Chili flakes for blood types O, A non-secretor, B & AB
Pickled ginger for blood type B
Alfalfa sprouts for blood types A, B & AB
Instructions
Heat 1 tsp of oil in a saucepan over medium heat. Add the rice and stir to coat in the oil. Add the water with the salt and mix well. When the water comes to a boil, reduce the heat to low, cover and cook for 10 minutes. When the rice is cooked, reserve.
In a non-stick dry pan over medium heat, cook the mushrooms until they lose some of their moisture for 5 minutes then add the remaining oil with the crushed garlic and cook for another 10 minutes until the mushrooms are crispy around the edges. Add the tamari and mix well. Optional: Add steamed broccoli florets and mix to coat with the tamari dressing or leave plain according to your preference.
To prepare the soft-boiled eggs, bring a saucepan filled with water to a boil. When the water reaches a rolling boil, carefully drop the eggs and cook them for 5 minutes. Turn the heat off, drain the eggs and peel them under cool running water in your sink or in a bowl filled with fresh water. Reserve the eggs on a plate or chopping board.
To plate, divide the rice in two shallow bowls. Top with broccoli and mushrooms. Slice the soft egg carefully lengthwise, and place in the center of the bowl. Sprinkle the cilantro and toppings of your choice.
---