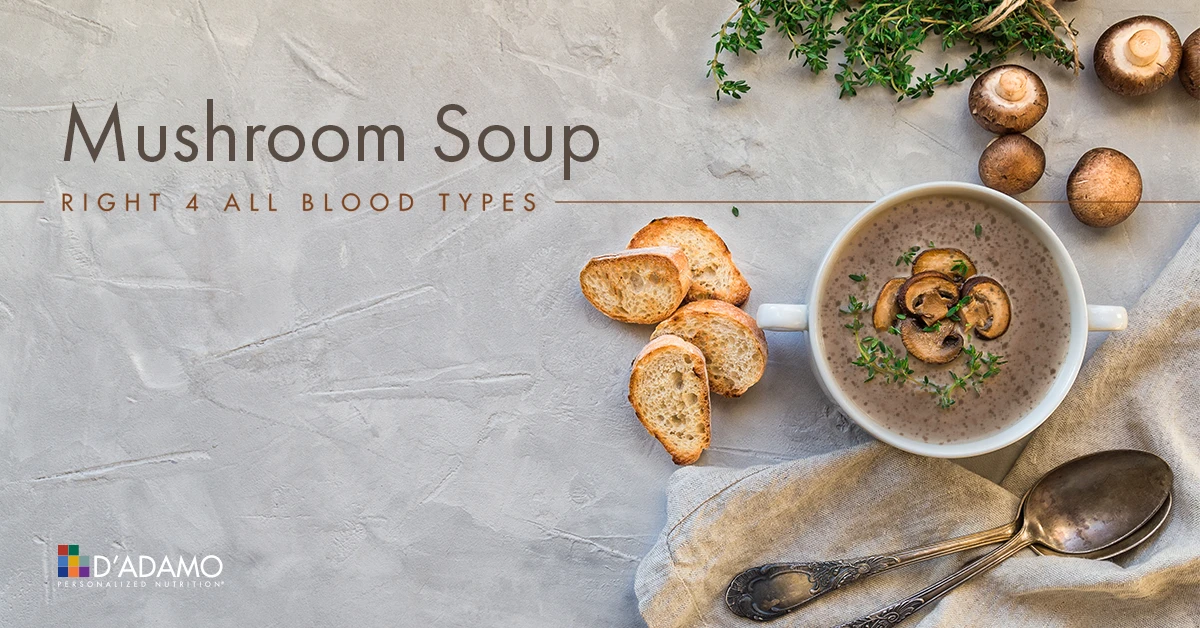 The rich, earthy flavor of mushroom soup is a warm, welcome addition to a chilly winter evening. It is not only delicious but also easy to make, good for all blood types, and the entire recipe takes less than a half hour from stove to table.
Ingredients:
2 tablespoons ghee
2 tablespoons olive oil
1 medium onion, diced (about 1½ cups)
4 garlic cloves, minced
1 pound right-for-your-type, fresh mushrooms, wiped clean and sliced thin (about 5 cups)
2 tablespoons and 1 teaspoon of fresh thyme leaves
Salt
4 cups right-for-your-type broth (chicken, beef or vegetable)
3 tablespoons dry sherry, if desired
¼ cup right-for-your-type milk (soy, almond or rice)
Instructions:
Place ghee and olive oil in a stockpot over medium-high heat. Add onion, and cook until it begins to brown (about 4 minutes).
Stir in garlic, and cook for 1 minute. Add mushrooms, 2 tablespoons thyme, and ½ teaspoon salt. Cook until mushrooms become limp (about 2 to 4 minutes).
Add broth, scraping up any browned bits in the pot with a wooden spoon. Bring to a boil, then reduce heat to simmer. Cook until the mushrooms are tender (about 7 to 10 minutes).
Remove from heat, and let cool slightly. Transfer about half the soup to a stand blender, and process until smooth. Return the mixture to the pot, and stir in the milk and sherry.
Add more salt and pepper to taste, if needed, and reheat. Garnish each serving with a small pinch of the remaining thyme.
Serve with a crusty, right-for-your-type bread and a salad of seasonal greens.
Other February 2019 Newsletter Articles
---