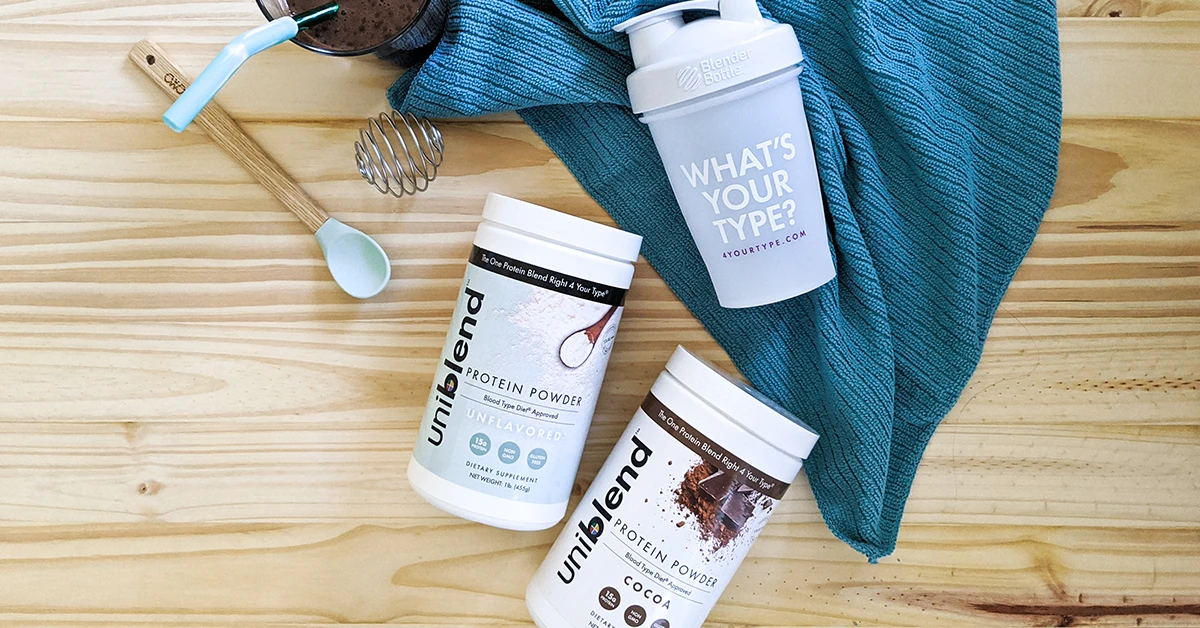 The number of protein powders on the market is vast. A quick web search or a stroll down the aisle of any health food store will affirm. And it's clear by a quick a glance at the list of ingredients that not all protein powders are the same. If you're looking for one with no AVOID ingredients? Impossible. Until now, that is.
We are excited to tell you more about Uniblend, our newly launched, specially formulated protein powders that are right for ALL blood types. They're delicious, free of artificial sweeteners, blend effortlessly into your favorite beverage and can be shared by the whole family!
Developed by Dr. Peter D'Adamo himself, Uniblend contains synergistic ingredients, formulated for the best possible results. While protein powders have long been a part of our personalized nutrition supplement line up, they just got better!
Not your average protein powder
Protein is a nutritional building block. Our bodies use it to repair and construct muscle and fortify our tissues. It plays a critical role in our diets. It also supports post-workout recovery and helps curb unwanted cravings.
Uniblend Protein Powders are well suited for today's fast-paced lifestyle. With 15 grams of protein per serving, they're an easy way to add more protein to your diet.They can be blended into an "on the go" shake, effortlessly mixed into any liquid or added to your favorite recipes (tip: use a shaker or blender for optimum results). Available in two options, cocoa and unflavored, Uniblend Protein Powders have no chalky texture or bitter aftertaste.
And best of all? They're versatile. Multi-blood type families rejoice! Uniblend Protein Powders aren't just right for you. They're right for the whole family. And at only $1.99 per serving, they're affordable for the whole family too.
The sum is greater than its parts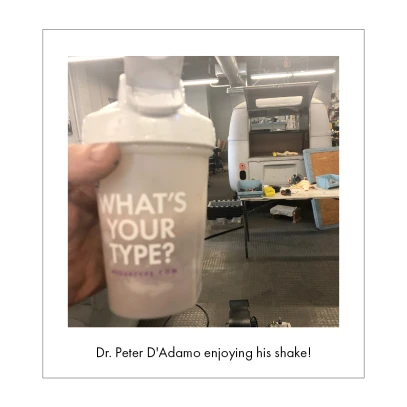 The combination of synergistic ingredients is what really sets Uniblend apart. You could even say that the sum is greater than its parts.
At its core, Uniblend is powered by high quality egg white protein. "I've always wanted to work with egg white protein due to its high protein co-efficient, plus the fact that it allows us to make powders that can be used across all the blood types," says Dr. Peter J. D'Adamo. "However, up until now the material was wither too expensive or not of a quality I deemed suitable. These new Uniblend Protein Powders check all the boxes!"
Uniblend also contains arabinogalactan from Larix Iaricina. Arabinogalactans from the western larch tree are high-molecular-weight polysaccharides (sugars) capable of up-regulating critical aspects of the immune system, while also providing a source of prebiotics beneficial for the gut and fiber beneficial for the colon.
Bromelain, another Uniblend ingredient, is a digestive enzyme found in the stem and fruit of the pineapple plant. Best known as a digestive aid and for its role in aiding the body's post-workout and muscle injury recovery.
Alpha-Lipoic Acid, a potent antioxidant compound, works with mitochondria (the energy powerhouses of the cells) to help turn nutrients into energy. This ingredient also aids the body's natural antioxidant defenses and is known to help curb cravings and aid in weight loss.
What we leave out is as important as what we put in
Synergistic ingredients are important, but what's not there is perhaps equally as important.
What won't you find in Uniblend Protein Powders? You won't find any synthetic additives, artificial ingredients or sweeteners. And of course, you won't find any AVOID ingredients, unlike other commercially available protein powders.
What's more, Uniblend Protein Powders are non-GMO, gluten free and produced in a GMP and FDA-compliant facility.
Whether you're new to The Blood Type Diet or a long-time follower, we think you'll find Uniblend Protein Powders a great addition to your journey towards a healthier you.
"These new protein powder formulas fulfill a life-long goal," says D'Adamo "To produce a product of the highest quality, that also provides a satisfying taste experience."