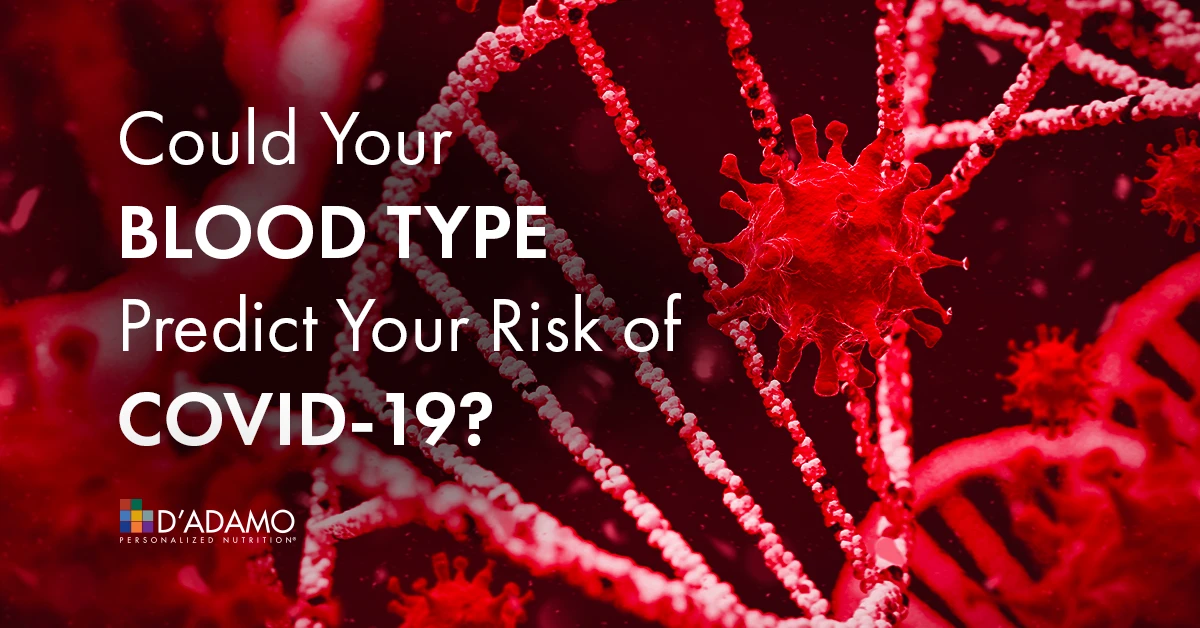 When Eat Right 4 Your Type was first published more than two decades ago, it began with a simple premise: Blood type is the way to explain the many paradoxes in dietary studies and disease survival. The Blood Type Diet has become a powerful tool for living more healthfully, but it has also opened up new avenues of investigation that go well beyond the diet itself.
Your blood type has everything to do with how you digest your food, your ability to respond to stress, your mental state, the efficiency of your metabolism, and the strength of your immune system. "Blood types are critical predictive markers for disease," says Dr. Peter D'Adamo. And in light of the current coronavirus pandemic, this significance is even more profound.
Is there a link between blood type and susceptibility to COVID-19 – the disease caused by the novel coronavirus SARS-CoV-2? Recent research points to the answer being "yes." In fact, several studies indicate that those with Blood Type A may be more vulnerable to contracting the disease, and those with Blood Type O may possess protective genes that put them at lower risk.
Studies Suggest Blood Type As Have a Higher Risk of Infection
In March, medical researchers from the Centre for Evidence-Based and Translational Medicine at Zhongnan Hospital of Wuhan University in China published the preliminary results of their investigation into the blood type patterns of more than 2,000 patients infected with COVID-19 in Wuhan and Shenzhen. After comparing COVID-positive patients to local healthy populations, they found that Blood Type A patients not only showed a higher rate of infection, but also tended to develop more severe symptoms.
"Sars-CoV-2-infected patients with blood group A might need to receive more vigilant surveillance and aggressive treatment," said Lead Researcher Wang Xinghuan.
Echoing the Wuhan University study, according to findings published in DailyMail, a group of German researchers at the University of Kiel came to similar conclusions. They found that patients with Blood Type A were "50 percent more likely to need oxygen support or to be put on mechanical ventilators compared to those with other blood types."
While it's true that these studies are preliminary, over the years Dr. Peter D'Adamo has written about blood type and the role that it plays in whether or not your body produces certain sets of proteins and is more susceptible to a wide range of infectious illnesses.
Blood Type Os Appear to Have Lower Risk
So if Blood Type As may be more susceptible, is there a blood type that shows increased resistance to COVID-19?
In April, U.S. personal genomics and biotechnology company 23andMe launched a study seeking to shed light on the role genetics may play in contracting COVID-19. According to findings published in Bloomberg News, "Preliminary results from more than 750,000 participants suggest that Type O blood is especially protective against SARS-CoV-2." In this PubMed citation, Analysis of a hospital outbreak in Hong Kong revealed similar findings – "blood group O was associated with a low risk of infection."
In fact, the studies from Wuhan and the University of Kiel also came to similar conclusions. Type O Blood, the German researchers reported, was linked to a "lower probability of severe illness."
Why You Should Know Your Blood Type
Knowing your blood type is a powerful tool that can help personalize strategies for overall health, well-being and disease prevention. Every body has unique health needs and the key to understanding your individuality is your ABO profile, also known as your blood type. Knowing why certain foods are Right 4 Your Type® and others are not, offers insight into how you can best handle stress, manage weight and yes, even prevent illness.
Don't know your blood type? Our inexpensive Original Home Blood Typing Kit is easy to use and provides immediate results. What used to involve a visit to the doctor coupled with medical testing can now be conveniently done at home. It's never been simpler to know your blood type.
How Can All Blood Types Best Support Optimal Health?
"People of blood group A might need particularly strengthened personal protection to reduce the chance of infection," said Xinghuan.
No matter what your blood type, following a diet that is right for you is your first line of defense in keeping your body healthy and your immune system operating efficiently. But for those looking for extra support, Dr. D'Adamo has created a "go to" protocol of supplements to help support the immune system, particularly during these volatile times.
Dr. D'Adamo's Resistance Pack* combines elderberry, Andrographis paniclata, Urtica dioica Root, Chinese Skullcap Root Extract and more to provide a cornerstone of immune modifying support.
If you are new to The Blood Type Diet and want to learn more about which foods are beneficial for your unique body and which ones should be avoided, we invite you to learn more here.
*Please note that Dr. D'Adamo's Resistance Pack has been re-engineered to include vitamin D and the flavonoid/antioxidant Quercetin. Dr. D'Adamo's Resistance Pack reflects the latest data available relevant to the respiratory, metabolic and circulatory immune challenges most likely to be experienced in fall 2020 through winter 2021 as well as Dr. D'Adamo's unwavering commitment to health and healing.
References:
https://www.scmp.com/news/china/society/article/3075567/people-blood-type-may-be-more-vulnerable-coronavirus-china-study?fbclid=IwAR0fJ9rVc5d-X3PLs9PUcZc3gs3i6cOyjP-EaQz6O7T0lQeBZrJ4a80PZ-A
https://www.dailymail.co.uk/health/article-8388505/DNA-make-people-Type-blood-vulnerable-coronavirus.html?fbclid=IwAR0TkjJfBv6RQ4Bknoa0b-KL9_rv0_QoHp9AlPsu2hnvdIXBRbhcd300UYI
https://www.bloomberg.com/news/articles/2020-06-08/23andme-provides-more-evidence-that-blood-type-plays-role-in-virus?fbclid=IwAR3neItgk49_4-5FPeG2A9fokDnKGgW-VUFGWjXGS_7ANH3SofuIbtyfLrk
https://pubmed.ncbi.nlm.nih.gov/18818423/
https://www.medrxiv.org/content/10.1101/2020.03.11.20031096v2
---