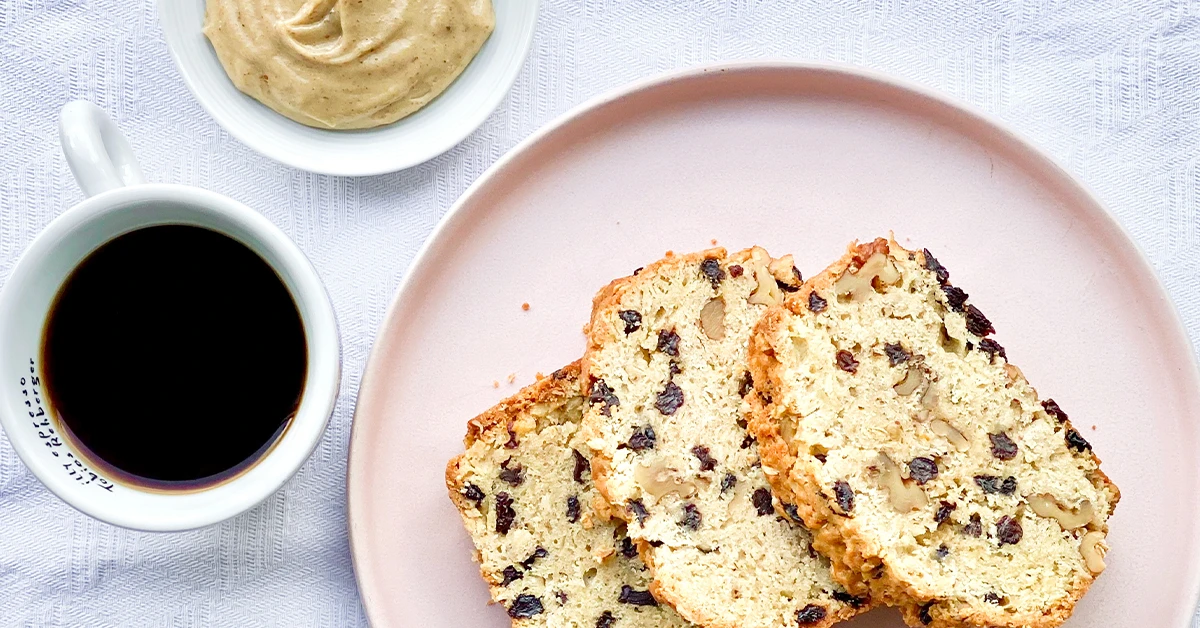 Finding bread that is Right 4 Your Type can be tricky. But a warm, toasted piece of bread, especially with coffee or tea, can be a fantastic indulgence that we don't want you to miss out on. With this delicious Cherry Walnut Bread, you can get that tasty bread fix without worrying about Avoids. The recipe is simple and easily adapted for any type, so everyone can enjoy it. Just make sure the topping you put on it, whether it be jam or nut butter, also is right for your type.
The Blood Type Diet made easy
Find more nourishing recipes like this in Dr. Peter D'Adamo's Eat Right 4 Your Type Personalized Cookbooks. Each book features chef-formulated recipes designed specifically for your blood type. Make meal planning stress free with delicious and easy to follow personalized recipes.
Check food values, get in-depth food analyses and access even more recipes for each blood type and secretor status with Dr. Peter D'Adamo's TypeBase Food Values. Coded by the doctor himself, it's a free resource that makes following The Blood Type Diet easy.
Our Official Blood Type Diet App keeps all the details you need at your fingertips. Check food values for you or common foods for the whole family, create a food shopping list you can email to yourself, and get supplement recommendations and access to categorized recipes.
---
10-12 Servings
Ingredients
4 eggs
1 ¼ cups clarified butter
1 ½ cups spelt flour*
1 ½ cups rolled oats**
½ cup honey***
1 tsp baking powder
1 cup dried cherries
¾ cup dry roasted walnuts and/or pecans
*Spelt flour is an Avoid for Type O non-secretor. Substitute brown rice flour.
**Rolled oats are an Avoid for Type O non-secretor. Substitute millet.
***Honey is an Avoid for Type O non-secretor and Type AB non-secretor. Substitute agave syrup.
Instructions
Heat your oven to 350°F.
In a bowl, whisk the eggs until frothy.
Add the clarified butter and whisk for about 3-5 minutes.
Add the dry ingredients, honey (or agave), cherries and nuts until well combined.
Pour the mixture in a non-stick cake tin and bake for about 35 minutes or until a toothpick comes out clean.
You can toast your bread and add a generous layer of nut butter or jam - choose ones right for your blood type.
---