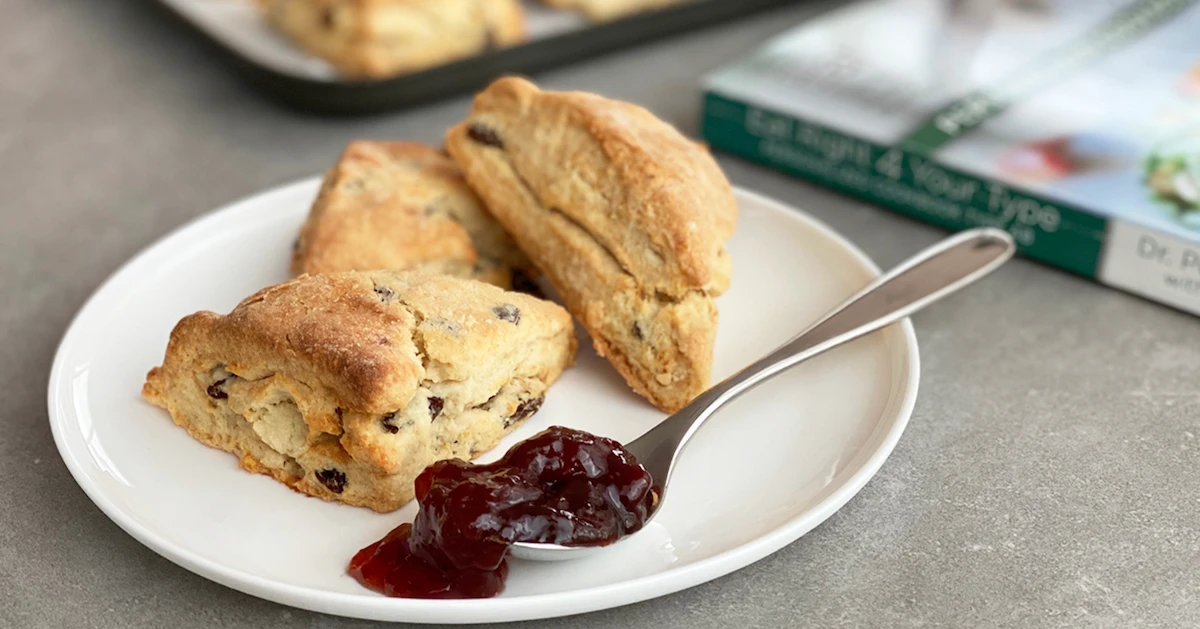 These are the fluffiest scones you can make. There's nothing more comforting than a warm pastry with a cup of tea! Modifiable for your type with substitutions noted below.
The Blood Type Diet made easy
Find more nourishing recipes like this in Dr. Peter D'Adamo's Eat Right 4 Your Type Personalized Cookbooks. Each book features chef-formulated recipes designed specifically for your blood type. Make meal planning stress free with delicious and easy to follow personalized recipes.
Check food values, read in-depth food analyses and access even more recipes for each blood type and secretor status with Dr. D'Adamo's TypeBase Food Values. Coded by the doctor himself, it's a free resource that makes following The Blood Type Diet easy.
Our Official Blood Type Diet App keeps all the details you need at your fingertips. Check food values for you or common foods for the whole family, create a food shopping list you can email to yourself, and get supplement recommendations and access to categorized recipes.
---
Makes 12
Ingredients:
Scones:
½ cup dried cherries, halved
1 cup spelt flour, plus more for rolling*
1 cup oat flour**
¼ cup almond flour
2 tsp baking powder
½ tsp sea salt
4 tbsp ghee, chilled
¾ cup almond milk***
1 large egg
1 tsp lemon zest
⅓ cup agave syrup
*Spelt flour is an Avoid for Type O non-secretor. Substitute with 1 cup + 2 tbsp brown rice flour.
**Oat flour is an Avoid for Type O non-secretor. Substitute with ¾ cup white rice flour.
***Almond milk is an Avoid for Type O non-secretor. Substitute with rice milk.
The Topping:
2 tbsp agave syrup
2 tbsp almond flour
Instructions:
Preheat the oven to 350°F. Line a baking sheet with parchment paper and set aside.
Place dried cherries in a small bowl and cover with steaming-hot water for 10 minutes to rehydrate. Remove, pat dry, and set aside.
In a large mixing bowl, combine flours with baking powder and salt.
Cut ghee into small cubes and cut into the flour mixture using a pastry cutter or two butter knives until mixture resembles coarse cornmeal. Toss cherries into dry mixture, making sure they are evenly distributed throughout the flour mixture.
In a separate bowl, whisk milk, egg, lemon zest and agave until well combined. Fold the milk mixture into the flour mixture until well combined. Dough will be thick and slightly sticky. If necessary, use extra flour to gather the dough into a ball. Gently place on a floured surface and use your hands to pat the dough into a 1-inch thick rectangle. Using a sharp knife, cut the dough horizontally once and then into thirds vertically, to make 6 squares. Cut each square again at an angle, to make 12 triangles. Gently place each scone on prepared baking sheet.
Mix agave and almond flour for topping and brush evenly across each scone.
Bake 20 to 22 minutes or until scones are firm and lightly browned on the bottom.
Serve warm or let cool completely and store in a cool, dry place overnight.
Tip: Scones can be frozen for up to a month. Reheat at 200°F for 10 minutes.
Convenient swaps for this recipe:
Fruit:
Raisins
Currants
Any dried fruit right for your type