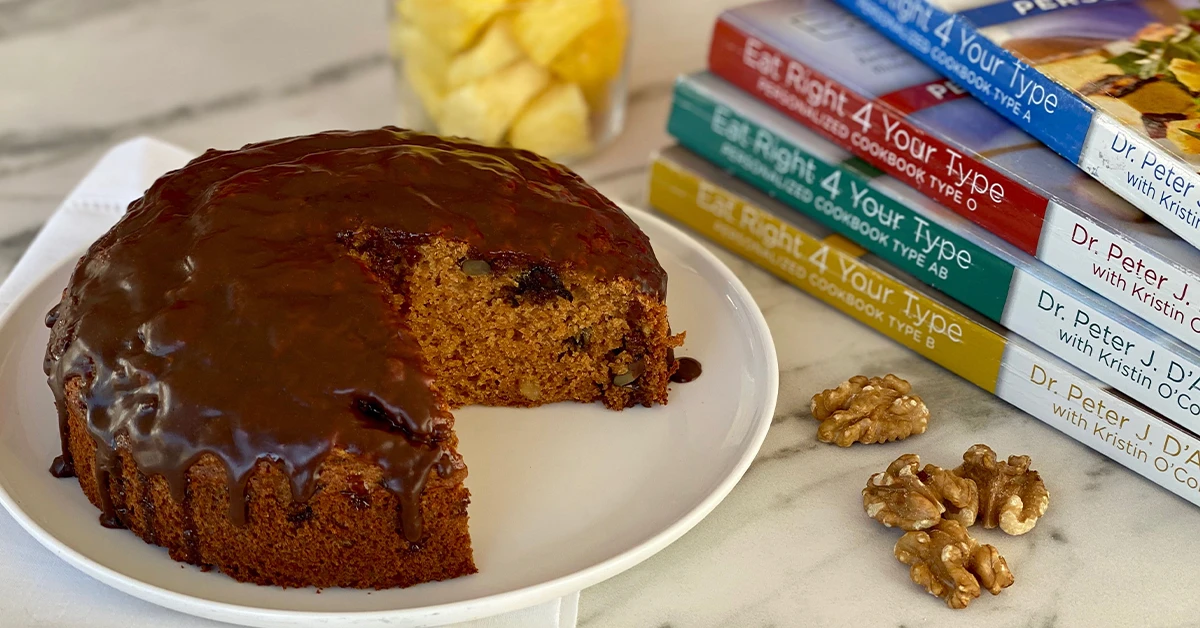 It can be hard to find a cake that is both delicious and right for the whole family. Luckily, this carrot cake is naturally sweet and right 4 all types! Carrot cake is a classic favorite but the frosting is usually made with cream cheese, which is an Avoid for many. Our chocolate chai frosting gives it a modern twist that makes it enjoyable for all types.
The Blood Type Diet made easy
Find more nourishing recipes like this in Dr. Peter D'Adamo's Eat Right 4 Your Type Personalized Cookbooks. Each book features chef-formulated recipes designed specifically for your blood type. Each recipe is easy to follow and delicious, making meal planning stress free.
Check food values, in-depth food analyses and access to even more recipes for each blood type and secretor status with Dr. Peter D'Adamo's TypeBase Food Values. Coded by the doctor himself, it's a free resource that makes following The Blood Type Diet easy.
Our Official Blood Type Diet App keeps all the blood type diet information you need at your fingertips. Check food values for you or common foods for the whole family, create a food shopping list you can email to yourself, and get supplement recommendations and access to categorized recipes.
---
Serves 8
Ingredients:
Ingredients for the cake:
3 tbsp ghee (melted and cooled) plus more for greasing
1 cup shredded carrots
¾ cup diced pineapple
1 cup brown rice flour
1 cup millet flour
¼ cup arrowroot starch
3 tsp baking powder
1 tsp salt
¼ tsp ground nutmeg*
2 large egg yolks
1 cup finely chopped walnuts
½ cup agave syrup
4 large egg whites
*Nutmeg is an Avoid for Type O secretor, omit.
Ingredients for the frosting:
½ cup almond milk*
4 tbsp agave syrup
¼ tsp ground nutmeg**
½ tsp ground ginger
½ tsp ground cloves
3 ounces 100% dark chocolate, grated
2 tbsp ghee
2 tbsp cocoa powder
¼ cup chopped walnuts, for garnish
*Almond milk is an Avoid for Type O non-secretor, substitute with rice milk.
**Nutmeg is an Avoid for Type O secretor, omit.
Instructions:
Preheat the oven to 350°F.
Grease a 9-inch round cake pan and set aside.
Place shredded carrots and pineapple on separate paper towels to absorb excess liquid.
In a large bowl, combine dry ingredients for cake, and set aside.
In a separate bowl, whisk together egg yolks, carrots, pineapple, walnuts, cooled ghee and agave syrup. Add to dry ingredients, stirring to combine.
In a dry, glass bowl, beat egg whites until stiff peaks form. Fold egg whites into batter, ⅓ at a time.
Pour into the prepared cake pan, and bake for 35 to 40 minutes. Let cool on a rack for 30 minutes.
In the meantime, prepare the frosting. Heat milk, agave syrup, nutmeg (if using), ginger, and cloves over low heat for 2 to 3 minutes. Place grated chocolate in a bowl with ghee. Pour milk mixture over chocolate, and whisk until smooth. Let cool completely. Add cocoa powder and stir until mixture thickens.
Frost cake, and sprinkle with walnuts for garnish. Serve the same day for best results, or store in a cool, dry place overnight or in the freezer for up to 1 month.
---