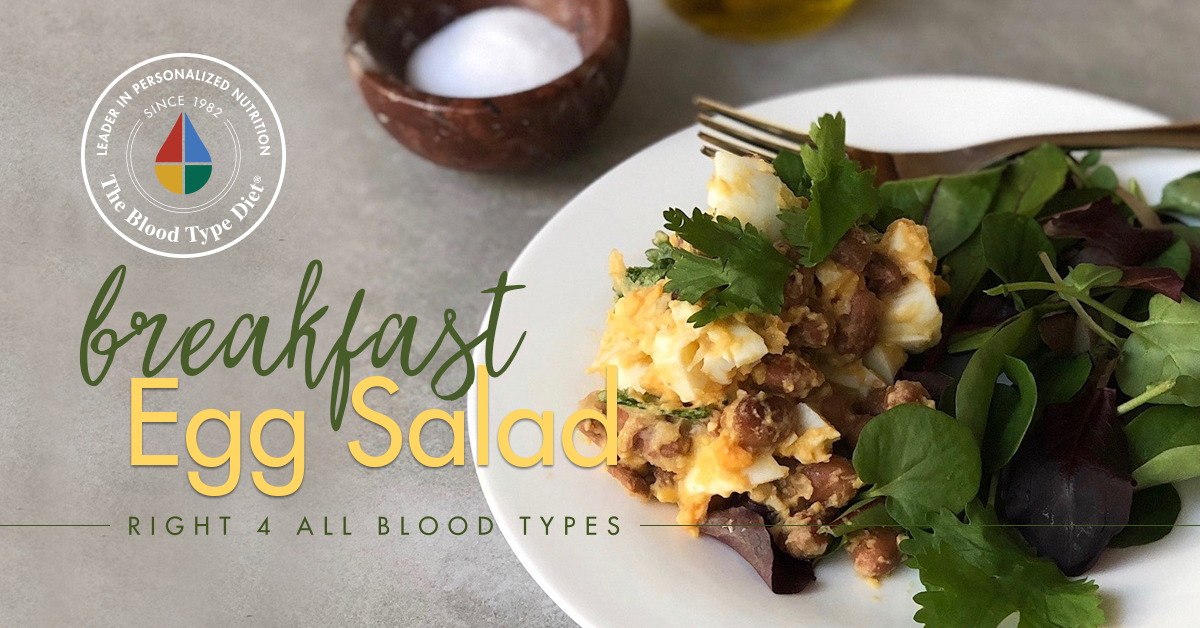 BREAKFAST EGG SALAD
Flowers are starting to bloom, days are stretching slowly and spring is just around the corner. With brighter days on the horizon, gatherings are welcome, especially for brunch! Our personalized cookbooks, available for each blood type, offer a bounty of options like this breakfast egg salad. Easy to prepare for a few people or for a crowd, it's not just a hearty and healthy option, but one that is so tasty, you'll find yourself making it to enjoy any time of day!
[ Serves 4 ]
Dressing Ingredients:
½ tsp mustard powder
1 tbsp olive oil
1 tbsp lemon juice
1 tbsp onion, grated
1 tsp olive oil
Sea salt, to taste
Salad Ingredients:
½ cup cooked or canned black-eyed peas, drained and rinsed*
3 large hard-boiled eggs
¼ cup grated mozzarella cheese
1 tbsp chopped parsley
2 cups mixed baby greens
Sea Salt, to taste
*Type B substitute kidney beans for black-eyed peas. Type AB, substitute pinto beans for black-eyed peas.
Instructions:
Whisk together dressing ingredients and set aside.
Heat olive oil in a small skillet over medium heat. Toast black-eyed peas (or the right bean for your blood type) for 2 to 3 minutes, until warm and slightly crunchy.
Remove eggs from shells and use a fork to break the eggs apart in a bowl. Add beans, cheese, and parsley to eggs, and toss with dressing. Serve over mixed baby greens.