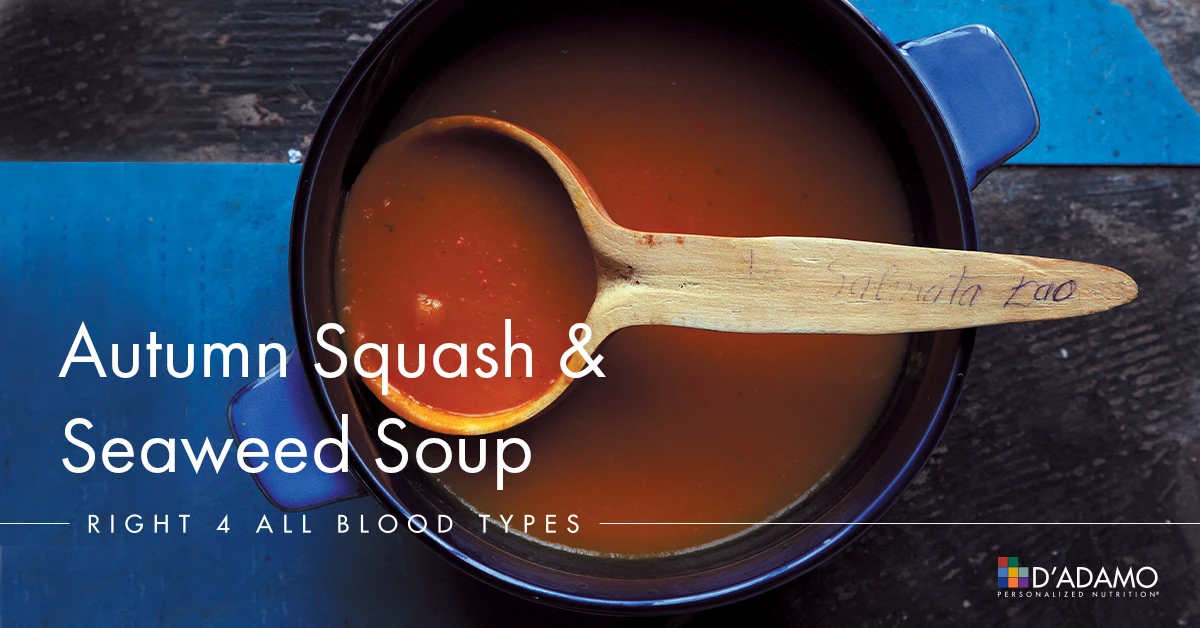 Bring the colors of autumn's vibrant foliage into the kitchen with this delectable pumpkin-seaweed soup. This recipe serves as a great introduction to sea vegetables in cooking — with the wakame adding a mild chicken-like flavor to this vegetarian soup.
The key to maximizing this soup's rich flavor lies in choosing the right kind of pumpkin or squash. All blood types can enjoy squashes — and the robust Hokkaido (a.k.a. Uchiki Kuri) squash is an excellent choice for this soup. Blood Types O, A, and AB (and B non-secretors) can also opt for their choice of pumpkin, but jack-o'-lantern type pumpkins should be avoided. They make great spooky-faced candle holders but lack any flavor for soup making.
Serves 6-8.
Ingredients
1 piece wakame, 6 inches
3¼ pints well-flavored vegetable stock (here is a Blood Type Diet-friendly recipe)
1-2 tbsp olive oil
3 onions, chopped
3 cloves of garlic, chopped
1 large flavorful pumpkin, ~3 lbs weight, scrubbed and chopped*
1 medium head of celeriac, chopped, or if not available, another medium squash
1-2 small dried chiles, chopped*
1 tbsp stock powder (optional but recommended if a flavorful pumpkin is not used)
For garnishing:
1 tbsp parsley, chopped finely
25 g walnuts, chopped roughly
*Pumpkin is an Avoid for Blood Type Bs. Choose an equally sized squash.
*Chiles are an Avoid for Blood Types A & AB and should be omitted.
Instructions
Rinse the wakame briefly under cold water, and place in a medium saucepan with water. Cover, bring to a boil and simmer briskly for 35 to 45 minutes until the mid-stem of the wakame has started to soften.

Drizzle the olive oil into a large saucepan, and add the onion, garlic, pumpkin* and squash. Add the dried chiles,* cover and allow to sweat gently over very low heat for 30 minutes. Turn occasionally with a wooden spoon.

Add the wakame with its cooking water and the stock powder (if using) to the pot of vegetables, cover and bring to the boil. Simmer briskly for about 10 minutes until the vegetables are soft and the midstem of the wakame is very soft.

Remove the wakame to a chopping board, and cut into bite-sized pieces. Blend the soup until smooth, add back the chopped wakame and stir. Keep warm.

Ladle into bowls, sprinkle with parsley and garnish with a few chopped walnuts. Serve and enjoy!
About the Author
Dr. Prannie Rhatigan is a medical practitioner in the north west of Ireland on the Wild Atlantic Way, who in 2020 celebrated 20 years of living the Blood Type Diet/GenoType Diet. She considers herself to be fortunate and enjoying the very best health despite a diagnosis of a pan ulcerative colitis, thanks to the continuous pioneering work of Dr Peter D'Adamo.
She has written a guide book and two cookbooks, " Guide to Edible Seaweeds," "Irish Seaweed Kitchen," and "Irish Seaweed Christmas Kitchen," which won a Gourmand Best in the World award in the seafood category in 2019.
All details, including information on her delicious Irish Seaweed Kitchen seaweed blend, can be found on the website.
---