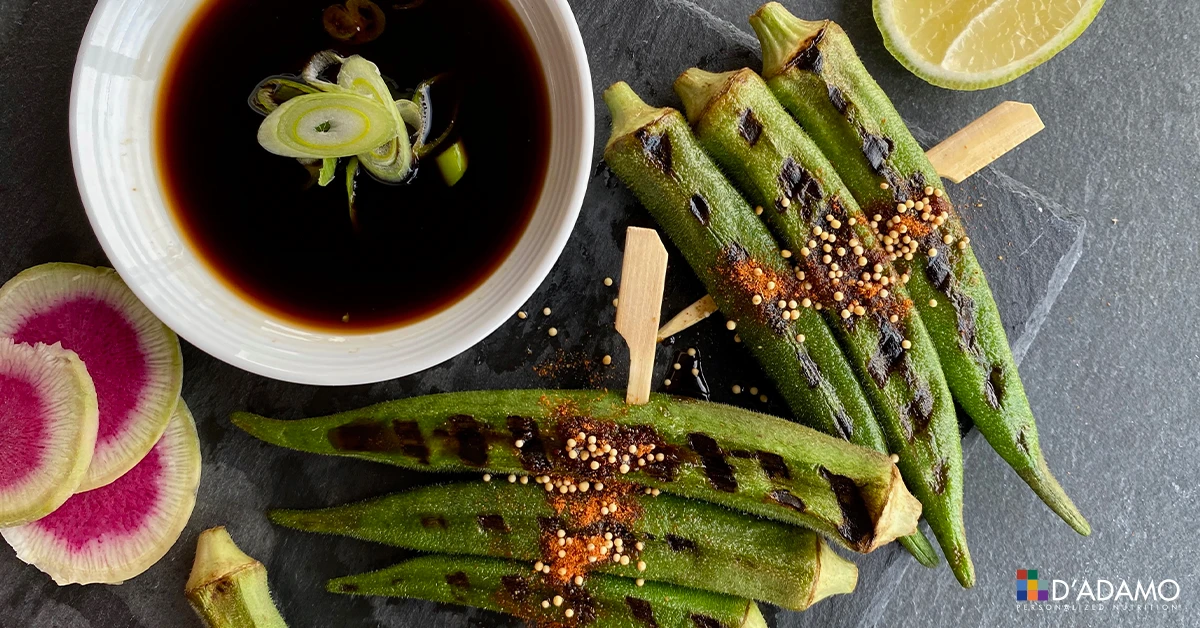 Looking for a spooky side dish? We've got you covered with these delicious spiced okra skewers. Okra is either Beneficial or Neutral for all types, and contains soluble fibers and mucilaginous polysaccharides that nourish our good gut bacteria and support a robust intestinal barrier. Use our TypeBase V food index to see Okra's value for you.
Guaranteed to both delight and satisfy, these skewers are a great excuse to use that grill again! Find more nourishing recipes like this in Dr. Peter D'Adamo's Eat Right 4 Your Type Personalized Cookbooks.
Serves 4
Ingredients:
32 medium okra, fresh
8 short (4 to 5 inch) bamboo skewers
Ingredients for the dip:
2 tbsp agave
½ cup tamari*
1 garlic clove, crushed
1 scallion, finely sliced
*Tamari is an avoid for blood type O non-secretor, substitute with 1 tbsp natural tomato paste + 1 tsp sea salt
Ingredients for the seasoning:
1 tbsp yellow mustard seeds
1 sheet of nori - or dried seaweed, finely chopped or ground
2 tsp paprika
½ tsp sea salt
Instructions:
To prepare the okra, simply skewer 4 pieces together and reserve the 8 skewers on a plate.
Preheat your (outdoor or indoor) grill to high. Lay the skewers flat and grill for 3 minutes on each side. To get nice grill marks, place and press down with a plate on top to weigh the skewers down for 1 to 2 minutes.
To prepare the dip, simply mix all the ingredients together and serve in a small bowl.
To prepare the seasoning, simply mix the ingredients together until combined.
When the okra is cooked, plate and sprinkle seasoning on top.
Enjoy warm!
---