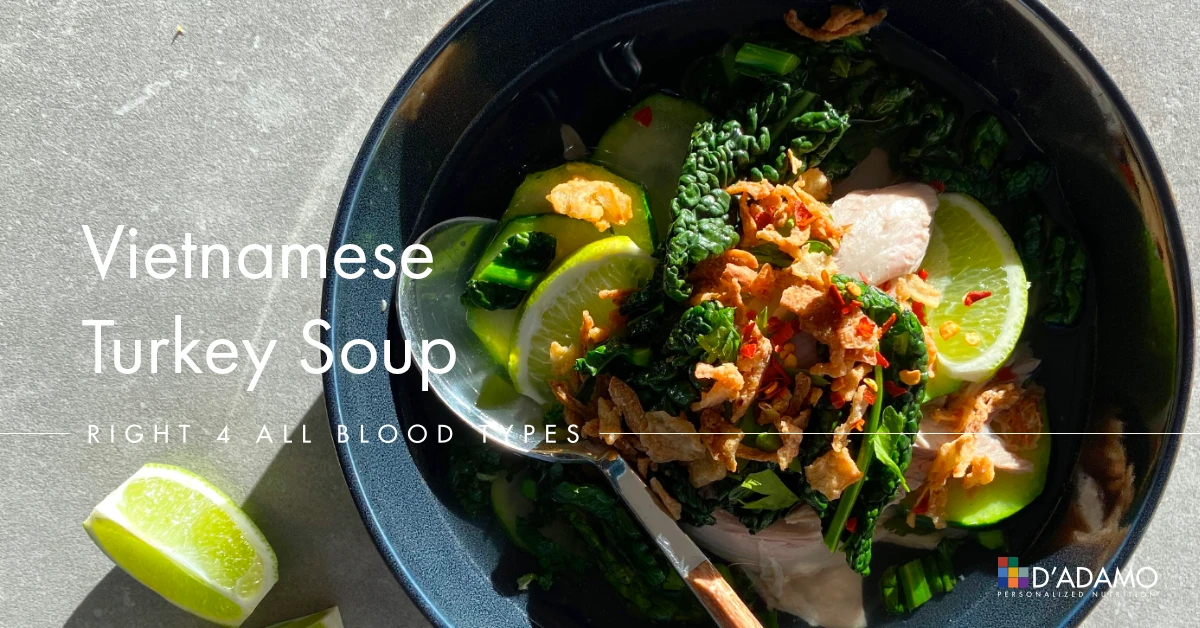 Winter is upon us, and nothing is more warming than a delicious soup. This Vietnamese style turkey soup is right 4 all types, great to gather the family around the dinner table, but is also very nourishing and great to boost your immune system during these colder days.
Serves 2, with a large portion size.
Ingredients
FOR THE BOILED TURKEY
1 turkey drumstick (bone in, about 3.3 pounds)*
6 green onions, whole
1 thumb sized piece of ginger, crushed
1 tbsp salt or seaweed salt if available
FOR THE SOUP
3 quarts turkey stock
1 tbsp olive oil
1 large zucchini, quartered lengthwise and cut into thick sticks
4 cups cavolo nero kale, thinly sliced
3 garlic cloves, grated
1 small thumb sized piece of ginger, grated
1 handful cilantro
OPTIONAL
1 pack (16oz) dry vermicelli rice noodles
Add fried shallots/onion on top
Add a sprinkle of chili, for Types O & B
Instructions
Prepare the turkey. Bring a large pot of water (that is large enough to contain the turkey drumstick) to a boil over high heat with the ginger, green onion, salt and turkey, and boil for 40 minutes.
Turn off the heat, cover the pot and let stand for another 40 minutes.
Drain and discard the cooking liquid and transfer the drumstick to a chopping board. When it is cool enough to handle, start pulling the flesh from the bone and reserve on a plate. Discard the bones.The drumstick should yield about 16-18 oz, or about 1lb of meat.
Prepare the soup. In a large pan over medium-high heat, drizzle some olive oil and cook the zucchini, stirring very little to give it a nice even golden color on all sides.
Add the cavolo nero, and stir to coat in the oil and moisture of the pan, allowing to soften for at least 8-10 minutes. Season with sea salt to taste.
Prepare the vermicelli noodles if using, according to package instructions.
Heat the turkey stock over medium heat in a separate saucepan and add the grated ginger and garlic. Bring to a boil and simmer for 5 minutes until very hot.
To plate, divide the vegetables, noodles and turkey flesh equally in individual bowls or shallow bowls. Ladle the hot turkey stock generously. Top with a squeeze of lime, and cilantro.
*You can use turkey breast if preferred, cooking and seeping times may alter slightly.
---