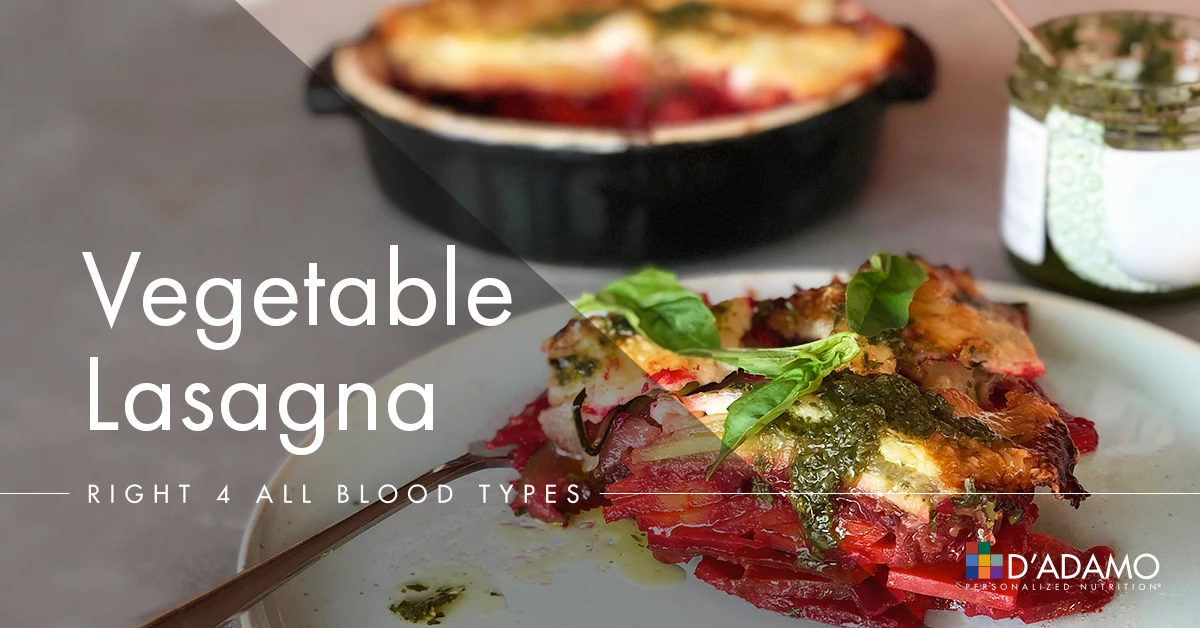 If you're not quite ready to let go of summer, make it last a little longer with this delicious vegetable lasagna recipe. Chocked full of seasonal vegetables, it's gluten free, great for a weeknight meal or even as a side dish—and perfect for all blood types!
[ Makes approximately 6-8 servings ]
Ingredients for the lasagna:
6 large zucchini
6 large carrots
2 red onions, finely sliced in strips
2 portions of "nomato sauce"
2 tsp salt
2 cups small Mozzarella cheese balls*
2 cups Pecorino cheese, finely grated
*Type O non-secretor should avoid Mozzarella, use only Pecorino
Ingredients for the basil oil:
1 cup fresh basil
1 garlic clove
1½ - 2 cups olive oil
Pinch of salt
Instructions for the lasagna:
Preheat oven at 350ºF
With the help of a slicer, peeler or mandoline, very finely slice the whole carrots and zucchini into wide strips. Drizzle a little olive oil over the carrots, and place the carrots and zucchini on 2 separate oven trays lined with parchment paper. Bake for 15 minutes to extract any moisture.
Spread a third of the nomato sauce a the bottom of a round or rectangular ovenproof dish.
Tightly layer half of the carrot strips over the nomato sauce, slightly overlapping.
Layer half of the zucchini on top of the carrots, slightly overlapping.
Loosely top with half of the red onion and spread another layer of nomato sauce.
Repeat with the rest of the vegetables.
Top the lasagna with grated Pecorino and Mozzarella. Bake in the oven for 40-50 minutes. Once cooked, broil the cheese until melted and golden.
Instructions for the basil oil:
In a blender, place the oil, basil, garlic and salt.
Pulse until desired consistency, we like our basil fine and condiment loose to drizzle on literally—everything!
---
Serving suggestions:
To serve, simply drizzle some basil oil on top of the lasagna and garnish with some fresh basil leaves.
Tips:
This is a basic recipe, feel free to add cumin, paprika, dried herbs to the nomato sauce or veggies for extra flavors.
The basil oil is great to also dress a side salad or over roast chicken (types A, O), but for a heartier bite, make it a pesto by adding a handful of almonds (good for all types).
Play with your vegetables. We think zucchini, carrots and red onions keep their shapes well but you can add bell peppers (types B, AB & O) or mushrooms (right for your type).
---