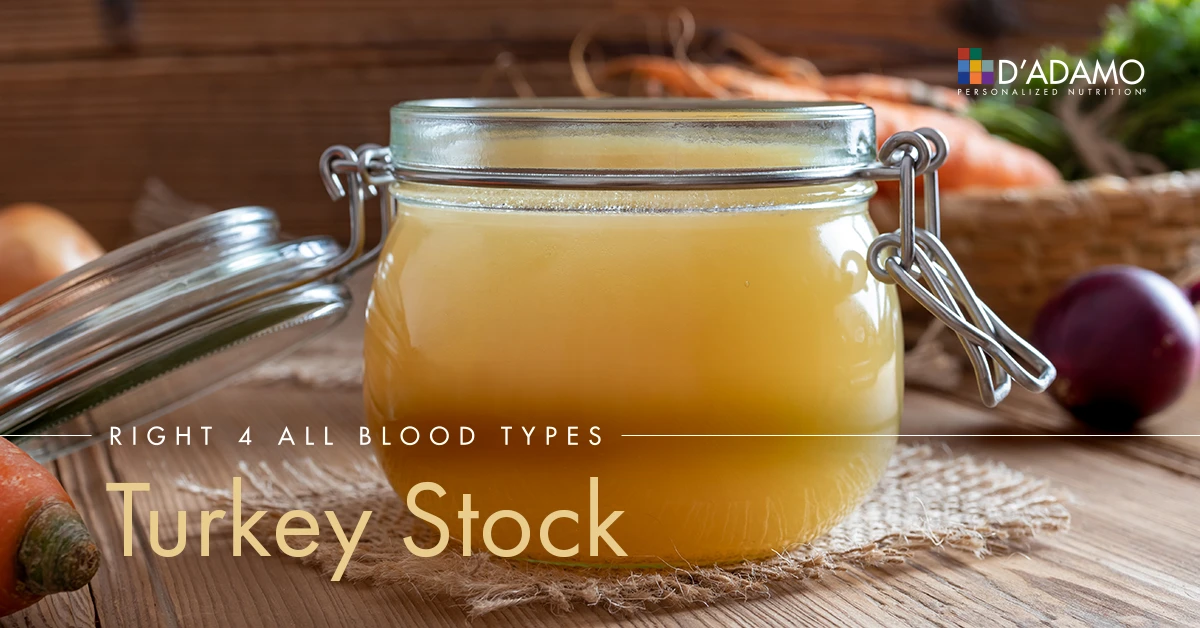 Whether it is the end of a holiday, or you just have that turkey craving, saving the remainder of the turkey to make a stock is always an easy and delicious plan. Homemade stock provides a great head start for preparing any number of sumptuous dishes and is used as a base in sauces, soups and stews. It can also be frozen for use all year long. Turkey is Neutral for most types, and highly Beneficial for Type A non-secretors and both Type ABs – a perfect stock for all blood types!
If you have your own turkey, simply clean off the bones to use in the recipe. If not, you can purchase the necessary turkey parts from a butcher for the basis of a healthy stock. Either way, the stock will be just as tasty.
As for the rest of the ingredients, the fresher the better. In addition to the ingredients listed below, a turkey stock can be enhanced by mushroom stems, herbs, onion peels, leek stalks, scallions or celery leaves, when they are right for your type. All ingredients listed are either Beneficial or Neutral, depending on your blood type, so it can be shared with anyone. You can get creative according to your taste and blood type but do not add cruciferous vegetables, such as broccoli, cauliflower or brussels sprouts; they will add an unpleasant sulfurous taste and odor to the stock. Find more nourishing recipes like this in Dr. Peter D'Adamo's Eat Right 4 Your Type Personalized Cookbooks.
[Makes approximately 4 quarts]
Ingredients:
1 medium turkey carcass, picked fairly clean (reserve any leftover meat for soup)
2 onions, roots removed, skins on, and cut into quarters
3 large carrots, cut into chunks
3 stalks celery, washed and cut into large pieces
¼ bunch fresh parsley, including stems, washed
Fresh herbs, such as thyme, rosemary, oregano, basil, to taste
Bay leaf or sage
Instructions:
Fill a very large (5 to 6 quart) stockpot ¾ full with water.
Add all of the ingredients and bring to a boil.
Reduce heat and simmer at least 2½ hours (the stock should reduce by a third).
Let cool to room temperature, and skim any foam or fat from the surface.
Refrigerate.
Once cold, the fat will harden on top of the stock and can be discarded. At the same time, the foam will sink to the bottom. Stock made with bones will gel when cold.
The stock can be frozen in convenient pint and quart containers.
---