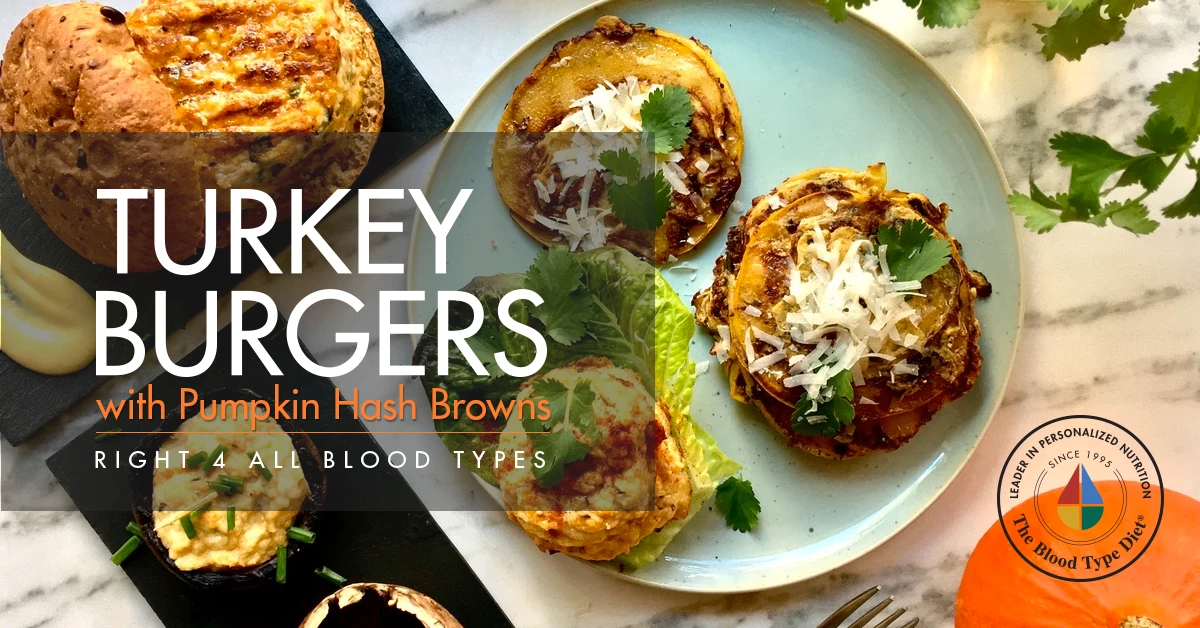 As the seasons shift and the weather cools, our natural instinct is to look for comforts like a thick sweater or a rich meal. Even though it becomes far more tempting to laze around and get cozy on your couch, our summer efforts to keep fit shouldn't be neglected. We have prepared these turkey burgers that are great for satisfying those autumnal cravings while still staying healthy. Naturally lean and high in protein, turkey makes a great alternative to chicken or beef. Add some for your type D'Adamo Personalized Nutrition Protein Blend Powder in the patty to maximize the nutritional value of your burger! Turkey is also good for all types, so it's a great choice to make for parties! If you are looking for buns for these burgers, try portobello mushroom caps, romaine lettuce leaves, or ezekiel/pure spelt buns.
They also pair beautifully with the Pumpkin Hash Browns!
[ Serves 6-8 ]
Ingredients
Blood types O & B [Makes 2-3 large patties or 8-10 sliders]
½ turkey breast, about 2 lbs, roughly chopped (you can also use pre-ground)
½ cup chives, finely chopped
1 clove garlic, crushed
1 egg (optional: to moisten and bind the patty better)
Zest of a lemon (optional)
Salt, to taste
Blood types A & AB [Makes 2-3 large patties or 8-10 sliders]
Directions
Place the turkey breast in a food processor and pulse until ground to desired consistency.
In a bowl, mix the ground turkey, with the respective ingredients for your blood type and mix until well combined.
With your hands, shape the burgers into patties of desired size and set aside.
Burgers can be baked in the oven (preheat oven to 375 degrees and cook for 10-15 minutes until golden), or cooked in a non-stick frying pan with a drizzle of olive oil (about 4-5 minutes on each side).
TIP: Why not maximize the flavor and health of your patties by adding some beneficial ones for your type? Some good suggestions that work with the flavor profiles are chopped green chili for blood type O & B secretor, or some grated ginger for types A, B, O and AB secretor.
Don't forget to pair with:

document.write(" ");