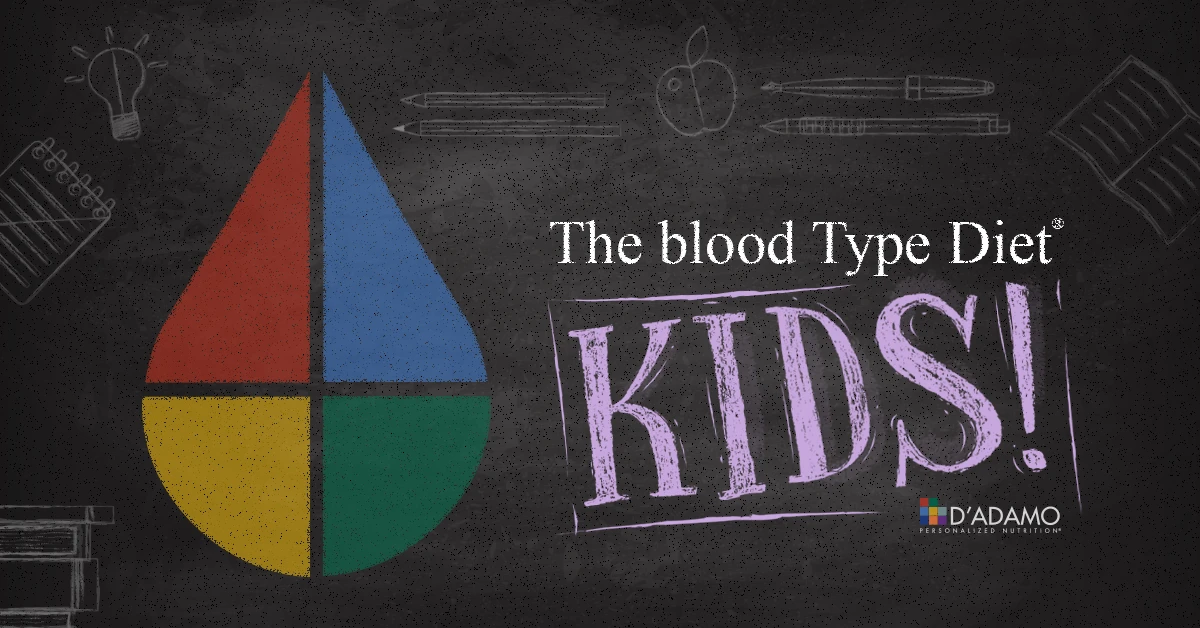 Many people choose not to start dieting in any way until their body gives them negative signs. Whether it's fatigue, sluggishness or the most obvious factor, weight gain, it usually takes the materialization of symptoms to motivate change. The people who are the healthiest and most successful dieters are proactive with their efforts and not reactive. It's never too early to start the Blood Type Diet, which is why this month we are focusing on how positive an impact the BTD can have on children!
If you walk into a modern-day school cafeteria, the kinds of foods you will see spread across the tables will shock you. While a select few kids will be eating nutritious food, a majority will have a slew of sugary, salty foods that hurt the body even at an early age. While schools have been moving towards healthier menus, there is no way to ensure that the kids choose the more health-conscious option. This also has no bearing on packed lunches, which can be a bevy of bad foods. Our recipe feature this month is something you can make for your children to take to school with them that redefines the traditional, unhealthy packed lunch.
Nutritious packed lunches are a great way to keep your children healthy, but there's no reason you can't start them on the Blood Type Diet even earlier. As Dr. Peter D'Adamo details in his Eat Right 4 Your Baby book, the benefits of eating right can happen as early as during the pregnancy itself. A proper diet for the mother will make the baby-to-be healthier from day one. After being brought into this world, having your baby adhere to its blood type diet is simple. Most foods are fully pureed or liquefied early on. If you have a blender or food processor, you can make your own baby foods free of preservatives and packed with beneficials. If you want a detailed description of how to navigate these first few years, pick up the book!
As your child grows up you can build off this foundation of health you have already established. Their body will already be accustomed to healthy foods, so even if they crave junk food, as many young kids do, their body will revolt when they make the wrong choices. A body built on health will feel the effects of avoids in more pronounced ways that will discourage wrong choices. Making recipes that use healthy ingredients but disguise them helps this process, such as a veggie lasagna or turkey meatloaf.
The diet can do more for kids than just keep their weight and energy levels in check. Schools are well-known havens for germs, causing constant sickness. One of the most rampant problems are ear infections, which Dr. D'Adamo specifically talks about in Eat Right 4 Your Type.
" Perhaps as many as two-thirds of children under the age of six have chronic ear infections. By chronic, I mean 5, 10, 15 or even 20 infections every winter season, one after the other. Most of these children have allergies to both environmental and food-based particles. The best solution is the Blood Type Diet." (pg.288)
How the Blood Type Diet can be the solution to these issues is simple. The underlying cause of most infections, including ear infections, is based on the child's diet. For example, both Type A and AB children are more susceptible to the infections because of how their body creates more mucus in reaction to ingesting certain foods. For Type A kids, avoiding dairy helps limit this issue. For AB, it's usually corn that is the culprit. The point is that if certain foods can have such an impact on one condition, like ear infections, based on blood type, shouldn't you be making sure your kids stay Blood Type Diet compliant to help them avoid all the illnesses out there?
While the Blood Type Diet isn't something you can expect a child to fully grasp and comply to at a young age, it is a regimen you can implement that they can follow with your guidance. Children are habitual creatures that will thrive under such a structure if you put it in place for them. Doing it will set their body up for success and give them the healthy gut and immune system they need to navigate the germ-ridden, junk food-laden world of elementary school and beyond. Although it may seem daunting at first, the Blood Type Diet has never been easier to successfully implement in your life or the lives of your family members. Between our cookbooks and recipe blog that give you meal plans and the Blood Type Diet app to let you check food values and create shopping lists on the go, the resources you need are never far away!