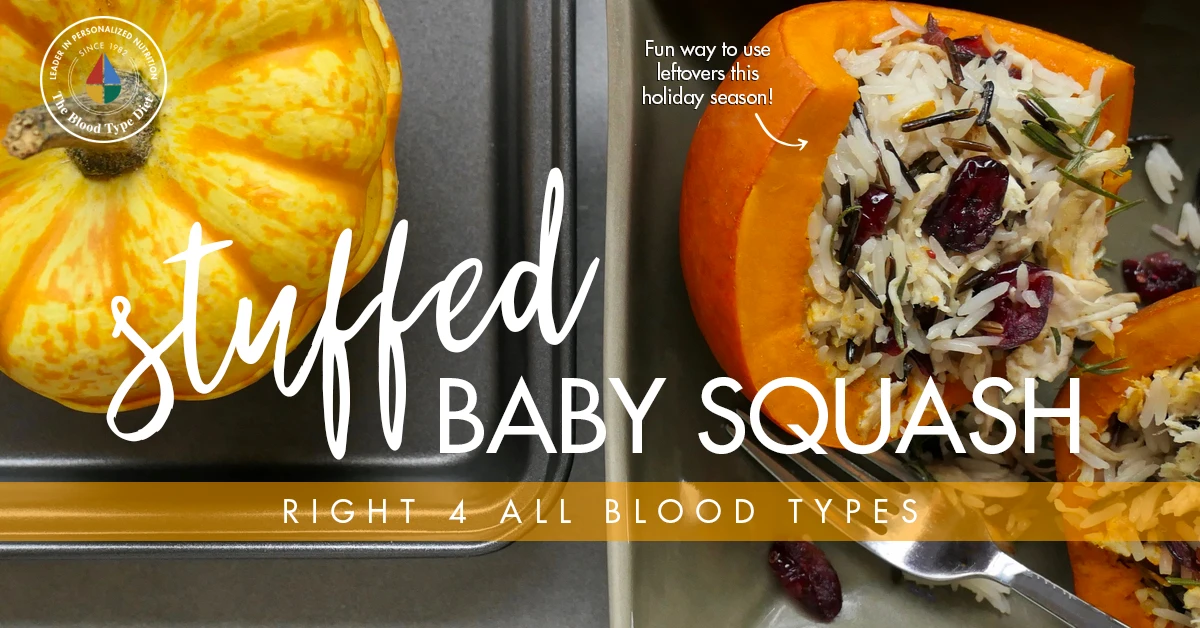 During the fall, nothing celebrates the hearty flavor of turkey, sage, cranberry and squash better than a festive gathering. Turkey will make its appearance on the dining room table for Thanksgiving and leftovers will certainly remain in the fridge for days. Rather than simply throwing the remnants on salads or sandwiches, we came up with a unique and fun way to use your leftovers this holiday season. Easy to make with most ingredients at hand, it is healthy, nutritious and so cute you will want to show off the dish to friends and family who suddenly won't feel bored and tired of turkey anymore!
Stuffed Baby Squash
[ Serves 2-4 ]
Ingredients

2 small squash (about 6in diameter)
1½ cups of wild rice or basmati rice*
2 cups of shredded turkey leftovers
1 cup of dried cranberries
1-2 sprigs of fresh rosemary, picked from the stem
2-3 sage leaves, whole or finely chopped
1 garlic cloves, crushed (optional)
1 teaspoon paprika (optional)
2 tablespoons of extra-virgin olive oil
Sea salt to taste

TIP: If you like a stronger sage flavor, chop it finely, otherwise keep the leaves whole and discard them before stuffing the squash.

*Wild rice is an avoid for Blood Type B

Directions

Preheat your oven to 350º-375º
Prepare the squash: Wash the squash and cut the caps off each one, reserving them for later. Hollow the squash and remove all seeds.
Prepare the rice: Bring 1½ cups of salted water to a boil in a wide skillet and drop in the rice. Cook for 20 minutes over medium heat. You want the rice to be slightly undercooked, as it will finish cooking in the oven.
Prepare the stuffing: In a wide non-stick pan, heat the olive oil over medium heat with the cranberries, sage and rosemary. If you wish to add garlic add it now. Mix well for about 2 minutes.
Add the shredded turkey with a pinch of salt and the paprika if desired. Mix well.
Add the rice and mix well to combine all of the ingredients, and then remove from the heat.
Season with salt to taste.
Stuff the hollowed squash, fasten with the squash cap and place them on a baking tray.
Bake for 30-40 minutes.
Enjoy warm with a drizzle of olive oil.