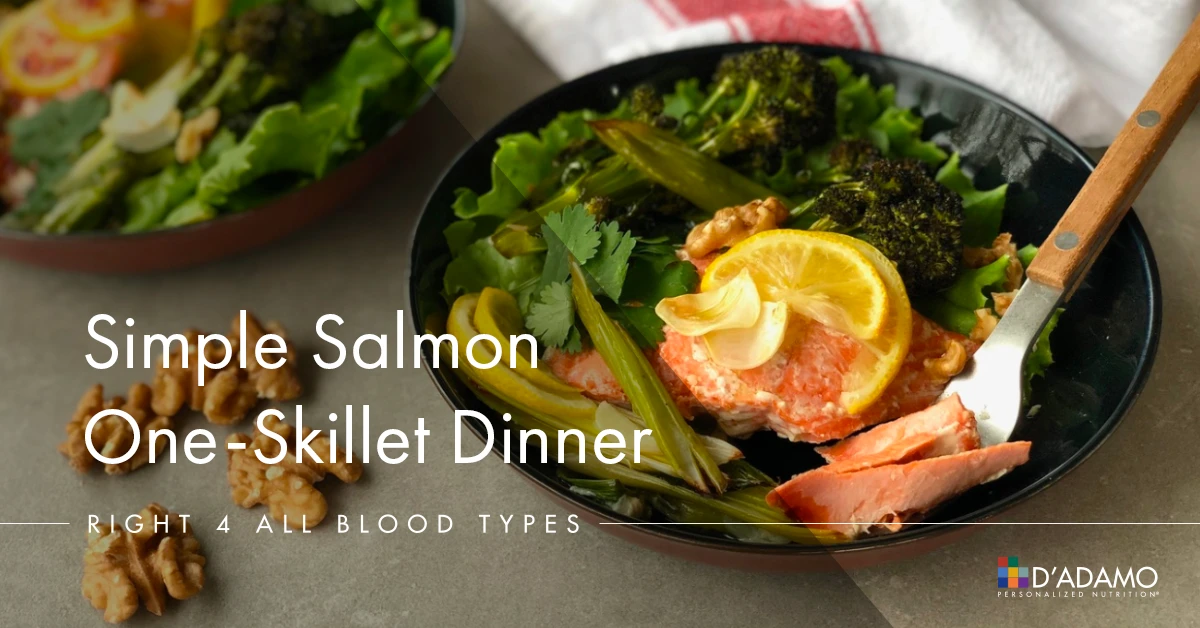 This simple one-skillet salmon recipe is both nutritious and delicious. It works with all blood types and is the perfect solution for those busy weeknight meals. It's sure to please the whole family. Find more recipes like this one in Dr. Peter D'Adamo's Eat Right for 4 Your Type Personalized Cookbooks.
Serves 2
Ingredients
2 wild Alaskan salmon filets
7 oz broccoli
2 scallions, chopped in 1 inch lengths
1 garlic clove, thinly sliced
Juice of a lemon + 2 slices
¼ cup olive oil
1 tablespoon chopped walnuts
6 Lettuce leaves, for serving
A handful of fresh cilantro, for garnish
Chili flakes, optional (Avoid for blood types A)
Instructions
Preheat your oven to 325º F.
Lightly oil a skillet or oven tray. Place the salmon, broccoli, scallion, sliced garlic clove and (optional) chili flakes in the skillet/oven tray. Top salmon with lemon slices and drizzle some lemon juice and olive oil over the dish.
Bake for 20minutes - depending on the thickness of your salmon fillets.
When your dinner is cooked, plate it over the lettuce leaves, and garnish with cilantro and walnuts. Enjoy warm!
---