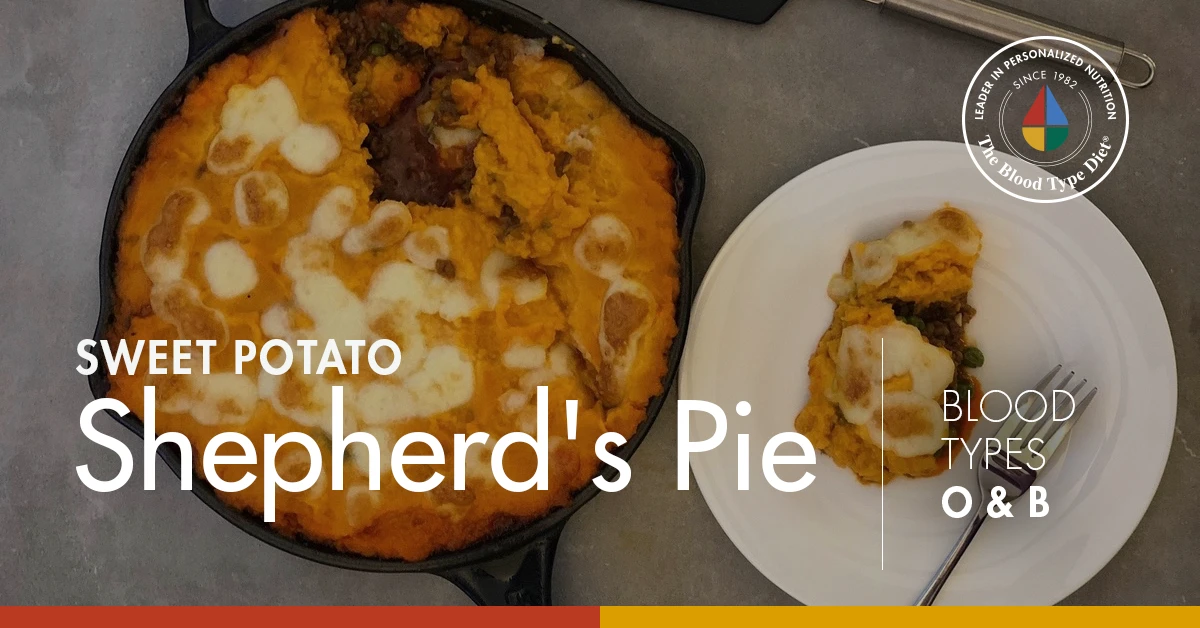 Shepherd's Pie is a warm and savory comfort food that has been a staple in country homes for decades. To make the dish perfect for Blood Types O and B, we use ground beef, a meat that is especially suited to these types, and sweet potato for a rich, smooth flavor. It is sure to be that soothing, family pleasing dish you are looking for on a cold night.
Ingredients:

2 ½ teaspoon olive oil, divided use
3 cloves garlic, divided use
4 cups sweet potato
1 tablespoon chopped fresh sage
Sea salt to taste
1 tablespoon ghee
6 tablespoons almond milk (NS substitute rice milk)
1 lb ground beef
2 teaspoons paprika
2 tablespoons brown rice flour
1 ½ cups beef broth
2 cups pearl onions
1 cup peas
2 cups finely diced carrots
1 cup mozzarella cheese (NS omit cheese)

Directions:

Pre-heat oven to 375 degrees.
Drizzle ½ teaspoon olive oil over two cloves of garlic, and season with sea salt. Wrap garlic in parchment paper, and then tin foil, roast in the oven for 25 minutes.
While the garlic roasts, peel, dice sweet potatoes in 2" pieces, and bring to a boil in a large stock pot filled with water. Cook about 12-15 minutes, just until tender. Potatoes are done when they are easily pierced with a fork. Drain into a colander, and transfer back into the empty pot or a clean bowl. Using a hand mixer, beat sweet potatoes with roasted garlic, sage, ghee and almond milk. Season with sea salt to taste.
Reduce oven temperature to 350 degrees.
Brown ground beef in a large skillet over medium heat with remaining olive oil. Break meat into bits using a flat ended spatula. Once browned, add paprika and flour, stirring to coat. Mince remaining clove of garlic, and add to the beef along with beef broth. Bring the mixture to a bubble to help the sauce thicken. Reduce the heat to low, and let cook for just 5 minutes.
Add onions, peas, and carrots to the beef and stir to combine. Pour into a 9" x 11" baking dish, and top with sweet potato mixture, spreading evenly across the top with an offset spatula. Finally, sprinkle on cheese and bake for 30-35 minutes.

The pie will be bubbling and the cheese melted and slightly browned when done.

Serve warm.