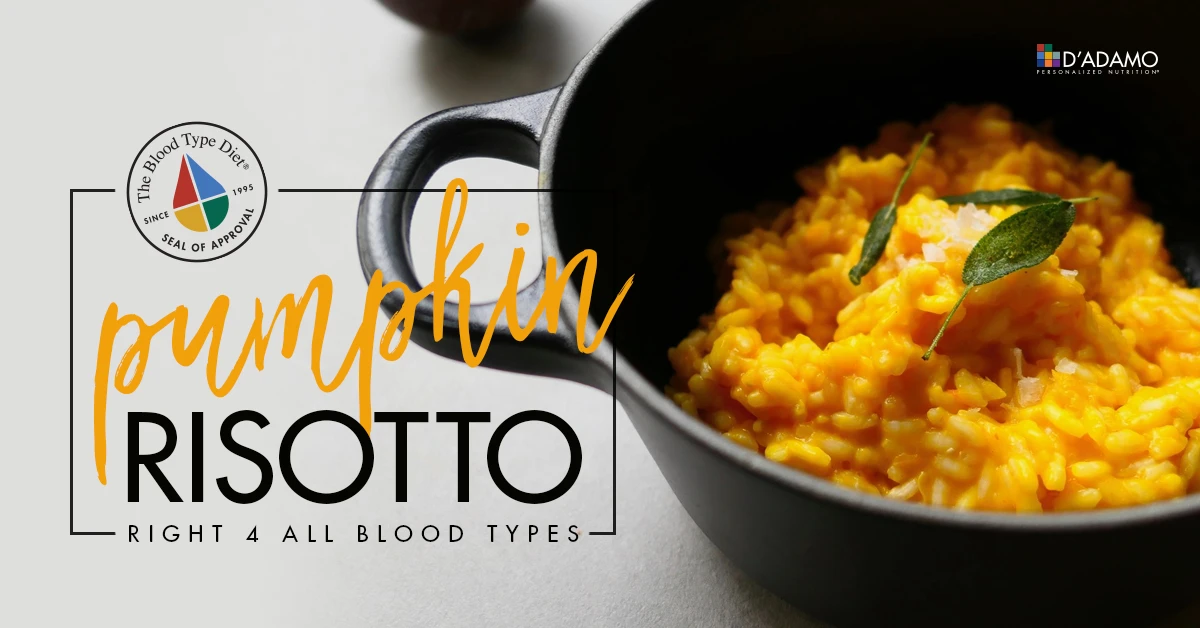 The fall is a majestic season to admire, in a coat of red, orange and yellow. It reveals new crops and warming flavors. Stretching into winter, pumpkin season lasts until the first hard frost. Pumpkins are members of the gourd family, which includes muskmelon, watermelon and squash. Its orange flesh has a mild, sweet flavor and the seeds, also known as pepitas, are delicately nutty when husked and roasted. Some pumpkin varieties can weigh well over 100 pounds and in general, the flesh from smaller sizes will be more tender and succulent. Choose pumpkins that are free from blemishes and heavy for their size. Store whole pumpkins at room temperature up to a month or refrigerate up to 3 months.
[ Serves 2 ]
Ingredients:

1-1½ cup(s) risotto rice
4 cups vegetable broth (always best to have a little more than to run out)
1 cup pure pumpkin* puree or 1 pound fresh pumpkin for homemade pumpkin puree
2 tbsp ghee
1 shallot
½ cup pecorino, finely grated
3-4 sage leaves
Salt to taste

*Pumpkin is an Avoid for Type B secretor. Substitute butternut squash.

Instructions:

Heat the vegetable broth over medium heat in a saucepan.
Peel and finely mince the shallot.
In a medium sized pot, melt 1 tbsp of ghee over medium heat. Cook the shallot until translucent. Season with a little salt. Add the rice and mix to coat it well in the ghee and shallot.
Gradually add the warm vegetable broth, a ladle at a time, mixing well. Add broth every time it is absorbed, stirring constantly. This process should last about 20 minutes.
If you are making homemade pumpkin purée, chop the pumpkin skin-on in chunks and steam until cooked through and tender. The skin will come off easily. Transfer the cooked pumpkin to a food processor and pulse until mashed and creamy. This process shouldn't take more than 5-10 minutes if the pumpkin is cut in small or medium-sized pieces. If you are using pure canned pumpkin purée, simply measure it out.
When the rice is almost done, stir in the pumpkin purée until well combined. Season to taste with salt. Remove from the heat.
In a small pan, heat 1 tbsp of ghee over medium-high heat for about a minute. When it is hot, fry the sage leaves until crispy.
To serve, plate the pumpkin risotto, sprinkle some pecorino on top and drizzle the hot sage infused ghee over it to melt it. Enjoy hot!
---