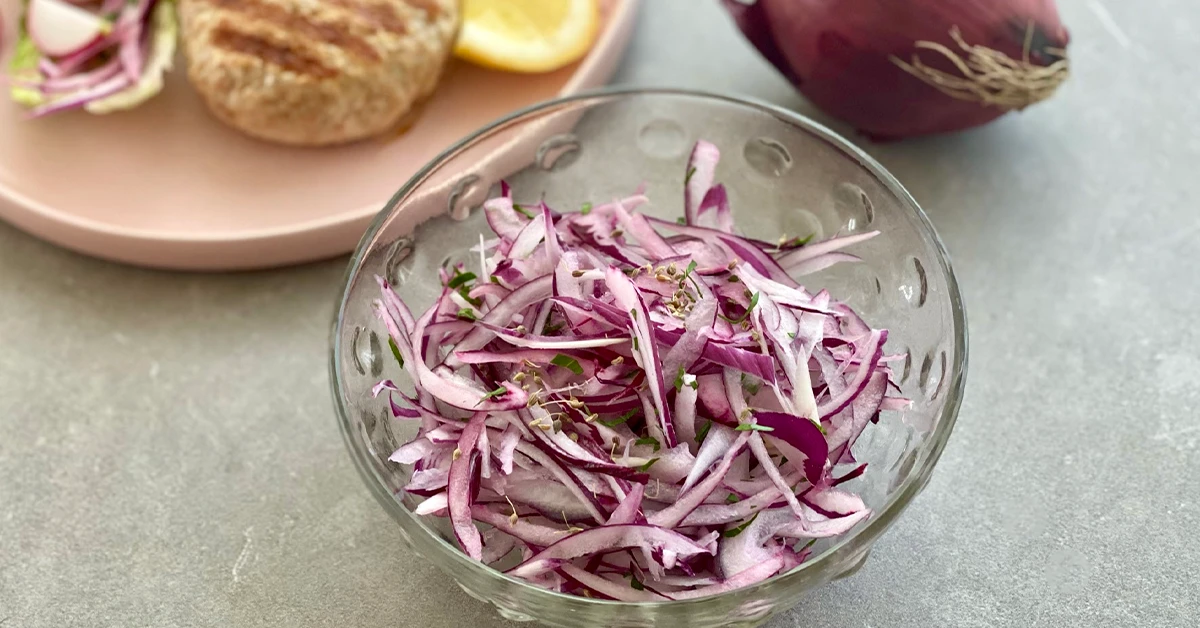 Onions are packed with antioxidants and are a great source of quercetin, a natural antihistamine that can be a big help during allergy season. But many people avoid these wonderful bulbs. If you are holding back due to the possibility of tears while chopping, difficult digestion or the potential for bad breath, this extra-crunchy onion slaw is for you. Works great as a side dish or topping and can also be part of salad.
The Blood Type Diet made easy
Find more nourishing recipes like this in Dr. Peter D'Adamo's Eat Right 4 Your Type Personalized Cookbooks. Each book features chef-formulated recipes designed specifically for your blood type. Each recipe is easy to follow and delicious, making meal planning stress free.
Check food values, see in-depth food analyses and access even more recipes for each blood type and secretor status with TypeBase V. Programmed by Dr. Peter D'Adamo himself, our food values lookup tool is a simple to use resource that makes following the Blood Type Diet easy.
Our Official Blood Type Diet App keeps all the information you need at your fingertips. Check food values for you or common foods for the whole family, create a shopping list you can email to yourself, get supplement recommendations and access categorized recipes.
---
Serves 4
Ingredients:
2 onions, peeled and very finely sliced (We prefer red onions, but white onions work very well too.)
Juice of 4-5 lemons. Zest optional.
1 tbsp sea salt
1 tbsp finely minced parsley
1-2 tsp caraway seeds
Optional: For a little kick, add a spice that's right for your type.
Instructions:
Place onion slices and salt in a bowl and cover with enough lemon juice to completely submerge. You may find you need more than 4 lemons. Mix well to combine and refrigerate for at least 1 hour.
When you are ready to eat, drain any remaining lemon juice, and stir in the parsley and caraway seeds (and optional lemon zest and spices). Leftover slaw will keep at least two days refrigerated in an airtight container.
Tips:
The sulfuric compounds in onions often cause watery eyes. Dr. D'Adamo recommends freezing onions for 20 minutes before cutting. Safety goggles can also be very helpful.
Soaking the onions in lemon juice will cure them, keeping them crunchy and removing any trace of "onion-y" aftertaste.
Caraway and parsley have great digestive properties, so this slaw is friendly to sensitive stomachs.