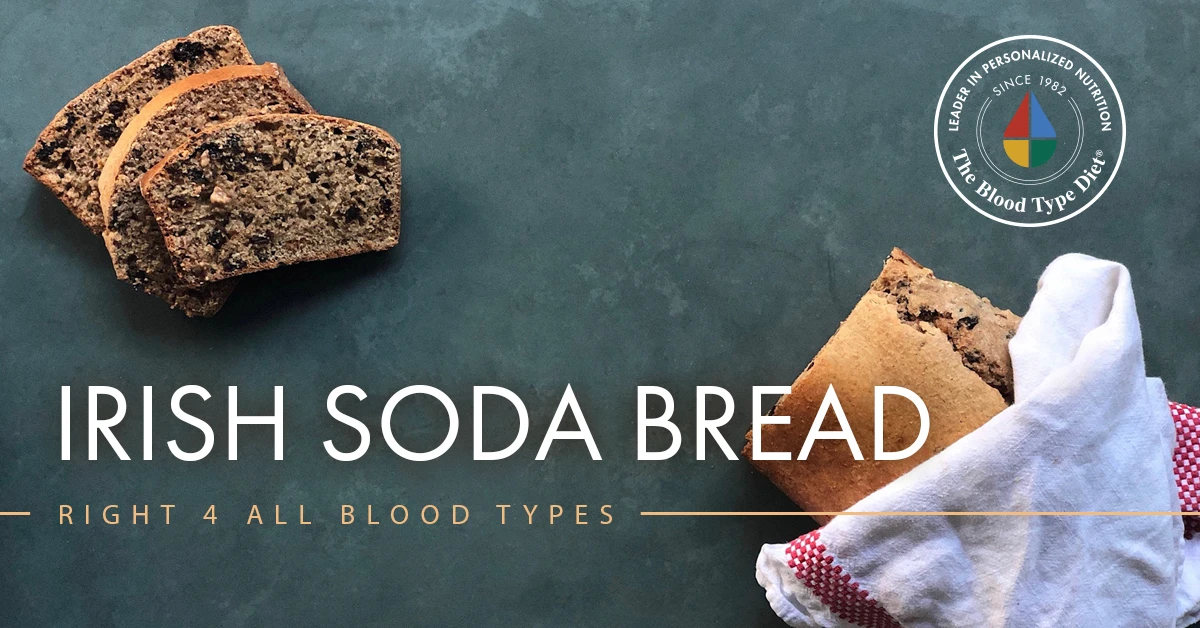 "May the bread always rise before you."
A family tradition each St. Patrick's Day was Aunt Peg's Irish Soda Bread. Delicious toasted with a cup of tea for an afternoon snack, it was a delightful, once a year treat every March 17th. We've adapted the recipe to be Blood Type Diet friendly so everyone can enjoy. As the Irish say, Sláinte!
Editor's note: This is an Irish soda bread recipe that doesn't use baking soda. It's not a typo, it's just exactly the way Aunt Peg made it.
Ingredients:

4 cups spelt flour or flour right for your blood type
4 tablespoons baking powder
1 teaspoon salt
2 tablespoons caraway seeds
1/2 cup organic sugar
2 tablespoons organic melted butter*
1 cup raisins soaked in water
3 eggs lightly beaten
1 1/2 cup buttermilk**

*Butter is an avoid for Types A & AB. Substitute with ghee.
**Buttermilk is an avoid for Types A, AB & O. Substitute with almond milk mixed with one teaspoon of lemon juice.

Directions:

Preheat oven 350 degrees.
Whisk together buttermilk, butter and eggs.
Mix together flour, sugar, baking powder, caraway seeds and salt.
Drain raisins, add to flour mixture to coat thoroughly.
Slowly add the liquid mixture and mix well with a wooden spoon.
Pour into a greased and floured pan.
Bake 30-45 minutes at 350 degrees.
---