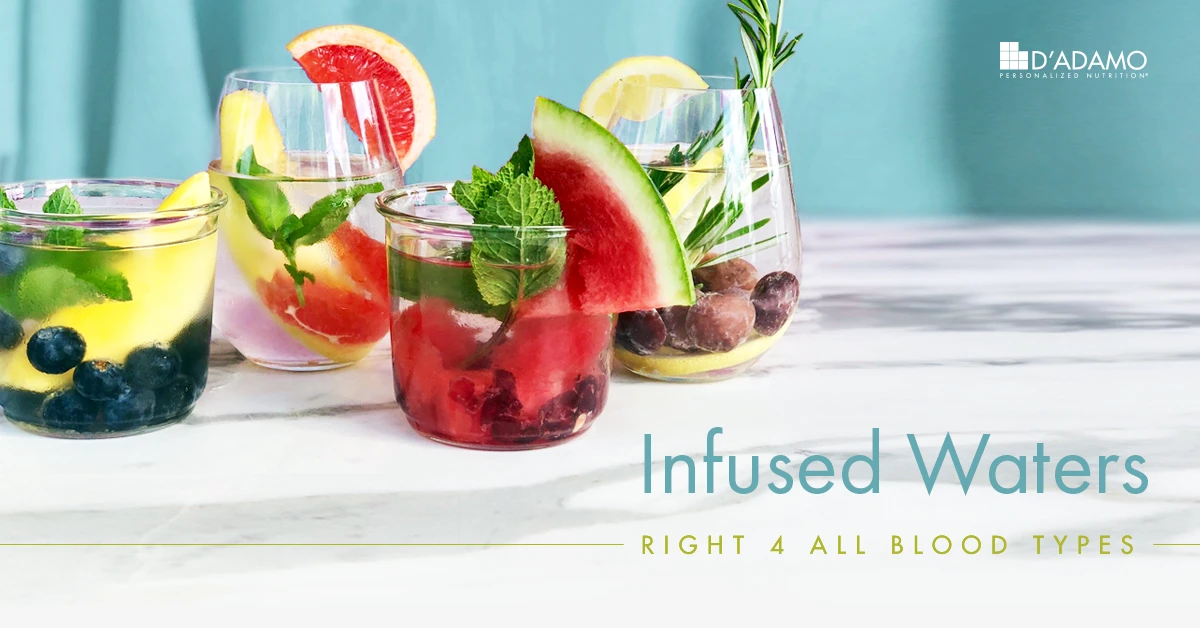 Thinking of starting fresh this spring? There's nothing cleaner for your body than good old H2O—and no water is tastier than our fruit-and herb-infused waters. Ready in minutes and bursting with refreshing, healthy flavors—mix up the water that's right for your type, chill, and enjoy!
---
Instructions:
In a large jug, combine the fruits and herbs right for your type, and add ice cubes.
Add 1 quart of water, and allow the ingredients to infuse for about 10 minutes.
Keep in a chilled environment, or refresh ice cubes often. Serve cold.
Infused Mango Blueberry Water (Blood Type O)

Ingredients:

4 ounces fresh mango, cut into large wedges
1 large handful fresh blueberries
4-6 fresh mint leaves

[Serves 2]

Infused Grapefruit Pineapple Water (Blood Type A)

Ingredients:

4 ounces fresh pineapple, cut into large strips
½ grapefruit, peeled and cut into wedges
4 fresh basil leaves, whole

[Serves 2]

Infused Watermelon Cranberry Water (Blood Type B)

Ingredients:

4 ounces fresh watermelon, cut into large wedges
1 large handful dried cranberries
4 fresh mint leaves, whole

[Serves 2]

Infused Cherry Lemon Water (Blood Type AB)

Ingredients:

4 ounces fresh cherries, whole or barely slit
½ lemon, cut into thin slices
2 sprigs fresh rosemary

[Serves 2]