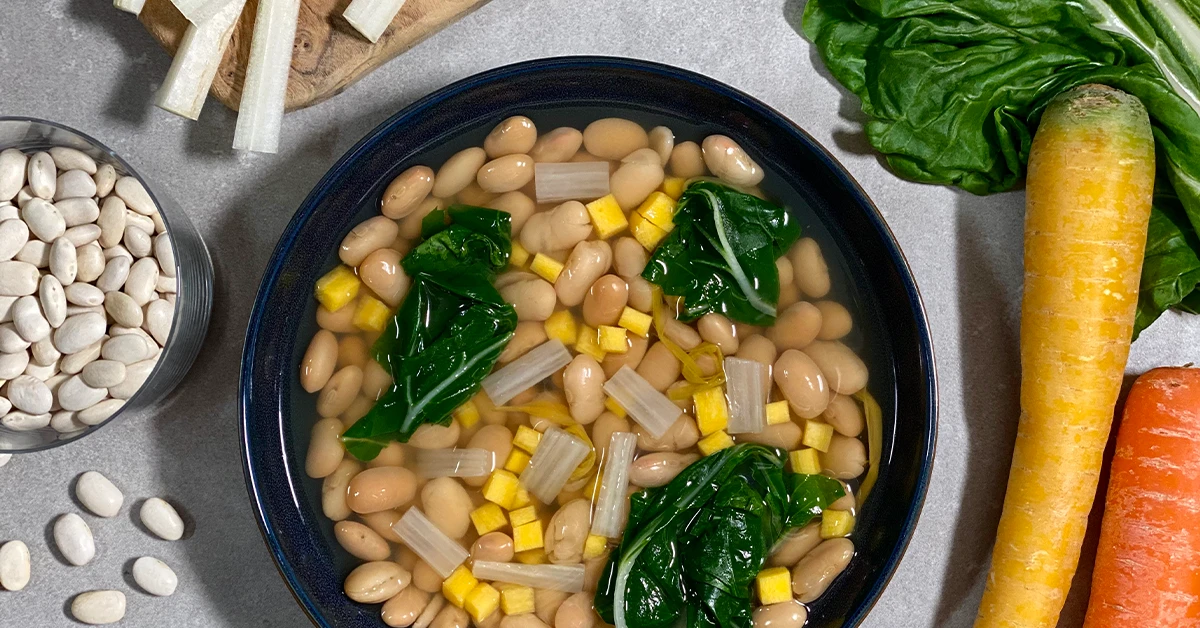 Looking for a hearty soup for Spring? Look no further. This Cannellini Bean & Chard Soup recipe is perfect fuel for your favorite spring activities. Featuring ingredients like cannellini beans, swiss chard and carrots, this recipe is a great source of potassium, zinc, and vitamins A, E and K. This soup is delicious and easy to make. We've even included cooking tips at the end of the recipe to make the soup even better. Enjoy!
The Blood Type Diet made easy
Find more nourishing recipes like this in Dr. Peter D'Adamo's Eat Right 4 Your Type Personalized Cookbooks. Each book features chef-formulated recipes designed specifically for your blood type. Each recipe is easy to follow and delicious, making meal planning stress free.
Check food values, in-depth food analyses and access to even more recipes for each blood type and secretor status withDr. Peter D'Adamo's TypeBase Food Value lookup. Coded by the doctor himself, it's a free resource that makes following the Blood Type Diet easy.
Our Official Blood Type Diet App keeps all the blood type diet information you need at your fingertips. Check food values for you or common foods for the whole family, create a shopping food list you can email to yourself, and get supplement recommendations and access to categorized recipes.
---
Serves 4
Ingredients:
2 tbsp olive oil
4 garlic cloves, peeled and lightly smashed
1 carrot, cut into chunks
1 shallot, sliced in half lengthwise, skin on
2 bay leaves
2 cups dried cannellini beans
1 tsp coriander, ground
4 to 6 cups of rich vegetable stock, warm
½ cup carrot, peeled and diced
1 cup swiss chard, finely sliced
½ cup swiss chard stalks, cut into small matchsticks
1 tsp sea salt, and a little more to taste
Instructions:
Warm 2 tbsp of olive oil in a dutch oven over medium heat.
Cook the garlic until softened and add the carrot chunks, shallot, bay leaves, ground coriander and salt. Stir to coat in the oil and cook for 8-10 minutes until golden.
Add the beans, mix well.
Pour 4 cups of warm vegetable stock to immerse the beans. Add a little stock if needed and allow the soup to come to a simmer. Lower the heat to low and cook for at least 2 hours.
Check the beans every half hour to make sure they are leveled with the cooking liquid, add stock if necessary. Once cooked, reserve or discard the shallot and carrot chunks.
Add the diced carrot, sliced chard and chard stalks, raise the heat to medium and cook for 10 minutes - until the chard wilts.
When the soup is ready, simply serve warm in bowls. Enjoy!
Cooking Tips:
Beans do not need to be soaked overnight, they may require an additional hour of cooking.
This recipe can be made quicker in the Instapot, simply check the adjustments of your model to cook beans.
From stalk to leaf, enjoy swiss chard by separating the leaves from the stalks. The thick crunchy stalks are juicy and may require longer cooking time compared to the thin leaves. When sliced into strips, the stalks make for great additions in soups, crudité platters or even sandwich fillings! This applies for regular swiss chard or rainbow chard (rainbow chard may taste a little sour raw).
This recipe can be enjoyed with chicken or beef stock, pulled meat and vegetables of your preference - welcome additions to add flavor and texture. When in season, spinach, kale or cavolo nero are also great options, cooked the same way as the Swiss Chard.
Beat the bloat: Beans and pulses are known to contain gas and may be difficult to digest for some people. A simple trick is to use 1 teaspoon of cumin seeds or ajwain seeds in the cooking liquid when boiling the beans to absorb any excess gas. They give a wonderful aroma to the stew or soup too!
Bean cooking time: An average of 2 hours should suffice to cook the beans, however if they are very old, they may remain hard and will not cook at all and would need to be discarded. You can cook the beans longer for a mushier texture, and use less cooking liquid for a denser "stewy" type dish.
Spices: You may add the spices of your choice, right for your blood type. Neutral spices or herbs that would be good additions are: paprika, marjoram, thyme, cumin and caraway.
---