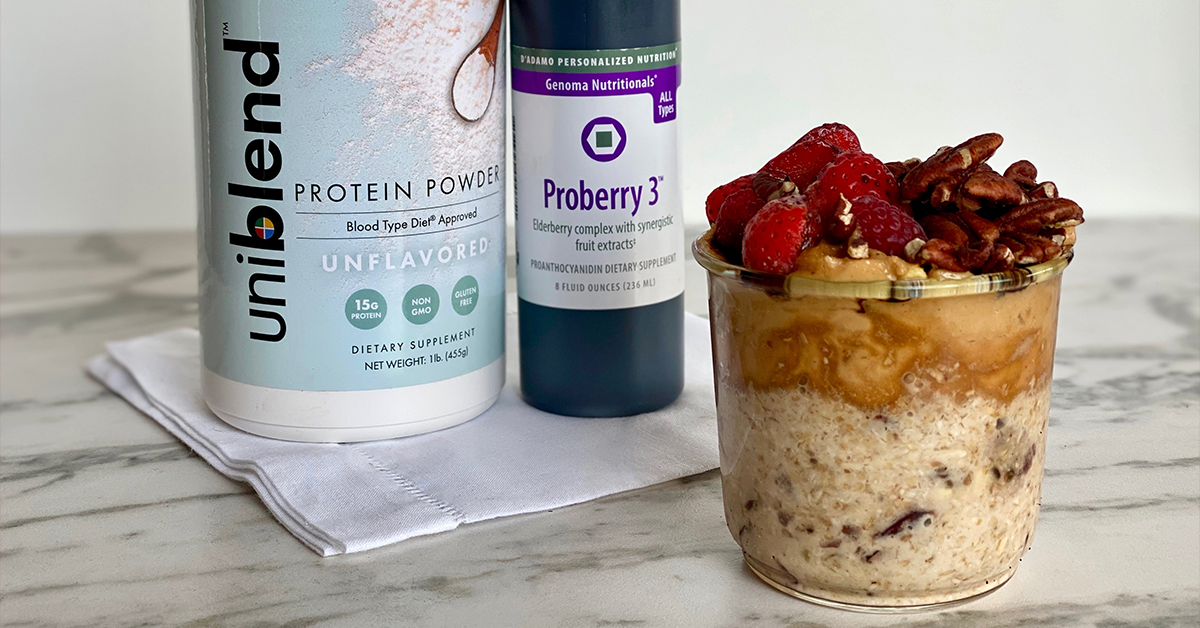 Looking for a yummy and protein-packed breakfast to brighten your morning? This Berry-Pecan Parfait is a delicious way to start your day. Featuring our new Uniblend Protein Powder (Unflavored) and Proberry 3 Liquid, this breakfast has everything you need to feel great all morning. Find more nourishing recipes like this in Dr. Peter D'Adamo's Eat Right 4 Your Type Personalized Cookbooks.
Serves 1
Ingredients:
1 scoop Uniblend Protein Powder (Unflavored)
1 cup oats or millet*
1 cup almond milk**
1 tbsp cranberries
1-2 tbsp pecan or almond butter
1 tbsp pecan nuts
¼ cup mixed berries (blueberries, raspberries, strawberries***)
1-2 tsp agave syrup optional
A drizzle of Pro-Berry 3
*Oats are an avoid for type O non secretor. Substitute millet.
**Almond milk is an Avoid for Type O non-secretor, substitute rice milk.
***Strawberries are an Avoid for Type O non-secretor.
Instructions:
In a bowl, mix together the Uniblend Protein Powder (Unflavored), oats or millet, almond milk and cranberries until combined. Taste and sweeten with a little agave syrup if preferred.
Transfer the mixture in step 1 into bowls or glasses and refrigerate for 2 hours to overnight.
To assemble the morning parfaits, top the chilled overnight cereal with the nut butter of your choice, berries and pecans. Drizzle some Pro-Berry 3 on top. Enjoy chilled or at room temperature.
---