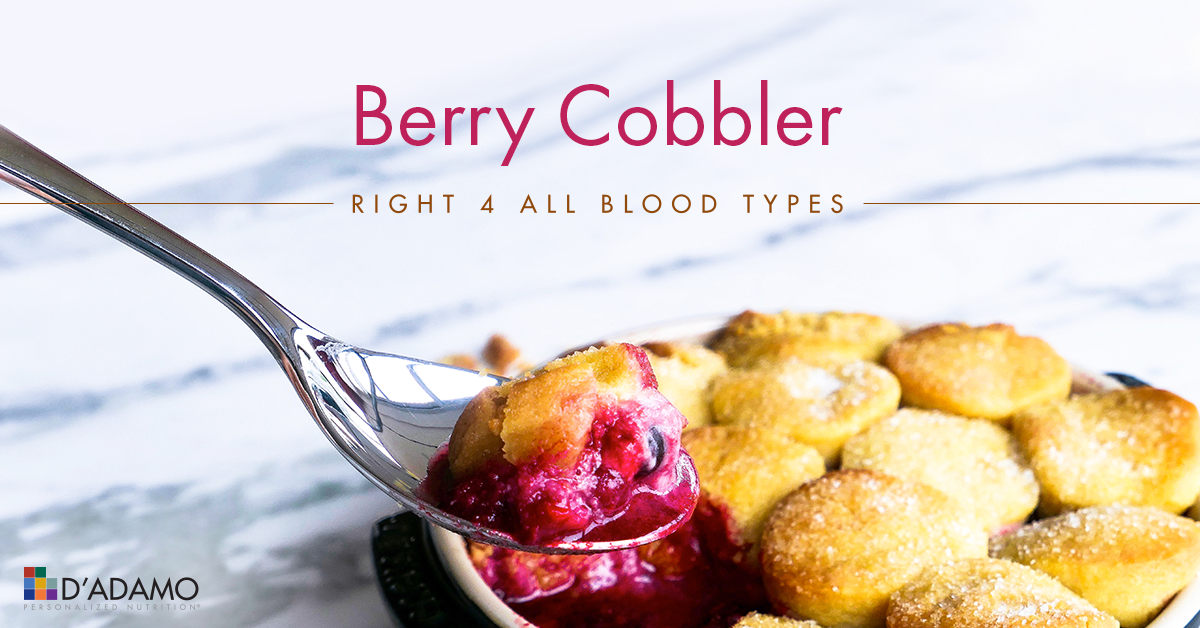 Planning a special celebration for Dad? Bring along this perfect dessert to please the whole family. Our indulgent berry cobbler is full of summer goodness and right 4 all types.
Makes 2 servings
Ingredients for the cobbler crumble:
1 cup millet flour
1 cup brown rice flour
½ cup ghee
1 tsp baking powder
½ vanilla pod, seeds scraped*
¼ cup almond milk or other compliant milk for your type**
4 tbsp agave syrup
A sprinkle of sugar***
*Type O non-secretors should omit.
**Type O non-secretors should substitute almond milk with rice milk.
***All non-secretors should omit.
Ingredients for the berry medley:
2 cups frozen, pitted cherries, or 2 cups frozen berries right 4 your type
Zest of ½ lime
Juice of ½ lime
4 tbsp agave syrup
1 tsp of ground cinnamon*
*Cinnamon is an avoid for Type O non-secretors & Type B's. substitute with ¼ tsp ground cloves.
Instructions:
Preheat the oven to 355ºF.
In a food processor, combine all of the cobbler crumble ingredients and pulse for a few seconds until a crumbly dough forms. Shape the dough into a ball and transfer onto a sheet of parchment paper. Lay it flat, wrap it tightly and refrigerate for 15 minutes.
In a bowl, mix the berries with the lime zest and juice, cinnamon (or cloves) and agave syrup. Transfer the mixture to a shallow 7-inch ovenproof dish.
Take the dough out of the refrigerator, roll it out to ¾-inch thickness at the most, and with a round .5 inch diameter cookie cutter, cut out as many pieces as possible. Fold the remaining dough again, and cut out the rest if you need more.
Place the dough rounds on top of the berries, close to one another. Sprinkle with sugar.
Bake in the oven for at least 12-15 minutes or until the dough is golden. Enjoy warm!
---